When conceiving CURRENT: A Pacific Northwest Feminist Electronic Arts Symposium Ashlee Luk, Nancy Lee and Soledad Muñoz knew that it was important for it to be an overtly intersectional feminist space. The organizers put 'Feminist' in the title because they felt that without owning their feminism they were inviting erasure. This feminist core drives what CURRENT is: a meeting place for women and non-binary people in the electronic arts to build support and relationships.
Each of the organizers of CURRENT is an artist who advocates for opportunities and safe spaces for women and non-binary people in the electronic arts. While they are all active in their community, they felt that to create a truly inclusive, safe space there needed to be a degree of separation from the organizations in which they already work.
Lee, Muñoz, and Luk conceived CURRENT as multidisciplinary and intersectional to bring in as many voices as possible; to become a "backlash against the homogenization of electronic sounds," says Muñoz; and expand the definition of what electronic arts could be to include art installations, DJing, music production, social media, performance art, dance, cross-disciplinary projects, and any art that implements digital tools. They define feminism as "equity in every form," and so made every panel free, public, accessible, and all-ages. In creating spaces with essentially feminist structures, they want to foster community and mentorships, and show that this structure works. Lee hopes its success could set a "template for a sustainable culture," encouraging others to carry on the ethos of the symposium, and create similar events of their own.
CURRENT is thrown in collaboration with Vancouver Arts & Leisure and the City of Vancouver Community Arts Grants program. It has partnered with S1, a Portland collective that represents female-identified and non-binary bodies in electronic music; TUF, a collective from Seattle for intersectional female, non-binary, and trans people in digital realms; Intersessions, a sound-focused organization for women and LGBTQ2IA+ people; and Genero, a label and artist collective founded by Muñoz, motivated by the necessity to create a visible space for women.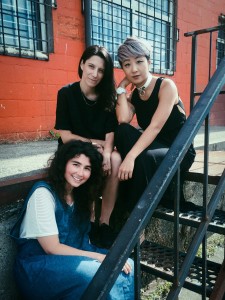 The concept for CURRENT was born from an admiration of the Pacific Northwest's feminist electronic collectives. Luk's respect for S1, TUF, and Vancouver based collectives like Genero and Intersessions inspired her to organize a showcase of these talents. As she and Muñoz developed the project to include talks and workshops, they reached out to Lee, who had curated an all-female panel on women in electronic music and creative technology at the Chapel Sound Festival in 2016. Both she and Muñoz, a panelist, were struck by the lack of awareness in their male peers about the challenges that women and non-binary people face in the field.
The structure and impetis for CURRENT is informed by the organizers' lived experiences, based on what is lacking for women and non-binary people in the electronic arts ecology. Lee feels that each of the organizers needed to accumulate years worth of their own experiences "to be at a point where [they]'re all comfortable producing this."
CURRENT's initial evolution from 'showcase' to 'symposium' was magnified after its announcement. People began contacting Muñoz, Luk, and Lee to be involved. As Muñoz says, "that's why we're doing this symposium. It's to empower people that feel in a periphery that shouldn't exist, or the periphery should be the center."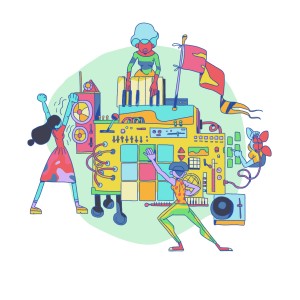 Lee and Muñoz identify as women of colour in the electronic arts industry. Muñoz believes that CURRENT comes at a critical cultural point at which artists who are women of colour can benefit from the platform of mainstreamed feminism, and create a culture that redirects structures away from the commercialization of feminist bodies in the established patriarchy:
"There has been this Starbucks effect, almost this greenwash with feminism. I thought that this was a very important time to be like, 'No actually we don't just need to talk the talk […] but [do] something that is actually changing culture. We're not putting women of colour in the lineup just to fill those boxes. It's because we are women of colour in the creation of it. […] There's a lot happening around feminism, and we want to grab onto that explosion of it and [say that] it actually takes so much effort in order to create a festival or culture that is a feminist culture where we are empowering ourselves, and not just sustaining the structures that are oppressing us."
Part of CURRENT's goal is to equalize the electronic arts ecology, accenting the interconnectedness of those involved in electronic art production. To the organizers, people-centrism is integral to CURRENT's feminist foundation. Muñoz sees it as "what feminism is."
Luk identifies one of the goals of the symposium is to "demystify the process of culture creation." The panels and workshops at CURRENT are designed make the electronic arts ecology less nebulous: people who can build and play instruments, promote themselves, and know the history of their bodies in their field are less bound to established exploitative structures. In facilitating an environment where people can navigate the field and act on their own behalf, the organizers seek to provide the "tools and connections to collaborate and work individually," empowering their community through the individual.
CURRENT is a welcoming and welcome helm for feminist inclusivity.
x
CURRENT: A Pacific Northwest Feminist Electronic Arts Symposium happens July 28-30. The program and lineup are on their website, along with more information about venues. You can buy tickets here.