Equal parts quotidian observation, philosophical reflection, and demented 'I Spy' book cover, the video for Sam Tudor's song "New Apartment" is the result of a creative collaboration between Sam and filmmaker Lucas Hrubizna.
The two went to film school together, and reconnected last year when Lucas put together a video for Sam's track "Truthful." "I think we've found that we have a lot in common, and working together is easy – we have similar taste but I find Lucas's ideas also challenge me, and help me shape my ideas in more interesting ways," Sam tells me.
For Lucas, the collaboration also comes naturally: "Sam's music is immediately visual for me. There is a texture and shape in his recordings that conjure imagery as soon as I hear them. For "New Apartment," I was struck by its pace and the empty feeling of floating that it gave me. And then as I considered the lyrics, I started to think about the way that the little pieces of refuse that we encounter in a new space build a picture about who lived there or what happened before us. This idea seemed to scale up to something more universal about building a story of our existence. In the video, dust-caked pieces of sticky-tack or forgotten Adidas runners become placeholders for atoms and planets."
In a way, then, the video captures both something very specific to the content of the song, as well as something universal in Sam Tudor's music. As Sam recounts, "when I first saw the video myself, it was sort of an 'aha' moment where I saw this visual representation of what Quotidian Dream as an entire record is kind of about – this general feeling of "muchness" in our lives, this really full privileged realm that still feels quite empty, surreal and strange."
"On another level this song is just my perspective as a Vancouver renter – that feeling where your home and private space never truly belongs to you, and all the pieces of those before and after are still around. It simultaneously feels safe – especially for someone like me, who spends a lot of time nesting in their room – but it also feels threatening and never quite yours."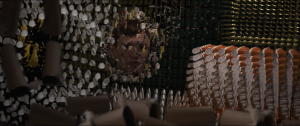 While the duo may be resigned to the Vancouver renter's limited control over their living space, they are not willing to simply accept the creative's limited control over processes of film production. "I think both Sam and I were frustrated by the amount of planning and funding that is generally required to put together a good video, so the process on this one was designed to combat that," says Lucas, who created all of the video's intricate effects on his aging 2009 iMac. The footage for the video was shot in a single afternoon, which, in Sam's words, "mostly just consisted of us walking around an empty house with a camera."
After this came several months of post-production. "Sam would ask me what was taking so long, and I would have to sheepishly explain that I was fighting against decade-old tech," Lucas recalls. "This project has encouraged me to upgrade."
x
You can keep up with Sam Tudor through his website, purchase music through bandcamp, and follow Sam and Lucas on Instagram. 
Images used courtesy of Sam Tudor/Lucas Hrubizna.