"The day that I was born, the number one song on the charts was David Bowie's 'Let's Dance.' That was a weird star chart; kind of an indicator of my musical tastes."

This is a fact of which Art d'Ecco is staunchly proud. Bowie's influence is overt, to say the least, in Art d'Ecco's outward and inward identity. Not only did Art mention Bowie's name on a routine basis throughout our afternoon in Dude Chillin' Park, but he has also stylized his new persona in avant-garde fashion, akin to Bowie circa Hunky Dory. However, Art's new album Day Fevers is a miasma of genres, combining everything from spaghetti western to Motown to glam rock. The essence of Day Fevers is rock with a modern, inclusive twist. While Art has been playing in Vancouver bands for the past decade, this new album is his first solo project.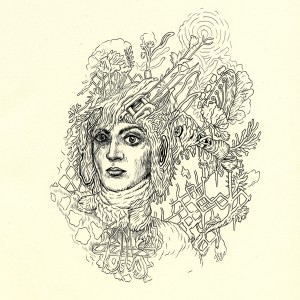 The name "Art d'Ecco" is somewhat of an inside joke with his good friend, actor Jared Keeso. There was a wall in Keeso's old apartment dedicated to scribbling down hypothetical DJ names. Art's was, naturally, Art d'Ecco, and the name has stuck. As for the look, it was only a couple of months ago when Art found himself in a wig store in Victoria that he decided to change his appearance.
"It wasn't cheap, but I thought, I'll get a lot of miles on it. Just to fuck with people and get a reaction. People said, 'You played that show differently tonight.' I probably played differently because I felt larger than life. It felt badass, it felt more real and raw and more creative. The look — it's a cape and I'm a superhero. It's all meant for art, and to be expressive, this concept of gender fluidity."
Day Fevers is Art's answer to the question: is rock 'n' roll dead? In Art's view, perhaps it is. In order to save rock, what the genre needs is revitalization. Namely, by seeking to expand the traditional patriarchal notion of rock 'n' roll.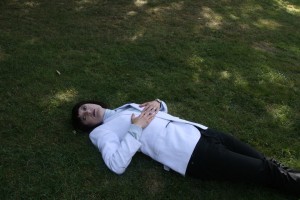 "If people call my look gay, then it is. That's fucking fine by me. The point is that gender equality is what's missing in a lot of the rock 'n' roll that I'm trying to bring into my sound. I could just as easily rock a leather jacket and Doc Martens and have stubble on my face, but that's boring. Being in touch with the feminine side and being more androgynous is a direct rip from my idols, and it also makes the music sexier."
Art's male idols include Bowie, of course, but also Lou Reed, Iggy Pop and Bradford Cox, all of whom have embraced drag at different stages in their careers. Of course, Art also cited many women who have greatly influenced him, including Grimes, Karen O and St.Vincent. All of these talents have had a huge impact on Art, and his androgynous identity is an ode to their combined influence.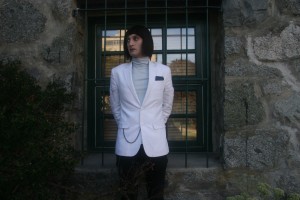 The album cover for Day Fevers is a contrast to Art's new identity, as the photo shoot for the cover took place before the transformation of his look. However, the album cover does symbolize a transition — one from urban to rural. Art's urban exodus to the Gulf Islands was lonely but inspiring, leading him to write the tracks for Day Fevers in his grandmother's empty house. Art channelled his isolation into creativity, fuelled off of his new environment and treating the process of writing the album as "musical therapy." Living on the Gulf Islands also provided Art with a fresh audience. Namely, this meant debuting his glam rock demos at hippie drum circles, "where no one wears shoes and everyone's drinking kombucha. It was straight out of a Portlandia sketch."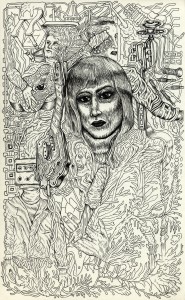 Day Fevers is an album that encompasses a breadth of genres and emotions. In doing so, the album does not necessarily have a distinctly unifying sound. Rather, Art's vision was for the album to play out like an iPod shuffle playlist. Art wanted to build around the instantaneity of music in the modern age, in order to design an album that embodies different characters across songs.  
"Musically, we're so spoiled now. We can listen to whatever we want whenever we want. People might not buy this album, and if they do they might just stream the one song they like. But if they bought the 12-inch record, I want to take them on a little bit of a journey. Not just lyrically or thematically, but sonically I want it to sound drastically different."
Art really does personify his inclusive Art d'Ecco identity. He is incredibly friendly and looks you in the eyes when you speak. As we were walking around Mount Pleasant hunting for photo shoot locations, a young girl asked Art if he was wearing a costume. Without hesitation he replied, "No, are you?" In this sense, Art truly is Art d'Ecco, confirming that identity can be porous.
x
The release party for Day Fevers is September 10 at the Rickshaw Theatre, featuring performances by Art d'Ecco, shitlord fuckerman, Dirty Spells and Elizabeth, and DJ sets by ACTORS. The first 50 people with valid Student ID get free admission. Otherwise, $10 in advance or $12 at the door. 19+