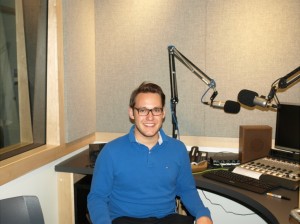 In May CiTR gave the green light — or should that be the red on-air light — to Erik Coates. A political science major and this year's CiTR Student Executive President, Coates was given the opportunity to forge ahead with his innovative approach to radio. Coates' particular style breaks the mold by blending eclectic music choices with random interviews. For example, he recently interviewed his grandma! I met up with him at the CiTR station to uncover the evolution of his weekly radio show, A Face for Radio.
ERIK, YOU DESCRIBE YOUR SHOW AS A MUSIC SHOW WITH INTERLUDES ABOUT NOTHING, WHAT DOES THAT MEAN?
It's a bit of a play on the Seinfeld premise, you know, a show about nothing. The idea was to do a show with thematic monologues but I wasn't able to do the monologues as well as I wanted because I'd end up just sort of rambling on. Let's say year end lists. I'd play some music, I'd talk about the year end lists, what my favourites were, what I thought other people's were and then more in depth asking what is the real point of this? Why does it matter? How do we evaluate such things?
YOU WANT TO PUSH THE BOUNDARIES. DO YOU THINK THERE ARE LIMITS TO WHAT YOU CAN DO AT CiTR?
I think that CiTR is the perfect place because we support independent and different programming. The limits are more of what I can provide because I'm limited by my own tastes, my personality, how I feel that day.
YOU ARE PRESIDENT OF THE CiTR STUDENT EXEC. DOES THAT HAVE AN IMPACT ON YOUR SHOW?
Not really. I name drop sometimes, I'm not above that. But I try not to do it too much because I think that anyone who's listening outside isn't really going to care that much and if I play a song they hate they're not going to keep on listening because I'm the president.
WHAT INFLUENCES YOUR CONTENT?
Of course I want to play a certain level of new music and I don't mean new as in just come out but new to me. Every week I have at least three or four new songs that I've been listening to that week. On a recent show I interviewed my grandma and aunt visiting from Brazil and did the show completely in Portuguese, playing only music that they're into — old time Italian music that my grandma likes.
WHAT HAS BEEN THE RESPONSE FROM LISTENERS?
I don't know really. I played a short story on the show and that had positive reception. I talked to two or three people that day who said that was cool. I think right now the show's still at its beginnings. I'm not ashamed to admit my shows are hit and miss especially if the spoken word content is not as interesting as I'd like it to be.
WHAT ASPECT OF YOUR SHOW WORKS BEST?
I think the music. Obviously taste — to each their own. There's enough similarities to other shows on CiTR, and differences, to make it interesting but not too abrasive for lack of a better word. Otherwise I would like to know if people get my personality coming across on the show. I've had a few people phone in. I think the best call I had was a guy asking for the 1980s TV show Miami Vice theme music. He said, "You seem like a cool radio station, will you do this?" And I was like, "You lucked out because my show has no boundaries." I played it saying, "Here's the Miami Vice theme music that a listener thought would be cool to play because it was a hit in the '80s." More of that would be great because that was fun. Fun for me, fun for listeners.
If you want to hear a show grow on the air this is it. Tune in to every Thursday from 10 to 11 a.m. for a variety of music and to learn what exactly an interlude about nothing actually is.