The pages of Discorder are a quiet sketch of Canadian arts and culture. In each issue, the magazine speaks volumes — in the words of contributors, through the advice and input of editors — about individuals who are creating. These words, which contemplate and consider creativity, become articles of creativity themselves. Reaching readers, they transcend their home in print and online. They facilitate a conversation that laps outward, enhanced by exchanges and interactions. In this place of some commonality, of some reason to congregate or reach for the same publication, lives community. As I step away from my position of Editor-in-Chief to return to school this fall, these communities are what leave me most affected.
As a member of Discorder's masthead, this most immediate circle of community has been my closest. Putting together a magazine is certainly a bonding experience, and undoubtedly the catalyst for friendships that will exist beyond the ties of responsibility.
The next ring of community I've been fortunate enough to forge into is that of Discorder's contributing writers. Though these individuals do not necessarily know one another, they are part of a collective of journalistic and nonfiction expression that works to highlight the efforts of Vancouver's creative class. Working with new and established writers has been a challenge and a thrill. There is power in the evolution of abilities — from shaky to competent, from competent to exceptional — and it is both perceivable and rewarding to observe this development over time.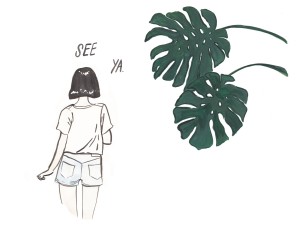 Beyond the masthead and our revolving crew of generous contributors lies the very content we congregate to cover. The living world of local arts and culture. Giving life to my vast web of email back-and-forths, I have had the pleasure of meeting some of the people who fill our pages. Attending the show of a musician or artist Discorder has covered, means knowing I am supporting them both in print and participation. Interacting with these individuals in the tangible realm makes visible the ongoing conversation between the writing we do, and the content we cover. It becomes apparent that there is a dialogue that exists between different artistic acts in the city, giving perspective to a vastness of community.
This is my final issue as Editor-in-Chief. And as I expanded on (in great detail) in my previous Editor's Note, I have had a more-than-meaningful four year relationship with Discorder, as both a writer and an editor. As I begin my Master's degree in Journalism this September, I look forward to focusing on my own pursuit of creative non-fiction, but I hope to never walk away from these communities I've had the privilege of be included in.
The significance of connecting different demographics is just that. Bands, music fans, and music writers will certainly overlap, but a dialogue is not always automatic. I do not claim that Discorder solely initiates a dialogue between these groups. I do claim it helps facilitates a discussion. To Discorder's masthead, contributors, and Vancouver's arts and culture community, I hope the conversation always continues. And, it goes without saying, it's the people I'll miss most.