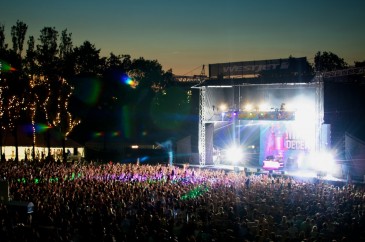 September 21 hovered around 25 degrees: heat weather in Vancouver. It was a prime Mad Decent Block Party scenario; for many, an ideal summer finale. For the crowd that would've identified hypnagogic audio lectures in that other electronic music festival, Mad Decent's final stop of the summer provided a slew of zeitgeist sound: mad choppy vox samples, drills/chimes/sirens, assorted bass reverberations, the ever versatile vacuum that goes like WHIRR wuh wuh wuh WHIRR wuh wuh wuh, and a dab of electronica.
Given the opportunity to feel very young, or very old — choice overheard quote of the trip: "Young Jeezy was the shit when I was in Sixth Grade" — I took the assignment. However, circumstances made this difficult. As local band Bear Mountain were primed to take the stage, I was greeted with a hundred foot, hundreds plus lineup packed side-to-side chest-to-back in a solid mass of flesh, tank-tops, and suffocating amounts of fake fur. While the promised media pass would've solved this problem, I was rebuffed and presented with a ticket instead. Presented with the squalor of general admission, I went to go phone a friend about how sick the Oneohtrix/Arca New Forms show was the night prior (very), expecting the line to subside with a bit of a wait.
So, I'm an idiot. It was now 5:00 p.m. and the congestion persisted — it may still be there this very moment. After some time in line, a helpful security guard informed me that there was no way my bag was making it through doors: again, the sting of the phantom media pass. Contemplating leaving my bag in a vacant lemonade stand, considering the lineup and the possibility that I'd get in for no more than two artists, I contacted my editor and we made the decision to send me home.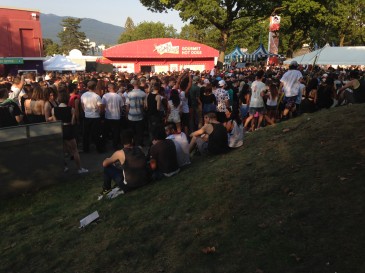 Leaving, I gazed at a slab of people preparing for the security frisking of their lives. The conclusion was clear: grumpy rave-dads stay home. Let the kids have this one. As much meme currency as overdose possesses in Mad Decent land ("Popped a Molly" tees were in full-effect that day), given the recent slew of drug related injuries (and even deaths) at Mad Decent shows, safety is pretty crucial. As for the consequences: attendees seemed divided. The reports on the Facebook page are mixed; fucked up — in the positive or pejorative — were both heavily applied.
Still, if you wish to sample the Block Party for yourself, expect another visit in 2015. The label has roots in Vancouver, with Mad Decent's Creative Director, DJ Paul Devro, originating from Port Alberni and the Vancouver dance scene. Though he now lives in LA, Mad Decent's Vancouver roots go deep and Diplo touches on the subject in a recent Nardwuar interview.
Until next year, here are some photos featuring the day's lineup. Scope Bear Mountain, who got the opportunity to open the festival, with Mad Decent organizers making a point of featuring talent from the cities they stop in. Noblesse Oblige.
Scroll down to turn[t] up: