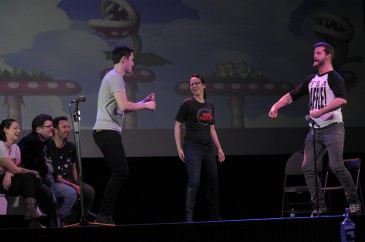 "We perform fast and furious improv. We want the audience to have as much fun as we do."
No, this is not Vin Diesel's foray into improv comedy. Rather, these are the words of Daniel Chai, co-founder of The Fictionals, one of Vancouver's most popular improv companies — and "fast and furious" is certainly apt in describing their rise in the comedy scene.
The Fictionals formed in 2010, officially founded by Chai, Chip Ellis, and Jennifer Perrin, an independent comedy entity ready to rain hilarious improv hellfire on whatever lucky audience they could find.
"Back then we had an opportunity to perform a show at a venue called The Mermaid Café, which was a burlesque club," says Chai. "The first show that The Fictionals did regularly was a show called Show Us Your Wits. I came up with the idea to combine improv and burlesque, two amazing art forms that Vancouver is known for, and put them together into a show. The response was immediately great. Burlesque was taking off at that point and we tied in with that."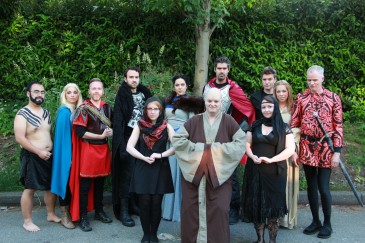 But as he elaborates, Chai's connection with The Mermaid Café went even deeper and helped secure The Fictionals their first show.
"Back in 2010, I was also performing regularly as a burlesque dancer called 'Chai Tea.' I was performing at Kitty Nights and The Purrrfessor (the club's owner by the real name of Doug Thoms) said to me, 'So Chai Tea, when are you going to come do an improv show at The Mermaid Café?' And that was our first opportunity to do a regular show. I pitched it to The Fictionals and we said, 'Let's do a show.'"
Unfortunately, that show would be their last at The Mermaid Café, as the club shut down only days later. But the group soon found a permanent home in Café Deux Soleils on East Fifth and Commercial — since then, The Fictionals have performed at the vegetarian eatery/performance space Café Deux Soleils every Tuesday. And the rich atmosphere of Commercial Drive seems to tingle at Chai's creative core.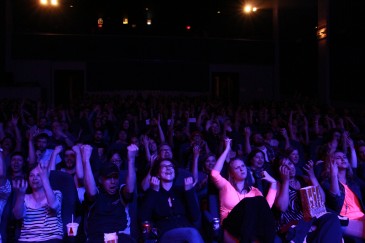 "There's poets, there's dancers, there's jugglers, there's musicians, and there's theatre people. All types of artists make up Commercial Drive and East Van. So for The Fictionals to have a home right in the heart of Commercial Drive at a venue like Café Deux Soleils is fantastic."
The group has turned their Tuesday show, titled Hot Improv Tuesday, into an ambitious genre showcase. While the format of the show remains roughly the same — a mix of short-form and long-form improv — the group tackles such genres and themes as video games, comic books, slam poetry, and a soon-to-premiere Firefly-based show.
"Hot Improv Tuesday is a weekly dose of laughs that I think everyone needs on a Tuesday, right? You just started work on Monday, Tuesday rolls around and you're thinking, 'Ugh, four more days left to go.' But when Tuesday's done and our show is done, you think 'Oh, okay, only three more days until Friday!' So we're the shot of caffeine that says 'Keep going! You're going to make it.'"
As the group established themselves at Café Deux Soleils, delighting audiences and cornering the market of vegetarian improv fans, the group explored a new idea for a show: Improv Against Humanity, a show based around Cards Against Humanity, the foul-mouthed, politically incorrect, riotously funny party game.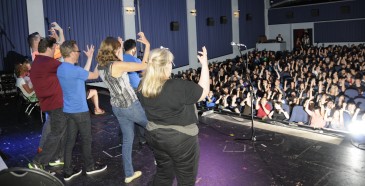 "We did our first [Improv Against Humanity] in November of 2012," says Chai. "I never really expected it to be super huge. I thought it'd be a fun monthly show at Café Deux Soleils. The very first show sold out. We had a line down the block. And the next seven months we sold out every Improv Against Humanity at Café Deux Soleils."
The show got so big that the group had to move Improv Against Humanity out of Café Deux Soleils and into the 400-seat Rio Theatre where the show continues monthly. And as The Fictionals revel in their wild success, only four years after their formation, they can now sit back and ponder the important questions and the unique perspectives that a show like Improv Against Humanity raises, as Chai goes on to explain.
"I think it's the ability to go, 'Well, okay, what if the school trip was ruined by raptor attacks? Why is it so horrible that someone's mom acted out the scene of giving birth every nine months? There are so many worse cards that I can't mention. There's ones like 'Flying Sex Snakes,' or 'Being a mother-effing sorcerer.' And in improv you can think, 'Well, what would that be like?'"
See The Fictionals every Tuesday at Café Deux Soleils and once a month with Improv Against Humanity at The Rio Theatre. Check out thefictionals.com for more info.