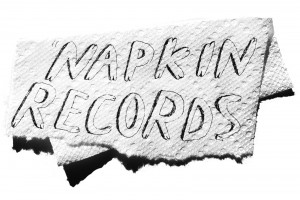 "Damn hippies," I hear a barfly mumble from his stool as a dozen young musicians and artists pour in through the front doors of Pat's Pub, one of them cradling a baby.
"It's my sister's kid," says Industrial Priest Overcoats drummer David Madge. "I had to catch a ride with her." She waves to me from the end of the table.
Some of them sit. Fewer stand. And I watch as the jugs of Pat's lager begin to empty through the din of a toy xylophone being played off-key and labelmates antagonizing each other with the bashfulness of teenage romance. Hanging out amidst this unbridled energy, beer flowing and friends chiding each other, is a nostalgic reminder of what punk means to me.
This is Napkin Records. In true d.i.y or die fashion, everything short of pressing vinyl happens in a non-descript East Van basement. From writing songs to keeping their religious recitations in check, creating the album art and giving bands a place to crash, it's a tightly knit group of musicians, artists, friends, and lovers that rely on each other for success.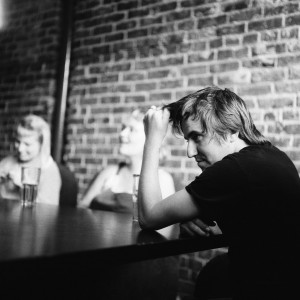 "When things need to get done, sometimes it starts out as a big knot and we all slowly untie it. Sometimes we yell at each other, sometimes it's dysfunctional, but in the end we always get done everything we need to," explains Robert Tunold, president of Napkin Records.
Simultaneously volatile and endearing, Napkin is a label shirking the past. When I ask about their backgrounds and the label's origins, both Tunold and I.P.O. guitarist Ben Beckett remain evasive. Eventually it surfaces that the label was born in February of last year, shortly after multi-instrumentalist, singer, and the label's principal songwriter Trevor McEachran left his laptop on the back of a night bus. "There were over 900 songs on his laptop [that he had written]," says Tunold. Instead of getting bummed out over the loss, Tunold and a handful of his other friends did what any group of young punks would do and pooled their gear together to create a platform for McEachran's tireless output: Napkin Records.
I can't decide if Tunold is embellishing this tragedy and it's a cruel trick that McEachran isn't around to confirm it. "He's gone fishing," I'm assured by Tunold, who also plays bass for I.P.O. I don't buy it though. The distressed and prolific young songwriter just doesn't seem like the outdoors type. But Tunold keeps going, detailing how McEachran wrote all the parts and recorded nearly all the tracks on I.P.O.'s debut full-length Defiant Mortals by himself.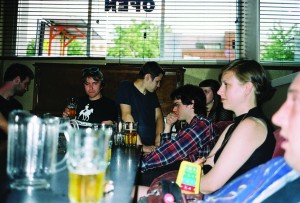 An air of seriousness suddenly rises as 10 other voices echo Tunold's story. Everyone is in agreement: McEachran was the reason for the label's formation. Recalling his fits of self-deprecation and explosive stage presence at I.P.O's Music Waste show earlier this summer, the story is becoming believable.
Back at Pat's, Max Zaitlin's head rises from his bible with some insight on the label's beginnings. "Actually, it all started with Vanity Records," he argues. As much as the paranoid frontman for Lesser Pissers insists Vanity was a precursor to Napkin, it currently exists as little more than a platform for Zaitlin's delirious ascension under the believeh moniker.
Zaitlin's religious antics, which he describes as simply a "divine interruption," come in the form of biblical recitations that replace the lyrics to Lesser Pissers songs. "I have occasional interstellar feedback …The cruel son of a bitch [God] is always calling my name," Zaitlin says in defense, claiming music facilitates the cosmic conversation.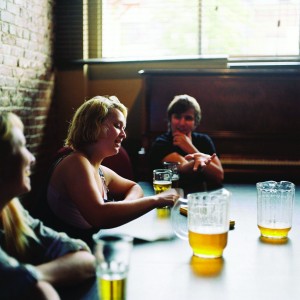 It's a habit that has gone so far as to prompt Beckett (who does double duty as Lesser Pissers' guitarist) to exit this year's Music Waste gig on the premonitory last words "Never again." Then, when "last Lesser Pissers show EVER" appeared on the Napkin Records Facebook wall the next day, everyone figured the band was finished. But to my surprise Zaitlin tells me, "We're playing a show on August 30," insisting that Lesser Pissers haven't broken up.
With that affirmation, Napkin Records is officially home to 12 local bands and scarcely twice as many musicians, with people like Tunold and Beckett sharing duties in up to four bands at any given time. The label's collective efforts have been compiled on the annual Napkin Records, Vol. 1 sampler that was released in March, with local artist and Napkin member Gillian Cole looking after the album art.
On the record White Poppy's Ian Kinakin covers guitar and vocals in Mossfett (previously Hemogoblin), a drums/guitar duo that blends garage doom with spastic vocals while Snit's unnerving "Can't Trust Your Neighbours" exemplify the band's adderall-riddled anxieties. Meanwhile the Night Detective throws sub-minute cuts of Germs' style blitzkrieg-punk that contrast the greater pop sensibilities of bands like Girl Dracula.
Blunt and unabashed, the year-and-a-half-old label produces fast, bitter releases that face the anxieties many have chosen to sidestep. While some are opting to join the local dream-pop roster, Napkin is a beacon of authenticity looking to illustrate the obdurate confrontation of punk's timeless struggle. Get wasted, throw on Defiant Mortals, and shamelessly ruin your life to it.
_________________________
Napkin's first full-length release Defiant Mortals by Industrial Priest Overcoats was released on August 6. They are currently on a tireless coast-to-coast North American tour with labelmates Ann, Snit, and Genderdog that covers 25 cities over 29 days.