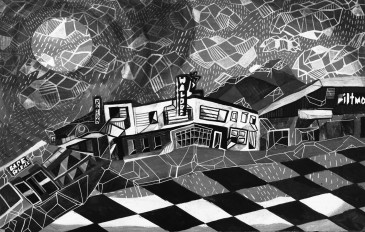 September is synonymous with the back-to-school season. That means an influx of students coming to Vancouver for post-secondary. While you'll undoubtedly be buried by textbooks and syllabi over the coming months, what better way to let off some steam than to take in a concert or seven? Sure, we've lost a few along the way (R.I.P. Richard's on Richards, 360 Glen, and more), but Vancouver is still home to some pretty amazing venues. In this month's edition of Staff Sound-off, we asked folks to tell us about the first concert venue they went to and what venue currently has a special place in their music-loving hearts.

Evan Brow (Contributor)
First Concert Venue
Pacific Coliseum (Rise Against): After mostly listening to whatever songs were in Guitar Hero, a 15-year-old Evan Brow finally decided to branch into modern music. My mom drove two friends and me to a venue that played host to Zeppelin in '68 and would go on to host Alexisonfire in '12. It was the perfect bridge between then and now, sparking my interest in a wide spectrum of music.
Favourite Venue Now
The Orpheum: It's the mixture of operatic atmosphere with the down-to-earth folksy musicians I've seen perform there. There's something about Dan Mangan leading us all to sing in unison, as equals, inside a sprawling, majestic venue that's beautiful.
Elliot Chan (Contributor)
First Concert Venue
GM Place (Green Day): Contrary to popular belief, there used to be a lot of punk in me and I guess there still is. My three friends and I stood out pretty badly in the stadium during the American Idiot phase because we suddenly realized that maybe we were no longer in Green Day's youth-centred demographic.
Favourite Venue Now
Commodore Ballroom: Since the demise of Richard's on Richards, Commodore Ballroom has been the setting for some of my favourite shows. The worst time there was still better than the best time in many other venues.
Curtis Michael Davey (Ad Coordinator)
First Concert Venue
Legion Hall on the Drive (Orkestar Slivovica): I stumbled in with my sister and friends on her birthday. We danced, drank shots of Slivovitz, and danced some more. An hour later, I walked out wearing a woman's dress and a 1920's football helmet made of leather.
Favourite Venue Now
Anza Club: Because no other venue attracts such eclectic acts and eccentric individuals on any given night.
Fraser Dobbs (Contributor)
First Concert Venue
The Rickshaw Theatre (You Say Party! We Say Die!): Yes, this was the now-infamous show where drummer Devon Clifford collapsed on stage mid-set from a brain hemorrhage. It was a terrible, confusing, and tragic night, but it's also what pushed me head-first into music journalism.
Favourite Venue Now
The Remington Art Gallery: Every show I've seen there has been intimate, filled with great people, and packed to the brim with positive energy. Big points for supporting Vancouver's local drone/ambient/experimental scene.
Coleman Ingram (Contributor)
First Concert Venue
Commodore Ballroom (Down): I was returning to Canada in '07 from overseas and luckily passed through Vancouver on the day Phil Anselmo's heavy rock super-group was playing. I went solo and loved every minute of it. I'm still stoked every time I get to see a band there.
Favourite Venue Now
The Rickshaw Theatre: Partly due its proximity to my house, but mostly due to its ample seating, room to dance, stage visibility, and beer accessibility. And the range of bands they book there is fantastic. I would be happy to see every show there.
 Max Wainwright (Contributor)
First Concert Venue
The Orpheum (B.B. King): I was just a teenager learning guitar, and as everyone knows, every guitarist has a blues phase. My dad treated me to a gentlemen's night out and I certainly appreciated the class of both the venue and show alike.
Favourite Venue Now
The Biltmore: Mostly because of the sheer volume of amazing shows I've seen there, but also because it's great for short folk like myself. No matter how many tall people are in front of me, I always seem to get a view of the stage.