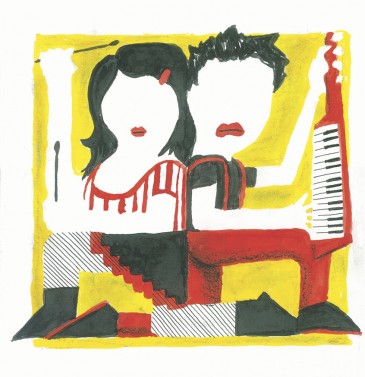 Meet Astrid and Otto Rot, or Die Roten Punkte (the Red Dots), the "German rock band" whose musical tales of burger store dinosaurs, robots who are lions, and one-eyed aliens who love to rock out, have captured hearts from here to Albania. Little information exists about their origins before their debut Super Musikant (whose only clues are personal, revelatory stories in songs like "I'm In A Band"). But what is apparent is their effect on audiences. While their personalities could fill GM Place, it's the Fringe Fest and the theatre stage where you'll get to experience their new wave punk musical theatre inspired by the Ramones, Madonna, Brian Eno, and Lady Gaga.
"We won best comedy in Victoria. They just kept laughing at us, and we can hear them laughing and stuff," says Otto (lead singer/keytar/loops). "It's weird for us but we have this manager and he books us into comedy festivals and theatre festivals, and stuff. It's a little bit weird. He is not normal. I don't think he's very good at his job," says Astrid, who is also the lead singer — a disputed fact — drummer.
So say the very serious musicians who followed Super Musikant with sophomore release and very serious art rock project Kunste Rock. But their manager must being doing something right because the awards keep piling up.

When they last came to Vancouver, they had just won Pick of the Fringe in Winnipeg. "It's a nice feeling because we're like the cool kids," Otto told then-CiTR Arts Director, Adam Janusz, in 2011. Or tried to tell him, as Otto and Astrid don't converse as much as lovingly bicker.
"There was a great bar called the Albert…" Astrid interrupts Otto with her own favourite aspect of Winnipeg.
"There was a picture of her in the front of the newspaper, she was lying in a gutter, " Otto interjects.
"I was having a great time"
"It was a bad photo, she was lying in a pool of sick…"
"No, it wasn't, it was tahini from my falafel."
This time in Vancouver, they present Eurosmash! When Discorder spoke to them this summer, they were still arguing about the makeup of the band, whether Astrid was on vacation or in rehab, and how their parents died — it's either a lion, a train, or a lion on a train. The "arty" rock, developed in a concrete bunker by expensive music scientists, has given way to bigger and shinier things. Like "Smash Your Hearts Together," the number one Albanian dance hit. Blame the bill from Kunste Rock and Otto's love of the Glee Project.
"We hang out and watch the Glee Project on the television."
"Don't tell them that. That is not cool!" Astrid says.
Otto describes their song about how "NASA sends us to this new planet. It's called Capra22b. It's a real planet, and they think that life is there and when we get there we find one-eyed aliens and we rock out with them." With such diverse material, Discorder asks how fans should prepare for a Die Roten Punkte show.
"They should prepare to wave their tentacles in the air."
Astrid sagely concurs, "That's one of the lines from the song." Indeed it is, Astrid. Indeed it is.
___________________________
Die Roten Punkte performed at the Cultch August 28 to September 2. Visit discorder.ca for a review, and to truly understand Die Roten Punkte, watch their videos at dierotenpunkte.com.