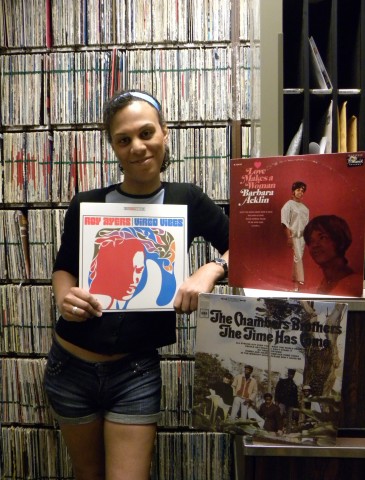 Sunday is a smooth day for soul music; a day to reflect on what has passed, and to dream about what lies ahead. If you've had the pleasure of tuning in to Shake A Tail Feather on Sundays, you'd know DJ  V has followed radio veteran George Barrett's merry reggae vibes with all things soulful—from the golden years to today's local scene.
On the air since September 2006, and on alternate Sundays since January 2011, DJ V, aka Vanessa Tara, knows that a splash of soul and a dash of funk are all you need to get up and shake your tail feather. DJ V reminds me that the show's name is inspired by the 1963 tune by the Five Du-Tones, and to see one of the grooviest covers of that classic, look for a clip of Ray Charles in the 1980 cult classic, The Blues Brothers.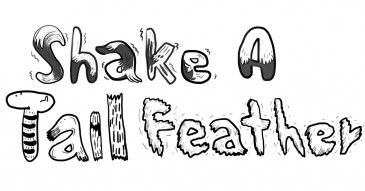 Discorder: What music did you grow up listening to?
DJ  V:  I was born in 1970, so I grew up with a lot of soul and early rock 'n' roll. My mother was a huge soul fan, and I guess the music she played must have just come out. This included Barry White, The O'Jays, Curtis Mayfield, Marvin Gaye, Diana Ross, and many others, so there certainly was a lot of soul around the house.
What made you start Shake A Tail Feather?
In a previous life, I was doing radio at CKUT [at McGill University, Montreal]. That was 20 years ago. I was volunteering in their production department. I then took over a literary program on CKUT, and I hosted that for a summer. I went around to local cafés to record various poetry and fiction readings on tape. I then had the tech person mix it, with me doing the announcing in between. It was neat!
Do you collaborate with local radio hosts?
I've done that here at CiTR. David Love Jones from African Rhythms was on the show, particularly in my first couple of years. I've also had Gavin Walker on from The Jazz Show, because classic soul and jazz often overlap. Guest host GAK from Exploding Head Movies has played blaxploitation film soundtracks. Darren (Gawle) from Stereoscopic Redoubt, which was a psychedelic music show when he started it, was on and we played psychedelic soul, like Funkadelic, The Chambers Brothers, and Sly & the Family Stone.
What is Rainbow 24?
Rainbow 24 was a project put together as a special 24-hours of programming. QUEER FM, which was hosted by DJ Aedan Saint and company, decided to put this together as he was leaving. Aedan invited me to do an hour of LGBTQ music on Rainbow 24. There are soul artists who identify that way, but if you go back to the 1960s or '70s, the artists weren't necessarily out. For example, Toronto-based Jackie Shane was openly gay, but didn't actually say so in public. But he had makeup on with a bouffant hairdo, or wore a dress or a feminine-looking suit. He peppered his stage with songs about women but they actually weren't. Other examples include Little Richard, Big Mama Thornton, Laura Nyro, and Billy Preston.
What has been your most memorable on-air moment?
Coming out on the air last October was a major one. I didn't expect it to be that big a deal but it brought a lump to my throat. I started that show like a regular one, played great music, and I told our listeners that I had an announcement at the end of the show. A couple of hours later, it was quite moving. My friends who were listening called me and congratulated me. I was DJ V from that point on.
If you could relive a year in the history of soul music, which would you pick?
Probably 1967. It was a huge year for soul. Musically speaking you can't beat that. You had soul, Motown, Stax, southern soul, blue-eyed soul, boogaloo (a fusion of soul/R&B with Latin American music), ska turning into rocksteady in Jamaica, and the rise of northern soul in Britain.
If you could only play one album to shake your tail feather, which one would it be?
Wow, it's such a big genre! I would have to say In The Midnight Hour by Wilson Pickett. Another one would be James Brown At The Organ: Handful Of Soul. A lot of people don't know this but James Brown used to play the Hammond B-3 organ very well!
What is your favourite CiTR radio show, besides your own?
It used to be Sweet And Hot (with Charles Burnham), which was a fantastic 1920s, '30s, and '40s show. It's not on anymore, but it gets an honorable mention. I'd have to say The Jazz Show with Gavin Walker.
This month marks the show's sixth anniversary. What does the future hold for Shake A Tail Feather?
Originally, I thought I probably had enough ideas for six months. And now, it's been six years! I take every show individually, and I enjoy each one. Each show has its own focus: the songs could be from the same year or they have the same theme, so there's always something going on. As long as that continues to happen, I will continue doing it. But I'm more concerned about how long the music lasts, so I'm really interested in mentoring somebody. I'm a UBC alumna so I'm more than happy to mentor students who want to get in to radio, who like and respect the music, and who simply love to learn, because then the listeners benefit.
_________________________
Shake A Tail Feather airs alternate Sundays, from 3pm to 6pm.
Listen to the show's podcasts here.