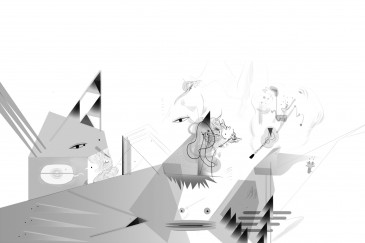 It's been a long season of festivals all over the west. I've had friends make me jealous with the awesome music that they got to see while some of us work for a living. I finally get my chance though with the Vancouver Fringe Fest, the international indie theatre festival.
Music and theatre often means a Broadway musical, but Fringe offers something a bit different. A collaboration between the Van Fringe and local promoter/indie guru/DJ Tristan Orchard has led to the Fringe Bar, a new music offshoot in the midst of the festival. This year, The Ruffled Feathers are back for their second year, and over the course of the ten days of concerts Bleating Hearts, Hot Panda, DJ Glenn Alderson of Too High Crew and more will all play the same stage, for free, in the middle of Railspur Alley on Granville Island.
Executive Director of the Fringe, David Jordan, admits to a slightly selfish motivation for split identity of the Vancouver Fringe — concerts are a good way to sell beer — but he's also quick to point out that Vancouver is the last stop on the cross-Canada Fringe tour and the companies of travelling thespians use the opportunity for an unofficial cast party.

"I've been told, by outside sources," says Jordan, with a notable pride, "that our [Fringe] has the best party." Party or not, many of the bands playing were excited to get to see the Fringe, and Orchard admitted that it was a big lure of the gig as well as the outdoor venue.
When it came to why they wanted to work with Orchard, Jordan cited his passion and eclectic taste, which is especially tangible this year, with shows like Keytar Warrior, a musical improv performance created by Noah Ferguson, who is also one of the earliest acts that Orchard promoted. Orchard and Jordan both curate a stage that is accessible and diverse, with an element of theatricality, and most of all, "It's gotta be fun."
"It's really different than the shows that I normally pick that are at clubs" says Orchard, "it gives me a chance to pick bands that I like that are maybe a bit more mellow."
Music suitable to the space was also key, which is like a courtyard about halfway down Railspur Alley on Granville Island. The cafe opposite and most of the alley will be filled with performers and audience. There was talk of moving the venue this year to accommodate everyone, which would have been a shame, as the courtyard promises an intimate show with this year's acts, plus trees, stars, and the Granville Street Bridge overhead. Orchard himself will get in on the fun at least twice, in a performance with his band of local indie poppers, BESTiE, on September 13, and capping off the festival with his own DJ show on September 16. He says that the party goers at the Fringe "really like to act out the songs," and that it's one of the best DJing jobs he's had.
The Fringe is really the one time of the year that Vancouver's micro-universes of music and theatre crossover outside in a unique way. The classic musical is still the main player, but they aren't necessarily meant for dancing.
Musically, the Fringe this year is better than ever. Ten full days of free outdoor entertainment and 10 full days to celebrate theatre is good for everyone. There's 750 regular shows this year, plus the music acts, plus the Fringe Bar at Railspur Alley.
No matter what, there are many reasons to be at the Fringe this year and to stay late. And you'll probably leave with lots to brag to your friends about.
____________________________

The Vancouver Fringe Festival runs from September 6 to 16, with free shows at the Fringe Bar happening every night. For more information and tickets, visit vancouverfringe.com and check out Tristan Orchard's blog at winniecooper.net