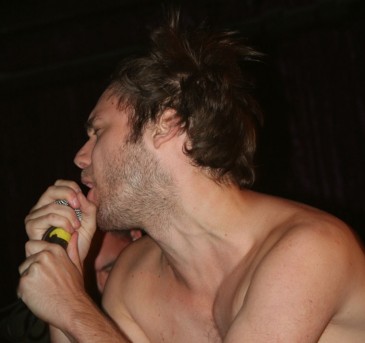 Intense. If there was one word to summarize this night, "intense" would be it. Vancouver mainstays B-Lines opened the night and got heads bobbing (not always easy in this city) with their loud and fast power pop-infused punk rock. Intense guitar work and menacing vocals helped to get catchy songs like "Social Retard" (off the band's latest 7″) stuck in our heads.
Next up was Womankind, who just might be the best new band in this city—they were playing one of their first shows! Two bassists were the first sign that this band was going to be something special, but the proof was in the playing. Womankind was loud, aggressive, heavy and shouted like war was about to erupt in the building, which wasn't unlikely given how hard they were rocking out. Drinks were definitely spilled during Womankind's frenetic set. [ed. Hope your camera is alright, Sean!]
Finally came Pennsylvania's Pissed Jeans, and if you missed this show, you missed a great one: the Jeans play some of the dirtiest, harshest grunge this side of 1993. Shirtless singer Matt Korvette's howls and gyrations served to wind up the flannel contingent, as playful flailing eventually burst into a full-scale mosh-pit in front of the stage, and, in a sight rarely seen in Vancouver, drinks were actually thrown both from and into the audience. Though they played a short set, Pissed Jeans certainly didn't leave their audience wanting, as they let total chaos erupt onstage during their finale. Amps were piled up and scaled by guitarist Bradley Fry only to have them collapse around him afterwards. Next, he picked up the band's largest amp, hauled it around the stage and hurled it into another amp. The drum kit was pounded so hard the cymbals broke, while Korvette paraded above the audience. Some folks who witnessed the event were noticeably scared of what was happening. What was really scary, though, was how frighteningly good the bands were!