The prolific Vancouver musician (of NO KIDS, GIGI and P:ANO) talks about his musical past, and the story behind his emotionally raw new solo album.
x
I waited for singer-songwriter and multi-instrumentalist Nicholas Krgovich on a bench in the Hastings-Sunrise neighbourhood on a sunny October day. He suggested that we meet in this park, close to the water and the train tracks. I watched crows and children and couples and found myself feeling calmer than I usually do before an interview. I was possessed by that sense of false intimacy that certain art can lend you, art containing so much of its maker that you feel deeply acquainted with them.
I had spent the last two weeks listening to Krgovich's newest record OUCH, and come away feeling like I had read his diary. OUCH tells the story of a specific experience that is widely relatable: falling in love and experiencing gut-wrenching heartbreak for the first time. "There's a unifying field about it all," Krgovich explains, "it made me feel like I was joining the human race in a way that I hadn't yet."
Working deftly within that "field," Krgovich inserted his ubiquitous feelings of heartbreak into the tactile objects and geography of his specific experience: locations (the Lido), gifts he never gave (Hinoki Wood), and the art he consumed to feel better (Jonathan Richman's music, Hafiz's poetry, Alain de Botton's TED Talks). In doing so, he has made OUCH highly personal and deeply relatable. Rather than couch raw emotion in pretentious discourse, Krgovich is honest about feelings that he describes with a smile as "base and teenager-y." When I bring up how these sentiments play out on the track "Goofy," he laughs — "it's like I hate this room I hate this coffee I hate this food and it was true! Nothing brought me any happiness or joy in that moment."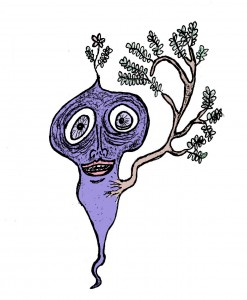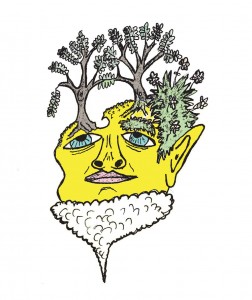 The experience, while devastating, turned on a creative tap for Krgovich. "When I wrote this record," he explains, "it was not on purpose, and it was mainly for me, and I couldn't help but do it. It felt like I had so many sides to turn over, and at the time that I wrote the record, my feelings felt infinite." The 12 tracks of the album sift through the many feelings accompanying heartbreak: reflection, mourning, pain. However, the record's instrumentation is not as somber as its lyrics. On "Goofy," Krgovich musically mirrors the discord between his own melancholy and the sunny disposition of the weather, pairing the light and sprawling sounds of classical guitar and bursts of piano with the lyrics "I feel duped and robbed / and it's at odds with the vibrancy of spring." Krgovich's dreamy pop oscillates between sounds that are sweet and sounds that are despairing, allowing for a variance in instrumentation despite the consistency in topic.
When I ask Krgovich what compelled him to be so open with his experience on OUCH, he explains it had to do with "a newfound interest in clarity and transparency, when that's available. It feels so radical and right to me. It's kind of that simple. Also, you learn that so much of the fear and anxiety that exists about letting people know what's going on with you is so much your own thing — no one cares, basically."
This ease seems to have eked into his practice as well. "I used to [put limitations] on my music and have genre parameters and things like that. And if there were ideas in music that were mysterious to me, or that I wasn't very good at, I would try to write in that mode to figure it out. But now I am in no rush to do anything. I try not to put limitations on anything."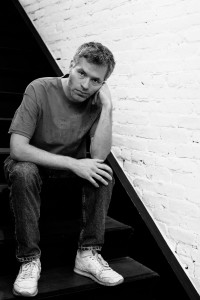 Perhaps Krgovich is so able to follow his intuition with music because he's been speaking its language from day one. His earliest memories of songwriting are from the first grade, when he created a band with his neighbour and recorded original lyrics to the melody and backing track of Roxette's 90's hit "It Must Have Been Love." He started listening to bands like Bikini Kill and Beat Happening in 7th grade, when a broken arm had him stuck at home watching MuchMusic all day long. "I don't have any memories where music is just something in the background," he explains, "ever since I can remember I've cared about it."
Krgovich's output has been prolific since he began putting out records in 2002 at the age of 18. Over the last 16 years, he has dabbled with different sounds, genres, and forms. Yet despite having covered so much terrain with his music, he admits that OUCH is unlike anything he's made before. The way he describes it, it sounds like he channelled OUCH into existence more than anything — it spilled out of him. "As miserable as it all was, it felt completely vital," Krgovich describes, "and I'm grateful for all of it. I think there is something really jubilant about it now."
x
OUCH released October 26, 2018, and is available for purchase — along with more of Nicholas Krgovich's music — through his bandcamp. For a taste of his new record, check out the music video for "October" below: