On the front of a non-descript house in Kits on September the 24th, a small sign reading "Sofar Sounds" was practically invisible, folded over and water-logged from the rain.  But no matter, those who were looking for it knew they were in the right place. A Sofar show, after all, is like no other.
Short for 'Songs From A Room,' Sofar started in London in 2009 when its founders, tired of "the over-quantified music scene," began hosting shows in their apartments. Once they started filming the shows and putting them on Youtube, Sofar quickly gained a following among like-minded folks in other cities who wanted to get on board. Six years later Sofar has branches in over 170 cities, including Vancouver.
It's no surprise the Sofar model attracted so many eager fans— centered on curation, community and respect for musicians, the experience they offer is truly unique. You only need to attend a show to palpably feel this.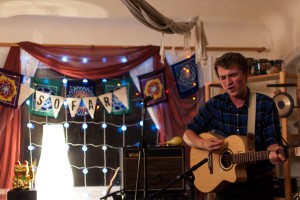 Aiming to create a singular listening experience, Sofar's by-donation events follow a strict mandate— audience attention is on the music, meaning no talking or texting, with the audience members typically seated on the floor facing the performers. The venues are not venues in the typical sense; the shows take place in diverse spaces like warehouses, roof decks, backyards and offices, and are generally small. This limited space also means limited attendees, and rather than the typical first-come-first-serve model, folks go through a short online application. Sofar Vancouver's organizers Catherine Hodgson and Darragh Coward receive about 150 applications per show, and can only extend invitations to an average of 20 people and their plus-ones. Accordingly, they're careful to pick applicants who they "think are suited for the vibe and really understand and want to support local musicians."
The musicians snuggled in this particular Kitsilano house at their most recent show were Ace Martens, the Luke Wallace Trio, Tramp and Jody Glenham. Lineups aim to represent diversity, and this night spanned genres from shoegaze to environmental-folk, singer-songwriter stylings to hitchhiking blues. Selection is done by a voting process: "Our entire team really engages in a dialogue around each artist… We all come from very different backgrounds. Even our ages, preferred genres and areas of study vary enormously, so it makes for some interesting conversations around representation," explains Catherine.
For the audience and musicians alike, there is a lot of mystery surrounding Sofar's shows. If you are invited, you won't know until two days before the show when the location is revealed, and the lineup remains a mystery until you arrive. This helps dispel any expectations that could affect the audience's interaction with the performance.  As Catherine notes, "[This] introduces a new conversation around the entire experience…there's a discovery element to it to." The organizers also point out that discovery like this is limited in the typical concert-goers habits, since people will often decide whether to attend a show based on names they recognize on the lineup.
This surprise model also means audience members may hear genres they wouldn't typically seek out. "It's strangely common to have an audience member come up to us in the intermission and say something to the effect of, 'I thought I hated country music until tonight,'" says Catherine.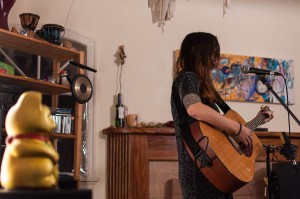 Sofar Sound's ever-changing locations also help bring audiences out of their usual bubbles. "We've tried really hard to make each show be in a kind of unique location…we've made people go all the way to Dunbar," Catherine continues, "[providing a]kind of a scavenger feel… Hopefully it feels different than just going down to the old watering hole to catch a live band." Often the venues belong to community members, past attendees and fans, so the spaces tend to reflect the lifestyle of their audience— their March show was staged in a 'Vancouver special,' something the organizers describe as likely unsafe, but a fantastic time nonetheless.
Sofar's shows are also quite unique for the musicians. The concentrated attention of the audience is perhaps the most affecting element, something Darragh and Catherine have seen shake up many a composed performer. To suit the intimacy of the venue, the sets are asked to be as stripped-down as possible, which can be interesting with certain bands, like recent guests JPNSGRLS, "who…have never even considered that opportunity," says Catherine. Eschewing the usual set lists, Sofar gives the artists a chance to play their more 'unconventional' numbers.
As compensation, musicians can choose to take either their cut of the entrance donations, or a media package with footage from their set. Since many of the artists are early in their careers, the high-quality audio and video is a valuable resource and popular choice. Sofar's support of the musical community doesn't end there; their social media platforms are dedicated to the artists' releases and shows, and the team makes an effort to attend these shows as a group. Beyond Vancouver city limits, performing at a Sofar show provides musicians immediate entry into the global Sofar community. This often means the opportunity to perform at Sofar shows while on tour, where an attentive audience is guaranteed.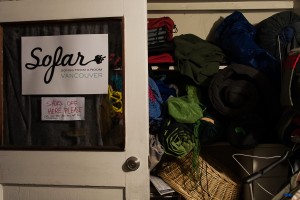 The community aspect of Sofar its centre; Catherine and Darragh are full of stories of folks who have applied seven times per show, who have written poems as applications, who have collected every poster. And the success of the Vancouver Sofar community is being felt all the way back to its roots: "We've had our team members travel to London and speak to Rafe Offer [Sofar co-founder] who candidly said to them, 'man, I felt like Vancouver was going to be a really hard city to break,'" Darragh shares.
Sofar offers something special to Vancouver's music community, and though it may still be in the process of 'breaking,' its word-of-mouth momentum only looks poised to get mouthier. So far, it's looking so good.
X
Upcoming concert dates and documentation from past Sofar Sounds are on their website and YouTube. To apply for the next Sofar Sounds Vancouver visit sofarsounds.com/vancouver.