We live in an age of comedy where producing content is easier than ever. You don't need a sitcom deal to make people laugh. You don't need Johnny Carson inviting you to the couch to finally pursue 'your type of comedy.' With cameras on our phones and cheap editing software on almost every computer, now anyone can create what they think is funny. For Vancouver improviser/actor/writer Christine Bortolin, she knows comedians can't be lazy in today's fast-paced, crowd-powered comedy scene. When Bortolin and writing partner Bita Joudaki wanted to make a web series, they made a web series. And with that web series, various film credits, and an upcoming weekly improv show, Bortolin is holding the reigns of her creativity and pursuing what she wants.
Bortolin always had the instinct to be funny, but it wasn't a product of her surroundings. Her mother was a nurse and her father was "always scheming." Bortolin says he would have been most proud of her if she had invented the ShamWow. Her only influences were the comedic tastes of her parents.
"My dad loved Rodney Dangerfield and he would put it on in the car," says Bortolin. "But Rodney Dangerfield was a little risque for kids, so he would hear the dirtiest part of the joke, then always turn the volume down right after. [Laughs] So all we would hear were the dirtiest bits of all his jokes."
Bortolin loved dance as a young girl, but when her parents separated she was taken out of performance, and placed in karate and soccer. Entering Burnaby Mountain High School she was directionless, ending up in the smoke pit as a non-smoker— this was until a bossy friend of hers took her to the school's improv club. Her friend thought it would look good on a college application. Convinced, Bortolin joined too and fell in love with improv comedy.
"I think a lot of people who do comedy find that they don't fit into a specific group and as a defence mechanism they can use laughter successfully to survive high school," says Bortolin. "I think that leads people to improv because there's acceptance and success there. And when you fail, you learn from it, work through it, and begin to fail joyfully, which you don't have access to anywhere else in high school."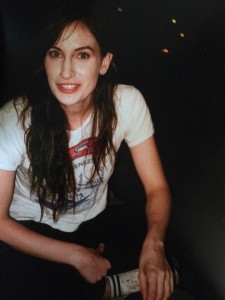 After high school, Bortolin took a year off to work in retail, forgoing performance for the time being. She hated her job, taking 'smoke breaks' to go to the bathroom and cry. She knew that she wanted to perform. She knew she wanted to be funny, to act, and to enter the unstable world of scripts, cameras and black box theatres.
In 2007, Bortolin went to Douglas College for Acting. In 2010, she transferred to UBC and graduated in 2012 with a BFA in Acting. Since then she has appeared in The Unauthorized Saved By The Bell Story, the CBC Comedy Coup project "Roll For Damage," and the upcoming VIFF short film Penny's For Tea.
However, Bortolin always wanted to create. In November of 2014, Bortolin and Joudaki developed an idea for the STORYHIVE contest about unemployed roommates looking for work together. When their submission wasn't selected, the idea was shelved until this past March, when the two decided to create it by themselves with only the help of their friends as backing.
Their concept turned into a five-episode web series about an aggressive and hyperactive Bortolin and a more reserved but confused Joudaki being uncomfortable at a sister's party, retrieving a stolen purse from a crazed entrepreneur, and breaking into a house to steal a ficus plant, to name a few storylines. Shot in March and April, edited in June and July, and released in August and September, the web series is filled with generous Vancouver talent, featuring friends and comedians Alicia Tobin, Ivan Decker, Nima Gholamipour, Caitlin Howden, Aaron Read, and Andrew Barber among many, and directed by Cam MacLeod and Kevin Lee.
"With a web series, it's so easy to get it out there and show it to people. Plus they're shorter and quick. I'm not as worried about the film quality. We lucked out on Golden Futures and it looks great, but you don't have to have great film quality to do it. The goal is to just do web series and get content out there. With web content, it's easier to share, but it follows along, so you can have recurring plot points."
Bortolin understands that comedy is a shark. To feel fulfilled in our world of amateur comedy empowerment, she has to keep moving, creating, devouring opportunities like they're unfortunate fish. As of now, Bortolin has been doing exactly this.
X
Golden Futures is available on Christine Bortolin's YouTube Channel and the duo are currently planning its second season. She will appear in Little Mountain Improv on Tuesdays starting October 13th at Little Mountain Gallery.