It was a hushed and expectant air that greeted guests to the Biltmore Cabaret on a humid Wednesday evening, and descending its steps was more akin to walking into a wedding ceremony than a crowd of avant-garde music fans. Rarely has the Biltmore seen a more focused audience, but then Colin Stetson & Sarah Neufeld have that effect on people.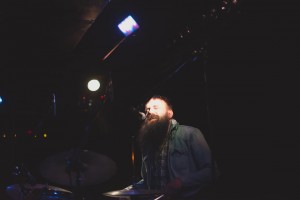 Opener Lone Wolf began the night with a set of improvised drumming and what came across as free-verse poetry. The lone wolf behind Lone Wolf, Ryan Sawyer, is best known for drumming on At The Drive-In's first album, Acrobatic Tenement, but his experience goes much further and wider than that of a post-hardcore kit smasher. Unfortunately, this wealth of experience — which certainly hit on aspects of punk as well as plenty of jazz — failed to translate to an enjoyable or mesmerizing performance. Improvised drum sets can be impressive, and so can poetry sans-musique, but together here they stood so at odds from one another that it was as if two different musicians were physically fighting for control of the soundspace.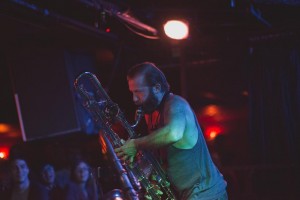 It goes without saying that Colin Stetson and Sarah Neufeld are both fantastic musicians in their own rights. Stetson's virtuoso talent with the bass saxophone has spawned a Polaris short-listed solo album as well as fantastic contributions to bands like Arcade Fire, Bon Iver, Feist, Tom Waits, and TV On The Radio. His New History Warfare series of albums has completely altered what people thought was able to be accomplished on a saxophone. For many, Stetson was the main reason to come out on a dreary weekday, but it was Sarah Neufeld's compelling violin work that remained most present throughout the evening and after.
Neufeld's performance was what grounded and solidified the duo's constantly-wavering tone and timbre. Known primarily for her work in Arcade Fire as well as the post-rock ensemble Bell Orchestre, Neufeld earned her place alongside Stetson early into the set and easily, commanding a presence that rivalled, and at times overpowered, her bandmate. The duo's combined sound was nothing short of miraculous, ranging from beautiful and empowering and whimsical to a much darker, jungled, feverish forest pace. Fleeting notes touched on Arcade Fire's work scoring the soundtrack to Spike Jonze's film adaptation of Where The Wild Things Are, with dreamlike contributions from Neufeld balancing out Stetson's oftentimes-chaotic saxophonic slug-fest.