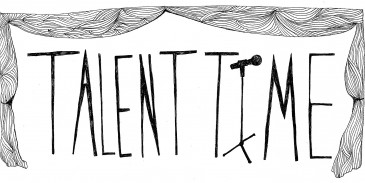 If Vancouver's Biltmore Cabaret is packed late on a Wednesday, whatever is happening inside must be worth staying out late for on a school night. After more than four years, Paul Anthony's Talent Time is still surprising audiences and challenging our perception of "talent" (read: American Idol wannabes need not apply). His monthly two-hour variety-inspired talent show, also aired on Shaw and Novus as a half hour television series, has featured both bald eagles and a glass-smashing side-show act. And that was in the same half hour.
"Would that have been as exciting if we hadn't been whispering in a room with birds-of-prey just a moment before?" he asks, explaining that the variety makes each act that much better.
For Anthony, the best acts are the ones that catch the audience by surprise, and he's constantly looking for talent of the unconventional sort. "I'll check out the bulletin boards in the library," he says, "but, there's no treasure map. It's like shopping at a shitty second-hand store. You're going to spend a lot of time there, but you might find a gem."

High on Anthony's wish list for future acts is modern dog sport, Canine Musical Freestyle. What's not surprising — and interesting — about people who dance with their dogs?
The best entertainment doesn't necessarily just come from entertainers. It's in the places that are about fun, plain and simple, "and the fact that we can still be surprising people over four years later is something I'm pretty happy about."
Discorder sat down with Anthony to talk about the show, what his most treasured talent is, Talent Time's most surprising moment, and what's in store for Wednesday, October 3 and beyond.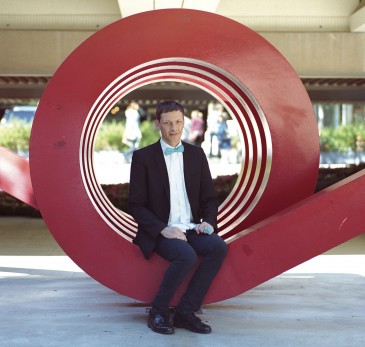 Discorder: How do you define talent?
Paul Anthony: Potential. To be really good at anything takes a shit load of focus and hard work. It sucks that I'm just learning this now.
What talent would you most like to be gifted with?
The skilled humour of a seasoned comedian.
What is your most treasured talent?
I'm an ideas man. I'm not great with my words. Any talent I have is in my imagination.
What has been Talent Time's most memorable performance?
Most recently it was the bald eagle who tried to eat my eyeballs because I made jokes about stealing its nest.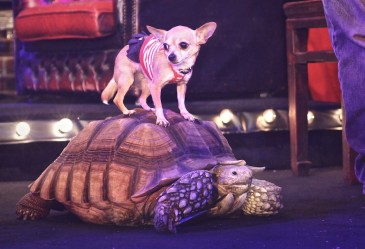 What has been Talent Time's most surprising moment?
I've heard audible gasps during the following acts: Vancouver Chinese Lion Dance Society, chihuahua riding on the back of a tortoise, retired auto mechanic busting into Michael Jackson complete with red zipper jacket and gloves, 25-piece Langley Ukulele ensemble's rendition of Somewhere Over the Rainbow, and table tennis demo from the 12 year old US Open champ.
What do you consider the most overrated talent?
Singing like a pop star.
Which historical figure do you most identify with?
I like Einstein a lot. Or that Abraham Lincoln guy from the Bill & Ted movies.
Which historical figure do you least identify with?
Christopher Columbus was the Carlos Mencia of the 1500s.
What quality do you like most about comedy?
Surprise, new points of view.
What quality do you most deplore about comedy?
Predictability, vanity, ignorance and the fact that it is difficult to be good at.
Why is it good to be in Vancouver?
Is it?
If you could have any profession other than your own, what would you want to do?
I wish I knew, I would be doing it.
What do you consider your greatest achievement?
Friendship.
What do you hope Talent Time accomplishes?
Making people a tiny bit happier.
What person (living or dead) would you like to invite to the stage of Talent Time?
Dead people are boring to interview but I would have to say: Yakov Smirnoff, Glenn Gould, GG Allin, Weird Al, the Plastic Ono band, ALF, Doug Stanhope,  Jim Henson, SPARKS, and that five-year-old kid that can dance like Michael Jackson.
Words to describe the first Wednesday of every month at the Biltmore?
Unexpected pleasure and the multiplication of life source energy.
What to expect Wednesday, October 3?
Our Wayne's World 2 tribute. Dwayne & Garf audition acts to appear on DwayneStock, featuring an acrobatic contortionist from West Africa and fresh comedy with Shirley Gnome & Damonde Tschritter.
_________________________
Talent Time takes the Biltmore stage on the first Wednesday of every month, and is broadcast several time weekly on Shaw Cable and Novus.
Want to join the team? Talent Time wants to connect with individuals who have experience in areas such as producing, marketing, and video editing. For more information, send an email to contact@talenttime.tv.