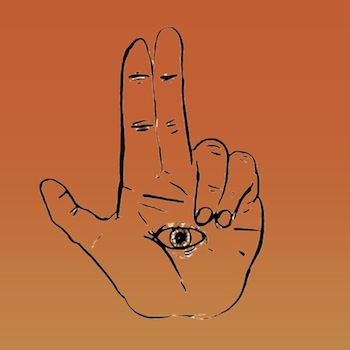 Like a glittery, sprawled-out daydream, Long Distance Poison's piece of ambient cacophony, Ideological State Apparatus, is a captivating experience, released as part of a tape series by Constellation Tatsu. Centred around minimalist synth melodies and doses of krautrock-influenced buildups, echoing those of the likes of Tangerine Dream or Brian Eno, the tape plays out by slowly developing cascading synths that dance and skirmish with each other, alongside buzzing intervals of electronic frequencies that will either please or unease its audience immediately.

Ideological State Apparatus is a wonderful modern adaptation of the kosmische musik evolution of the krautrock genre. Where there is a lack in variety, there is a glimmer of imagination, as Joel Vandroogenbroeck and Popol Vuh encompass musical exploration and experimentation over the 34 minute running time of the album. As the focus of the synths shift from smooth, trance-like pulses to more aggressive and jangly metallic crashes, the music seems to emanate a lucid tone reminiscent of a spiritual gaze deep into some unknown realm. It's a musical tour-de-force that can't be fully appreciated unless anticipated by the listener. However, enticing as the composition can be, it takes time to truly appreciate its musical merit.
Long Distance Poison may only be experimenting with electronic music, but their creativity is indisputable. Despite lacking direction at times, Ideological State Apparatus is a reverie of beauty that may not be directly seen at first, but is beyond evident after repeated listens. If krautrock or its many derivatives have ever tickled your fancy, this album is a must buy. Tune in, fade out, and just dream.