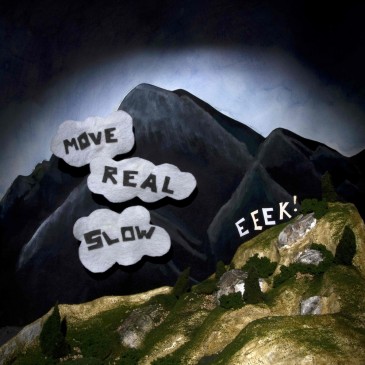 Take the playful tones of psych-pop, drench them in fuzz and adolescent frustration, increase the tempo and you've got Eeek!. Inspired by beach bums and pop-punk, their latest effort, Move Real Slow, weaves Colin Spensley's ironically out of tune guitar through seemingly capricious tempo changes and lazy mumblings that lead to iconoclastic chanting.
Clocking in at 18 minutes, Eeek! have matured (just barely) from their raucous infancy to come off with a tighter, more cultivated sound. Move Real Slow is loud, proud west coast rock that draws barely decipherable grumbles through cocksure bass lines and infectious drumming to create energetic sounds that could never be denied a fist pump.

Advancing beyond the gritty energy of their earlier EPs, the local rockers have arrived at a stylized accessibility steeped in distorted surf tones and garage-rock vitality. The interplay between meandering jams and hoarse, affected vocals on "A Will and Grace Period" sees the carefree antics of their earlier recordings replaced with clean production and a tighter sound, to create Eeek!'s finest pop-punk song yet. Following in a similar fashion, "Think About It" illuminates the driving rhythm section, as drummer Devin O'Rourke and bassist Rob Cameron allow each other to stray just enough to entice listeners before they seamlessly reconvene to support Spensley's frenetic chanting.
But as the heavier effects begin to wear off, the group's witty pop tendencies turn to wholesome radical rambling as they proclaim the virtues of agricultural sustainability on "For Our Health." Amidst the monstrous breakdowns and coarse howls, fun loving sing-a-longs meet laid back surf rhythms on the quirky "Jurassic Parka," while the hazy and cheerful reverb of "Tough Guys" closes the album.
Move Real Slow is altogether a relaxed, sometimes careless, companion to a boozy late night. It's an album best characterized as the outspoken wallflower, simultaneously entertaining and insightful, yet never needlessly complex. Most of all, it sees the group confidently reach out and explore new territory — a promising step for these young (self-professed) Cascadians.