It's tough to explain the Big Deal about this band to someone who doesn't already know about it. One has to convey that in the early '90s, the term "emo" wasn't a pejorative applied to the likes of Simple Plan, but instead signified an exciting transition within post-hardcore circles, from rabid aggression to a greater depth of feeling. Sunny Day Real Estate were among the pioneers, arising from the Pacific Northwest in 1994 with whirling guitars, complex songwriting that often pushed past the five-minute mark, and high-pitched vocals before that became the norm. Their second reunion, and first tour in a decade, began in front of a devoted audience at our very own Commodore Ballroom.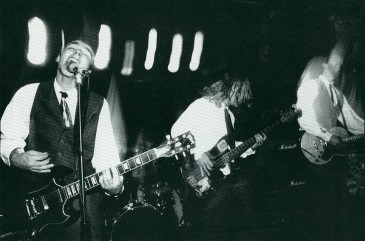 Openers the Jealous Sound played decently punchy rock tunes, but were put to shame by the magic of Sunny Day emerging from their own legend with undiminished technical skill and zeal for performance. Singer Jeremy Enigk's elongated syllables and climbing pitches drove songs like "Seven," unaffected by a sore throat that was all too apparent in his speaking voice. Mood shifts were common as things moved between delicate guitar picking, pounding climaxes and layered, complex chord structures. All three were often present in a single song, as in "J'Nuh," whose many buildups and transitions washed over the crowd like a rolling tide. "Iscarabaid"'s chorus exploded out of nowhere into a maelstrom of fury and dynamic drumming by William Goldsmith, while a new song written less than a week earlier fit right in with the band's peak material.
The focus was on the first two albums, as it should have been, since it was on debut Diary and the self-titled follow-up that Sunny Day Real Estate crafted their most memorable work. Encore "In Circles" had just as much gravity as on its original recording, and confirmed that these forefathers of emo (whatever that means now) have been transported to the present day unscathed and in fine form.