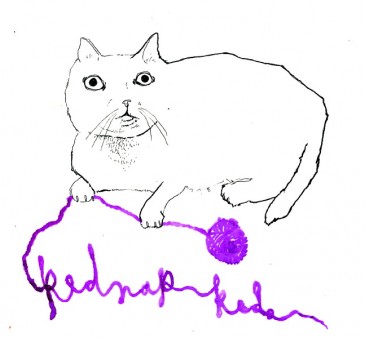 "I kinda hate it when someone's like, the chords from that chorus are the same as the chorus from that other song," said an outraged Celina Kurz.
"Yeah, seriously. Get over it," agreed band mate Alie Lynch. "Every song is a three-chord pop song."
Kidnap Kids is fronted by Kurz and Lynch. Their music is simple, but upbeat and catchy. They perform simple pop songs and even though one of their songs might have the same chord structure as Iggy Pop's "Passenger" their timbres, rhythms and lyrics are so different it won't bother most people.
Lynch and Kurz are the gregarious duo who do the majority of the talking for the Kidnap Kids during our interview at the Lonsdale Quay food court where they are being interviewed. Sitting quietly next to them is their bass player Enzio Verster. The Kids are young indeed; Lynch and Kurz are 19 and Verster is 17. Their drummer Fred Hawley could not attend and both Kurz and Lynch agreed he was busy "going to school and doing his girlfriend" in Prince George.
The Kidnap Kids' moniker was created after endless debate. They rotated through several other band names before settling on it. For a while they were Bears & Chairs, which became Beggars & Chairs, and at some point they were Satellite Senior & the Junior Lagoons, eventually settling on King Kong Kids before making a realization.
"King Kong Kids [acronymed] to KKK so we decided not to do that," said Kurz, and they switched it to Kidnap Kids.
The names they erratically bounced between are much like their conversation style, which is an endless series of tangential ideas, which could be considered annoying if it wasn't so amusing. The band's strong friendships seem to be a large part of their appeal when they perform. The back-and-forth banter between Kurz and Lynch that dominates the interview isn't far off from their stage banter, and their sense of humour is readily apparent in their music.
With a sound a bit like the anti-folk of the Moldy Peaches, the band is simultaneously adorable in sound and uncomfortable in content. The songs are cute numbers that'll get your head bobbing, but the lyrical content of some of their songs (pedophilia, having your insides on your outsides) is definitely not cute.
"I like the funniness of having a really cute [sound] and all our songs are—'Whoa that's pretty creepy!'" said Lynch.
They follow this up by saying they were worried about being too cute for their audience, but this degenerated into an argument about what kind of cute they were (tongue-in-cheek, ironic or something else?) which showed they still had a little way to go if they didn't want to be branded as a cute band. Their other songs about annoying ghosts and make out parties tends the band toward the cuter end of the spectrum.
Their first album, You Would Run From Ratboy Grave, is coming out on Oct. 3. It was recorded by Verster, who doubles as their recording engineer and also plays around town in Half Chinese. The album had been finished for three months, but had been waiting for someone to create album art for it until Verster's friend Liam Shiveral was asked to do it. It's 12 tracks long and contains most of the songs they've been playing live and you can find a number of them on their Myspace page (www.myspace.com/kidnapkids).
The album is being released on Geographing, which is run by Jarrett Evan Samson (who is a director at the Safe Amplification Site Society and a member of Collapsing Opposites, Role Mach and Shipyards). Samson, in addition to all this, was instrumental in the formation of the band. "Alie promised Jarrett she would be in a band for Teen Rave Up [an event]," said Kurz. This was enough for Lynch to get Kurz, who she had previously sang with at an open mic night and worked with at a video store, to join her and form the band. Verster and Hawley joined later, providing the band with a rhythm section.
Kidnap Kids are having their CD release party with Fine Mist, Candles, the Magician & the Gates of Love and Half Chinese at Goonies on Oct. 3 and will be playing again at the Railway Club for Shindig with Move On Citizen and the Receptionists on Oct. 13. Albums should be available at both events.