"I would encourage anyone who has an interest or curiosity in radio and podcasting to reach out — any time. You don't have to be in Vancouver. If you want to make radio, we can help. We can help you produce it and help you find your voice" (Sloan Yip.) 
For this article, Discorder spoke to Program Managers Jamie Loh and Jasper Sloan Yip about what it means to manage radio programming at CiTR during the pandemic, how anyone can get started in radio at home, plus some of their favourite shows on the airwaves.
Approaching programming with the motto, "programmers get to design their own experience," Jamie and Jasper work to get people on the radio and then "get out of the way"(Sloan Yip.) A program manager's role is curation, education and support. It was evident when interviewing Jamie and Jasper that they both have ears on the ground and on the FM signal, knowing what their listeners are asking for and trying their best to give volunteers the resources the station has. These two are also in charge of special programming, writing grants for mini-series on celebrations like Asian Heritage Month or Vancouver Pride, and internal training. 
Jamie, the interim Program Manager at CiTR previously went to UBC where she studied media and art history, connecting with the music community through taking photos for Discorder. Graduating in 2020 with experience making podcasts, Jamie was hired right in the middle of the pandemic as an Outreach and Engagement Coordinator. She then took over for Jasper in August 2021, covering his paternity leave, and during that time brought a lot to the station, including a master class series and developing some awesome shows. Well known in Vancouver's arts scene, Jasper, who was the Program Manager before his leave of absence, has been working at CiTR for a few years, transforming from musician, to podcaster, and now, to parent. Although taking time off from work, he plans on heading back over to the station soon, and is excited to implement new inclusive programming.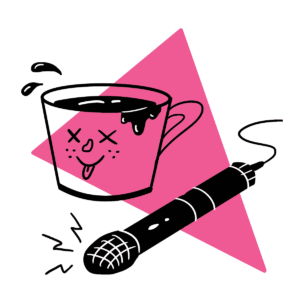 With longer term closures, CiTR was afraid that engagement would be lower: no shows to go to, no volunteer events, no tabling, and no flow through the station. Luckily numbers have stayed solid, and both Jamie and Jasper are impressed how folks have stepped up to keep the station on air. The process of curating artists, volunteers and radio programmes have changed since the pandemic started. In spite of the fact that the studio is closed, training for volunteers is available online, accessible to anyone who is interested. "There's two trainings that you can do: show host and production training. That would equip you with all the skills you would need to pre-record a show. We teach people how to use Audacity, which is the free audio recording and audio editing software. And honestly, you just need Audacity and a computer. If you have a phone, there usually is a recording app on there. […] I think a lot of people think you need a lot of good gear. But honestly, a phone and Audacity is literally all you need — It's super accessible" (Loh.)
"I don't think a lot of people know that they can just produce very short content here, or even just a series […] I need to plug that more for sure" (Loh.) Good news if you are intimidated by the thought of having to record an hour or half-hour show! Although new hosts generally start with thirty minute blocks, CiTR is currently looking for micro-content, like their series Forgotten BC, "a series that was created out of our ongoing equity conversations, anti-oppression conversations, which highlights historic BC spaces and events that some people might not have heard about — for example The Chinese Head Tax, and Hogan's Alley" (Loh.) Only six to eight minute long, Forgotten BC is educational and accessible. From a programming perspective they are great because they can be cyclically played throughout the week and intermingled with shorter programming and announcements. Perhaps as a byproduct of isolation, CiTR's programmers have stopped focusing on only music and introduced more spoken word programming, internally and externally. "The way our station works is if there isn't a scheduled program, we have 'shuffle algorithms' that play music we curate. So we just treat it like that […] we put out calls to the community if they want to produce  something like Forgotten BC. You don't have to necessarily have a slot on the grid to be on the air here. You can produce that kind of content, or you can pitch an idea for shorter content and it can be handled in a very non-traditional way" (Sloan Yip).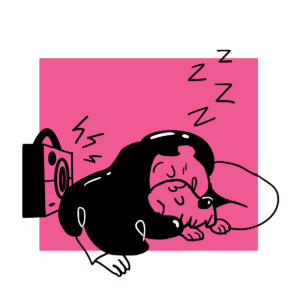 On top of regular training you can watch CiTR's masterclasses online. Historically CiTR has been on hiatus during the summer but community members are still interested in participating in educational events. During Summer 2021, many folks were requesting training. Jamie saw the community's need and decided to help.Creating a weekly masterclass series, she invited different staff members to host workshops and answer questions about the Adobe Suite, Spoken Word, and one of the most popular, Grant Writing, which was hosted by CiTR's station manager, Ana Rose Carrico.
Considering all this, CiTR, Jamie Loh and Jasper Sloan Yip are waiting to help you. Their job is to support curiosity and creativity, while reducing harm by educating themselves and valuing kindness, accessibility, and the joy of radio — whatever that sounds like. Whether you are interested in Spoken Word or Music programming, or something a little more DIY, reach out! You might be surprised at the radio you make.
​​CiTR 101.9 FM is situated on the unceded, traditional Coast Salish territory of the Hən̓q̓əmin̓əm̓ speaking Musqueam peoples at UBC. Have an idea for a new show? You can contact Jasper at programming@citr.ca.