The talented Vancouver band transport us to a pixellated island dreamworld in their newest music video. Scroll down to watch the exclusive premiere!
x
Booty EP are a band that keeps you guessing.
The music video for their first release, "Snacks," was a cinematic rendition of a recurring, failed attempt to engineer true love. The one they're currently working on — for the recently released "Mascarpone"— involves a choreographed dance performed with 20 friends ("a new concept for us," says Alli Deleo, one half of the duo, "and a very satisfying task").
The video we're excited to debut today is completely distinct from either of these offerings, and yet equally fascinating.
The glitchy, lo-fi dreamscape of "Go Wrena" was filmed by Deleo — who performs keys and vocals for the band — at Phipps Point on Hornby Island. The resulting footage was morphed via a range of production effects, and then run through a data mosh plug-in to achieve the final distorted effect. "Similar to artificial intelligence," she tells us, "data moshing is non-linear. It is a result of user input that alters bits behind the scenes, [with the user] not knowing what it will do until the process is done."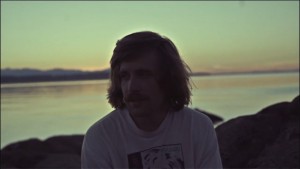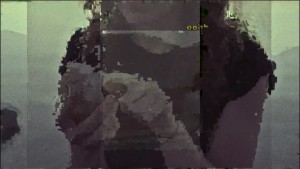 The video features signature Booty EP goofiness (look out for the shell phone cameo). Alli and bandmate Francis Hooper— who performs synth, vocals and guitar — place a strong emphasis on the visual component of their work: when they perform live, every song is accompanied by curated, beat-synced visual projection art.
But when it comes to creating their videos, they take a relatively unstructured approach: "We take a song, think about the story and what visual mood we want it to be, and leave room for improvisation. The videos are largely location based, and always involve singing the parts."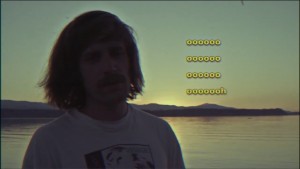 As for the title of this song?
"There was a part in the song that shouts "go right now," and we naturally started saying "go Wrena" instead, and we thought it was funny because it's the name of one of our very close friends. Then we thought, holy s*** this song is about Wrena. She lives on Hornby Island, born and raised, and to us she's living an admirable life that is relatively disconnected from tech. She once told us that her mother feels physical effects from wireless signals. We've had many conversations comparing a pre-digital revolution life experience versus our current city life. The song spilled out from the isolation sometimes felt in the busiest and 'technically' the most connected of environments."
x
Check out the official premiere for "Go Wrena" below:
This track was written/produced/mixed by Booty EP, and also features Kai Basanta on drums and Craig Aalders on guitar. The video was shot on the unceded territory of the Pentlatch, a group belonging to the Coast Salish peop|e.
You can check out all of Booty EP's great videos through their Youtube channel, find their music on bandcamp, and follow them on instagram.