It is usually a good omen when a show's opening and headlining acts complement one another. In the case of U.S. Girls opening for Peaches at the Commodore on October 6, the pairing felt particularly apt: U.S. Girls recently released the excellent record Half Free, and Peaches, who also released her latest effort Rub last month, had not brought her powerfully feminist and sex-positive live performance to Vancouver in six years.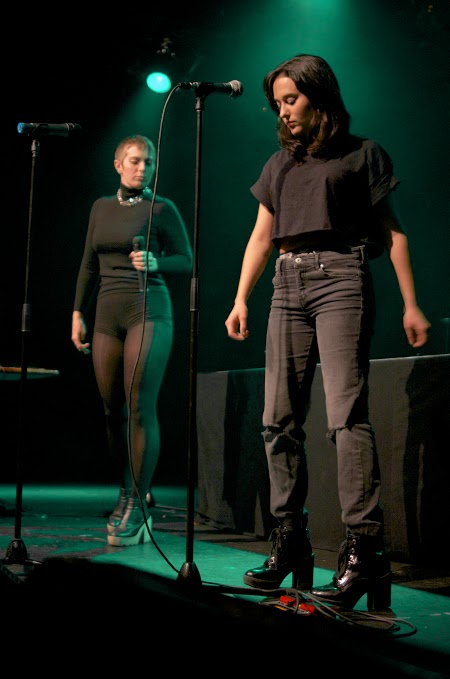 Waiting for Meghan Remy of U.S. Girls to take to the stage and warm the audience to the teaches of Peaches, I surveyed the minimal crowd apprehensively. But by the time Remy was halfway through her first number "Window Shades" — an ominous cut from Half Free — my concerns were forgotten. Remy marched around the stage and delivered her vocals with attitude and fierceness, pausing every so often to survey the growing crowd with the look of a person gazing upon their loyal subjects.
Joined on stage by a single backup singer, a stack of cassettes and a small tape player, Remy seamlessly flipped tapes and adjusted levels throughout the set to bring her songs to life. After a captivating rendition of "Woman's Work," one of the most hypnotic, disco influenced songs on Half Free, I was devastated when Remy announced that the next song would be their last. The tragedy of this criminally short set was remedied partially by her closing number, "Damn That Valley," in which Remy's striking vocals were at their greatest display, cutting through the punchy synths and smooth backing vocals with precision.

Thirty minutes after the U.S. Girls set ended, the lights dimmed as Peaches' entrance song — Nina Simone's "Four Women" — diminished the crowd's excited chatter. Clad in an empress-like golden cape and sparkly body suit, Peaches strutted into view and climbed atop a platform centre stage.
From the moment the drums of opener "Rub" began, it was clear she was in her element. Staring down the audience with severity not unlike Remy before her, Peaches spat, grimaced and growled her lyrics to the enjoyment of the howling fans before her. Two dancers clad in a variety of gender-bending costumes joined Peaches onstage throughout the show, their provocative moves a rousing complement to Peaches' performance.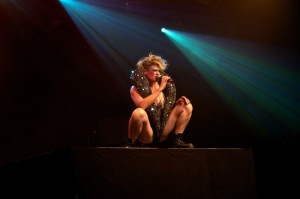 During "Vaginoplasty," the dancers bounced onto the stage in fancy silk vagina costumes, comically attempting to smother Peaches at the end of the song. Renditions of other tracks from Rub including "How You Like My Cut" and "Dick in the Air," as well as older classics "The Boys Wanna Be Her" and "Fuck the Pain Away," featured similar antics, such as a giant inflatable penis and champagne sprayed all over the crowd by Peaches herself.
Despite the spectacle of it all, I was most impressed by the energy and intent that Peaches brought to each song, switching swiftly from rapping to singing with aerobics to match. By the time her set culminated with a three-song encore, the power of Peaches' carefully calculated yet wild world had fully engulfed the crowd, and my champagne covered body was happy to have been a part of it.