This issue is nothing if not an epic, focusing on the local personalities that are challenging and reshaping our perceptions of music and art, with a very prominent undercurrent of humour and wit. A secondary theme — bobbing up through quotes, editorial comments and reviews — is the topic of audience expectation. The performers featured in this issue push the boundaries of traditional music or art practices. These folks include Revered, Tommy Tone, the artists of art rock? and 88 Tuned Bongos, the Cheap High band of brothers, and the Big Joy banner of Shaunn Watt, with some other surprises tucked between the pages.  
I want to side lunge for a moment to a topic not covered in Discorder, but that definitely stirred up artists, musicians and activists this time last year—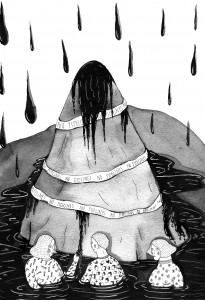 Late October 2014, Kinder Morgan filed a $5.6 million lawsuit against BROKE (Burnaby Residents Opposing Kinder Morgan Expansion) and unnamed persons for nuisance, intimidation and uttering threats to their workers on Burnaby Mountain. With 'permission' from the National Energy Board, KM workers had cut down 13 (or 15) trees in a conservation area, breaking City of Burnaby municipal law and doing so on the unceded territory of the Tsleil-Waututh Nation. Kinder Morgan, a private U.S. company, was preparing tests to triple the capacity of the current Trans Mountain Pipeline under Burnaby Mountain, which carries diluted bitumen from Alberta oil sands to the west coast for export. KM successfully acquired a private-public partnership injunction to prevent protesters from disrupting the survey, enforced by the RCMP on taxpayer dime. RCMP began making arrests on November 20, 2014 for challenging the injunction line, leading to a frenzy of civil disobedience that reached its climax in late November / early December with an estimated 100+ arrests.
Those arrested were not just your crazy hippie neighbours, but professors and students, First Nations elders, grandparents and even children. The absurdity of the $5.6 million lawsuit, the seemingly sick joke of having RCMP protect the financial interests of a foreign company in a Canadian park, and the disregard of First Nations land claims inspired exhibitions and benefit concerts in response and solidarity with protesters. In these instances, art and activism worked together as instruments of interpretation and healing.
What I'm trying to say — tangentially — is that while music and art functions as entertainment, it also weaves a cultural foundation that grants society the power to discuss a range of issues that extend beyond aesthetics.
With the glamour of new government, let's not forget to keep our focus on important issues. As residents of Canada we are an active audience. Let's keep our expectations high.
A+
BB
PS. Want to keep Discorder in print? We are throwing a fundraiser Thursday, November 19 at the Astoria featuring Revered, Mesa Luna, tv ugly, Late Spring and DJ Danny Vancouver (Horses Records). Join us!