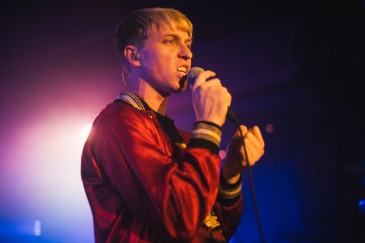 The line outside Fortune Sound Club on Friday, October 10 snaked well around East Pender Street; long passed the time doors were proposed to open. Even so, the wait couldn't put a damper on the night. The excitement was palpable as the anticipation of seeing dual Brooklyn-based bands Beverly and The Drums perform never wavered. For many Vancouverites, it would be the first time to see the groups since their previous bandmates had been dropped.
Surveying the crowd with a smirk, frontwoman Drew Citron of the outfit Beverly kept things cool as the band kicked off the night. Finding their start as an offshoot between Dum Dum Girls drummer Frankie Rose and touring mate Citron, Beverly served up breezy, surf-ridden tones with a side of starry eyed punk. Through Rose has since left the band, Beverly proved their ability to still command a room even without their heavy hitter.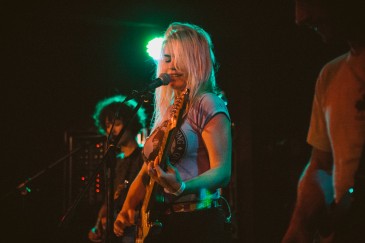 Instead, it was Citron's sun-drenched vocals met with bombastic drumming, hazy guitar, and charging bass that melted into thick, dreamy textures that enticed the crowd away from the bar and onto the floor. Caught somewhere between their flirtatious melodies and an undeniable moody undercurrent, Beverly opened the night with a sound easy to vibe along to.
On tour promoting their new release Encyclopedia, The Drums captivated the crowd with a surprisingly extensive 17 song set. Marking the first release since the less than amicable departure of both guitarist Adam Kessler and drummer Connor Hanwick, the album signifies the arrival of a matured sound for the duo.
As the first notes of the spacey, atmospheric build of "Bell Laboratories" scratched its way onto the floor, any concerns over these changes were quelled and instead replaced with the excitement for what the night would bring.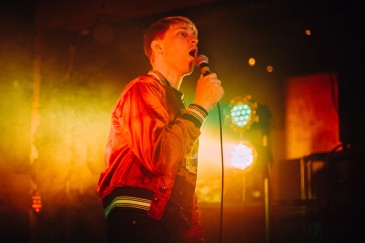 Engulfed in a cloud of smoke, frontman Jonny Pierce bounded across the stage, his frame contorting in a series of eccentric, frenetic movements, equal parts charming and earnest. For as external as Pierce's performance was, counterpart Jacob Graham was intensely introspective; solitary and robotic in movement without creating any sense of distance between himself and the crowd.
The dichotomy ran deeper, however — present especially in the newer material of Encyclopedia — as The Drums crafted sonically bright, uptempo lines that bled into brooding, contemplative content. This was particularly evident in songs "Kiss Me" and "I Hope Time Doesn't Change Him."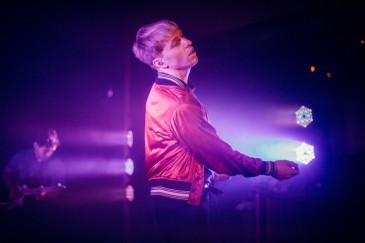 Peppered with tracks from the past, The Drums didn't forego fan favourites "Let's Go Surfing," "Days," and "Best Friend," delivered with a youthful abandonment that marked their set as the audience fell into a state of perma-groove. Culminating the night with their most intimate ballad "Down By The Water," The Drums closed out their show highlighting the growth that can come from change.