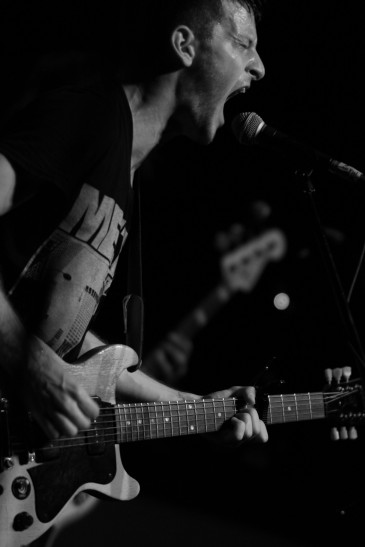 With its atmospheric red lights, ruby coloured theatre curtains, symmetrical wall patterns, and haunted lounge décor, stepping into the Fox Cabaret feels eerily akin to walking into the Black Lodge from Twin Peaks. But the matinee sign over the bar, reimagined from its original use touting porn double features at the original Fox Cinema, reminded me that I was still right here in Vancouver, "Living the Dream on Main Street," as the sign says.
The Fox Cabaret is an appropriate heir to the delightfully seedy Fox Cinema, seamlessly blending the best aspects of an off-kilter East Side skin flick landmark with all the features of a high quality performing arts venue. It made for an unusually appropriate venue for a windy and wet October 13 Thanksgiving punk show.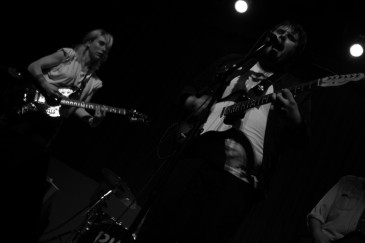 Despite the dreariness of the early autumn weather, by 8 p.m. the venue was already filling up. The merchandise table was bustling, plaid clad couples were taking tequila shots at the bar, and eclectic groups mingled intimately under the warm hazy glow.
First on was Vancouver-based — and Toronto-bound — punk band Tough Age, who played an infectious set of upbeat garage-surf paired with lyrics that paid homage to Ramones-era love stories and '50s beach diners. Frontman Jarrett K. lent his dynamic, engaging vocals to each song, but the real stand out was "50 Girls 50," a statement making track with a tough hitting drum line, purposeful instrumentals, and an upbeat sound. Although it was their last show before half the band relocates to Toronto, the charismatic group kept the energy level high and the audience captivated with snippets of on-the-road wisdom interspersed between songs.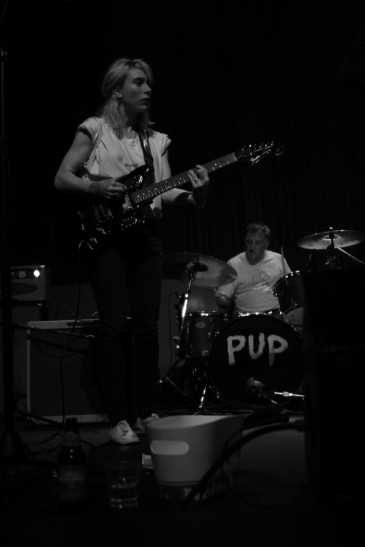 When 9:45 p.m. rolled around, PUP — formerly Topanga — took the stage in front of a growing crowd of long hair, patched up denim, and leather jackets. PUP, a rising star from Toronto's lively punk scene consisting of Zack Mykula, Nestor Chumak, Steve Sladkowski, and Stefan Babcock, was an energetic quartet who knew how to thrill and captivate an audience with their blend of spirited, reflective punk and a refusal to take themselves too seriously.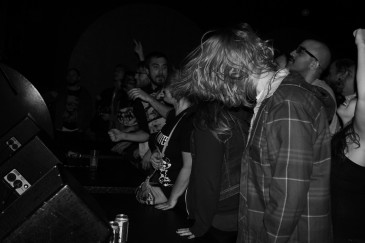 PUP's magnetic and interactive stage presence had the audience moshing, grinding, and singing along in no time. And, man, were people getting into it — there were more than a few failed backflips into the crowd and Babcock himself crowd surfed with his microphone in tow, never missing a beat of gritty, crowd pleasing punk.
PUP's deeper appeal came from their relatability — it was as if four buddies had grabbed some instruments and took to the stage at a local house party playing for a group of their neighbourhood friends. "Dark Days" and "Guilt Trip" elicited an enthusiastic response with concertgoers who were shoved up against the stage, slamming into each other feverishly and singing along, anthem-style. The melodic "Yukon," a track that conjured up images of Klondike mountain men and nostalgic longing was perhaps the surprise favorite of the night, casting a reflective glow over the entranced audience.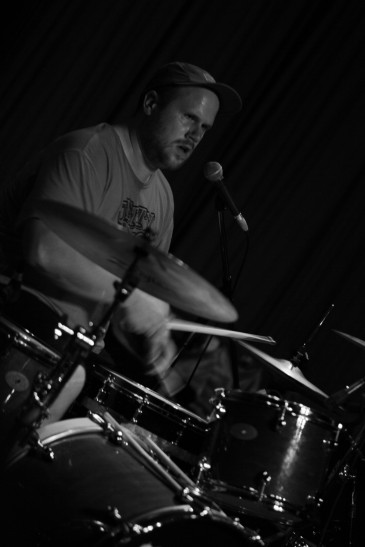 PUP exited the stage to an enthusiastic chorus of, "One more song! One more song!" to which they acquiesced with a high voltage cover of the Beastie Boys' classic "Sabotage." After PUP took their last step off the stage I walked towards the exit feeling like there was nowhere I'd have rather been on a cold Thanksgiving night. Judging from the crowds' reluctant last swigs of beer and hesitancy to leave, I would say it was a sentiment shared by all.