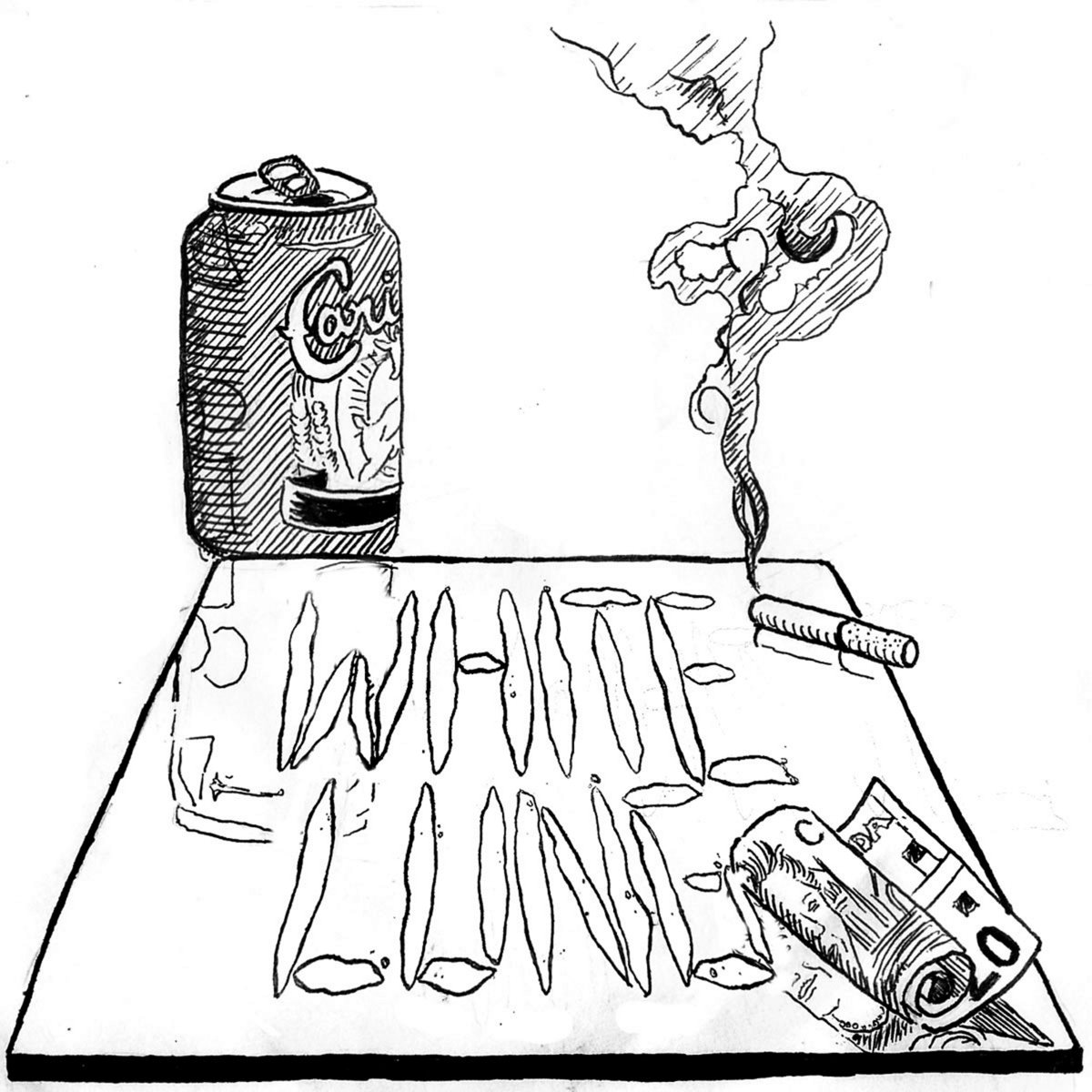 "I don't like to think too hard about 'punk' or what that word even means. Basically, if you try to analyze it down to something tangible it's just ridiculous. It's like a dog chasing its tail," Mish Way explains to me over email.
"You ever watch a bunch of music nerds argue over what it means to be punk while they're coked at 4 a.m.? Spare me. What's the point in this argument? The definition of punk is decided by the individual."
Way is the lead vocalist for White Lung, a Vancouver-based group with a skittish, heated sound. Alongside guitarist Kenny William, drummer Anne-Marie Vassiliou, and bassist Grady Mackintosh, the group has recorded two full-length albums since they formed in 2006. With a new seven-inch, Songs about the South, due for release in early November, the four-piece is quickly carving out a niche for themselves.

Songs for the seven-inch were written in the early summer while the band was between tours, but it isn't some sort of hard-rock Southern gothika. "I wasn't trying to create an image about the South and share it with people who buy the record. It's more like we were on tour, I was writing a lot of lyrics in the van because I was bored and inspired by things that were really bothering me," says Way.
She adds that lyrical content on Songs about the South deals with complex issues related to "sexual dynamics" and "desperation" in drug abuse.
The paste of White Lung's sound is Kenny William's guitar work. It's a grinding, cranking sort of paste that brings everything together. "Kenny is like one part metal, one part Johnny Marr, and one part smoking-speed-out-of-a-light-bulb-at-5 a.m.-craziness, but it's what makes him so genius" says Way. "I would be a real waste without him."
"Blow it South", Songs about the South's A-side, has an up-close feel, without sacrificing the high-speed aggression that evokes images of decaying, expansive warehouses. There's a sense that the song is a move towards darker content, but it's a hard call to make. Touring has certainly had an effect on the band's music — and with White Lung on the festival circuit, the touring has become more frequent.
"I'm learning how to do the festival thing slowly," says Way, before making a quip about the festival scene. "I mean, [Pitchfork Music Festival in Chicago] was weird. It was like everyone on Twitter in one place drinking shitty wine and taking MDMA and kind of losing it because suddenly they all had more than 140 characters to communicate."
Jesse Gander is the band's recording "guru," according to Way — he recorded Songs about the South as well as the band's other LPs. In addition to White Lung, Gander has worked with an impressive list of artists such as the Subhumans, Japandroids, and the Pack AD.
"I get stressed out even thinking about recording," says Way, afraid of the finality it brings. "Knowing that the song is coming to its final completion and with that, will become an expectation for our audience, intimidates me." Way agreed to our interview on the condition that it was over email because of the same concern.
Aside from her role as frontwoman for White Lung, Way is also a freelance journalist for the likes of Vice, Noisey, the National Post, and others. In the past, reporters have typified the band and Way because of her support of feminist ideas in lyrics and in articles. The fact that White Lung is a hardcore band consisting of several females has led many to clump it together with Riot grrrl, and it often overshadows the music. An inability to describe a band with a strong female member as anything but "feminist" supports stereotypes and norms that often turn females away from the punk and hardcore scene. Way's lyrics touch on feminist themes, but the band is a lot more than that; it's not a "gendered" band. White Lung is just a kick-ass four-piece making good, fast music.