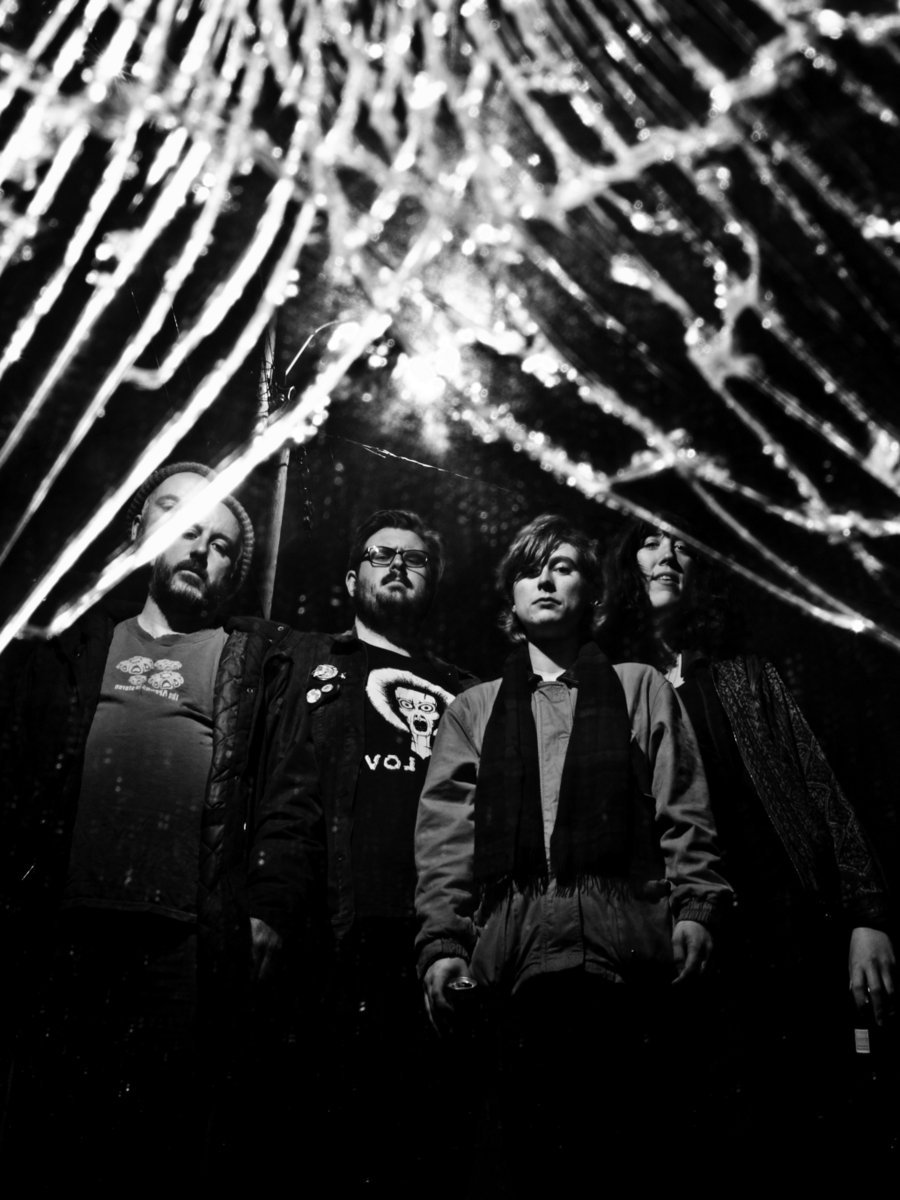 Tough Age is a Vancouver success story in the making. The band — Jarrett Evan Samson on guitar and vocals, Penny Clark on guitar, Lauren Smith on bass, and Chris Martell on drums — was birthed out of the ashes of Korean Gut, and has ties to Collapsing Opposites and Apollo Ghosts. My opportunity to chat with the band presented itself on the night they gathered on the floor of the Mint offices, stuffing 500 vinyl sleeves and eating cheesy bread and soggy shrimp pizza. As we all stuffed, sealed, and stacked, the band caught me up on their brief but action-packed history together.
The band played their first show in January, and was signed to Mint Records by summer's start. The self-titled album is out in early November, and Samson says there are already four new recordings slated for release on a seven-inch in the new year. "I'm just going for it," says Samson, "Just doing it. Committing to the idea and getting stuff done. There's no point waiting around for the perfect time for things. There's something more interesting to me in the immediacy of just getting it down and moving on. And I guess, clearly, it sort of worked."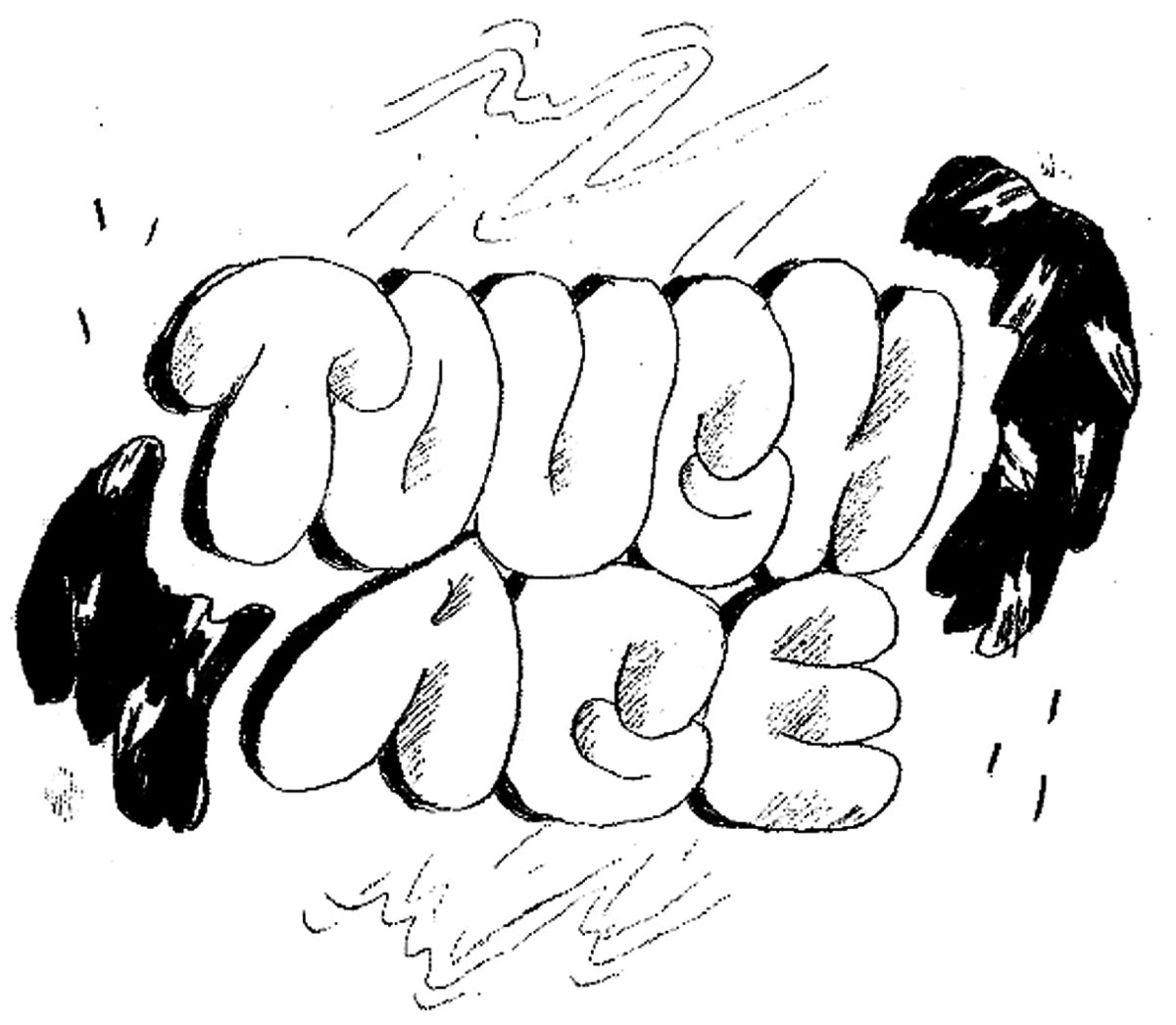 Two of the record's tracks are remnants from Korean Gut days, and Smith says it's "a huge compliment" when I compare one, "Cocaine Vouchers," to Apollo Ghosts. Samson played guitar in the Ghosts, and says he wrote it when he was joining the band, and that "maybe it was subliminal." I ask if the band's folding was a good thing for Tough Age, but Samson denies ever feeling held back. "I only ever felt supported by Apollo Ghosts in every way. Those people are my family and I love them all to pieces."
Samson claims to have a long history of being in at least three bands at any one time, but is happy to focus his energy on Tough Age, where he has the chance to take his frontman duties and varied influences and channel them into a good-time, all-out rock-and-roll band. The band's gritty, garage-rock sound is transformed on the album into something far cleaner, and at times almost bubble gum-esque, courtesy of label-mate Jay Arner. Songs like "Open It Up" and "Sea of White" are anthemic gems, while others like "The Heart of Juliet Jones" and "Seahorse" offer up jangly, almost shoe-gazey romantic musings.
The band's debut album cover is a comic collage by Samson, composed of images from old Romance and DC 100 Comics and the strange back-page ads. He's woven a few inside jokes into the collage, including a saucy trompe-l'oeil in the bottom corner (happy hunting!). He feels the collage is a fair use of the images, much like the band's now legendary "Make It Tough Age" T-shirt, featuring a parody image of McDonalds '80s spokesman Mac Tonight, which garnered the band a few mysterious emails asking them to contact a law firm.
"It's pretty small potatoes," says Samson, as they're not out to make money off of McDonalds. "I'm absolutely obsessed with Mac Tonight. He's my Reagan. To me, he represents this horrible, bloated corporate indifference…As a kid, I loved him because he was so terrible. There's a perverse, sincere love for the worst mascot in history."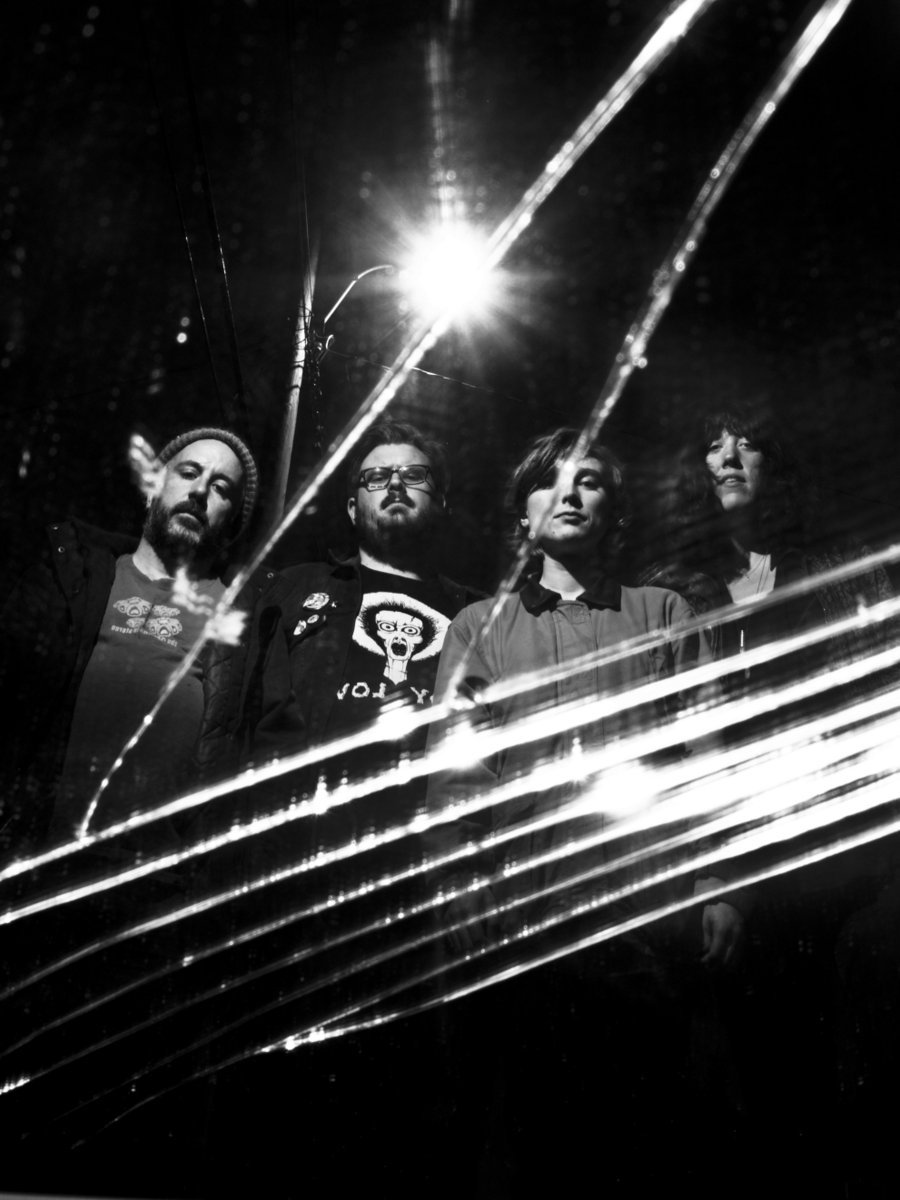 The band had their controversial T-shirts in tow as they set out earlier this year on two short tours, touring Western Canada in June and Ontario later in the summer. "Tour is really hard because you're always around people. It's hard to find alone time," says Samson.
"Remember how handy that sage spray was, though?" asks Smith. Everyone agrees that Smith's "beautiful, green-tinted chill-out smell" was a lifesaver in combating smelly feet in the tour van during a hot Toronto tour with the Ketamines.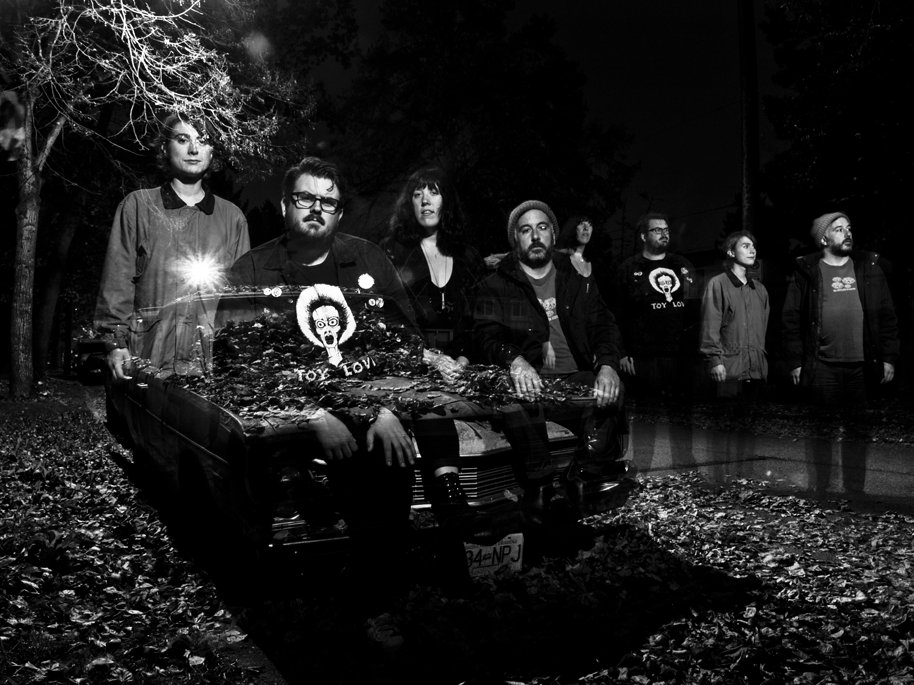 The Ketamines are Tough Age's best tour buds in the universe, as the two bands shared a van and a watery Sled Island festival adventure. "I've known Paul [Lawton] for over a decade," says Samson. "He's one of my best friends in the world. He is a very high strung individual, but so am I." Clark laughingly describes the two as "co-conspirators." Touring with the Ketamines was an eye-opener for Samson, and a positive experience for everyone. Martell insists that touring has made the band "grittier," and Samson puts it thusly: "Touring makes you better. You're out playing for people you don't know. You don't have the friend cushion. You're playing for people who are only going to like you based off what you are doing. They don't care that you had a bad day or how stressful work's been. They just know what they hear, so you have to sink or swim."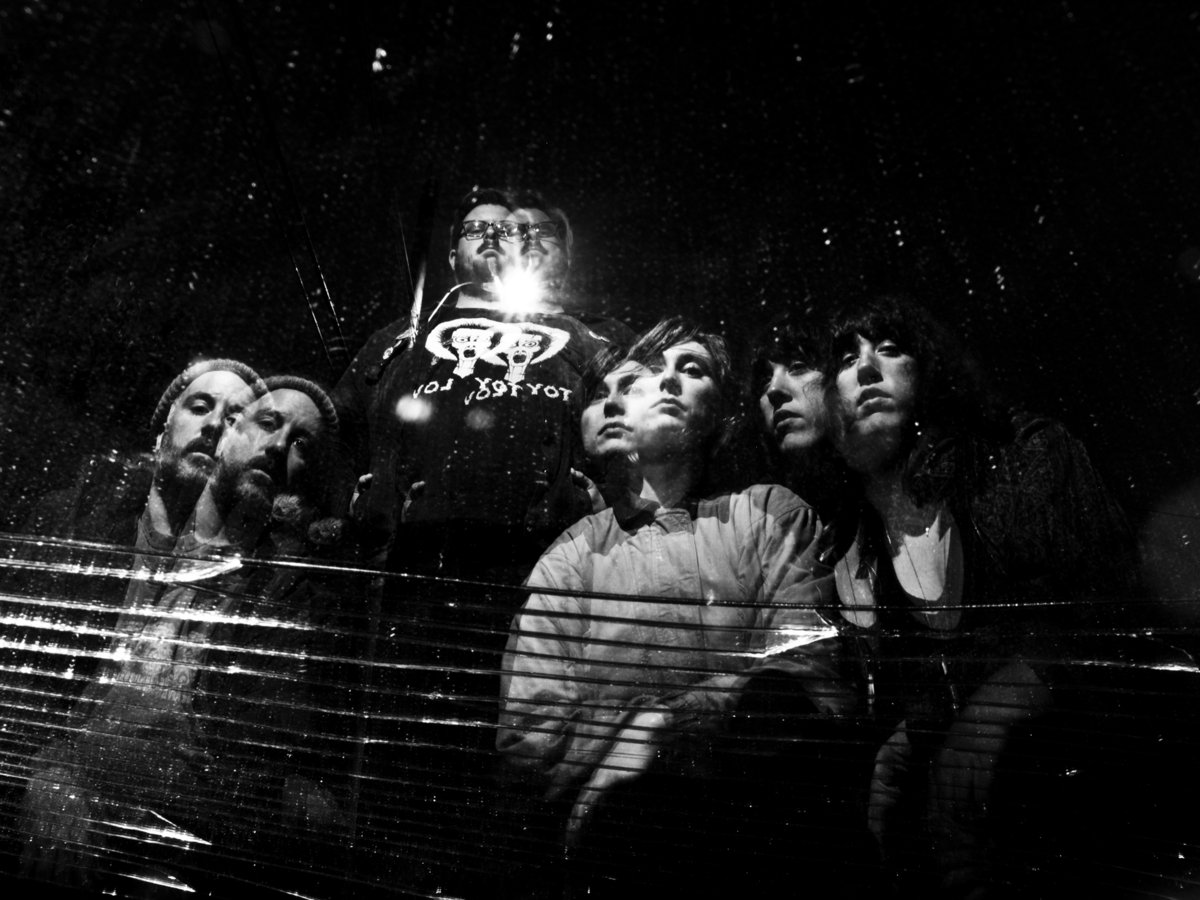 Tough Age's ability to swim is what drew my attention to them in the first place — during a show at Champion Jack's in Abbotsford in June, the mic stopped working. Tough Age, however, didn't stop. Samson just pushed his way into the crowd and yelled his lyrics at the top of his lungs. It was awesome, and the crowd ate it up. That's what the band, and the biz, calls "tour-tight", and Tough Age had it by Day Two of their first tour.
While Tough Age are rocking most aspects of music business-ing, they still have a few hurdles to leap; for instance, none of them knows how to drive. That's rough for a band with a desire to tour. The band enlisted two friends to take them to Alberta in June, and "When we were out east, the Ketamines chauffeured us around like a bunch of chumps," says Samson.
"The Ketamines have offered us $100 from their band fund, and I have vowed to be the first to learn," declares Martell proudly. Clark chimes in with the caveat that the licensee will "have to wear a Ketamines shirt in their license photo" to get the cash prize, though.
_________________________
Tough Age's self-titled debut album comes out November 12, with a release party at the Biltmore Cabaret on November 16.