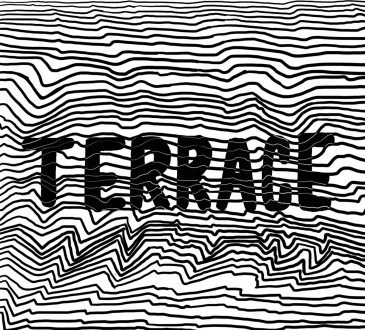 I arrive early at the Media Club on October 3 to speak with local indie electro pop band, Terrace. They released their first full-length, As Far As the Night Can See, back in June, a versatile soundtrack for shoes-off dancing at a house party, taking flight over the Atlantic, and every occasion in-between.
Preparing for the show tonight, lead singer/guitarist Simon Lock bounces around on stage, adjusting stage lights and pedals, chatting to everyone that walks in the room. To each side of Lock stand the band's keyboardists, Chris Brewer and Jodi Kane Hoesing.
Terrace begin their soundcheck and Lock's guitar breaks high above the thrum of synthesized bass. Everyone taps their feet, wanting to dance, as he sings the first lines of "Kane Garden Bay." After the soundcheck I follow them outside the club to talk before the show.

Discorder: You just put out your first full-length album in June and have been touring over the summer. How has that been?
Lock: It's good — as good as it could go for a band independently releasing an album. We're starting to break the Top 10s in the college charts and that's really cool because that's our audience. That's the people we want to listen to us. Ultimately, they like the same music as us.
I've been trying to place your music — the feeling it imparts — and it came to me that it's really that feeling of travelling, of leaving somewhere.
Hoesing: We love that type of music that makes you feel good when you're travelling or just hanging out on a beach. So it's going to come out in our songs for sure.
Lock: It took an EP and an album to get our sound, but we're finally getting it. It's somewhere far away and warm. There's a drink on special, and there's probably not a lot of people around. We keep saying a beach in France… or a terrace in France.
Are there any go-to bands you listen to when you're travelling?
Lock: In the Caribbean, I think it's got to be early, early Bob Marley. Anything that Phoenix has done is awesome for going away; travelling has a way of making you listen to music you wouldn't normally listen to.
Hoesing: Air France, every time I went anywhere for about six months they were on my playlist.
What are your favourites that stand out on the album?
Lock:. Our favourite song is "Kane Garden Bay," just because it happened in about three hours. We hadn't written anything for months, and we were rehearsing for a show at the Electric Owl; someone started in on a keyboard lick, and then another… I went home that night and arranged it. It was recorded in two days. That song is hot, summer, desperation, and longing — still fun — but heavy. That was the first time we all sparked on the spot.
Are you working on anything new?
Lock: Yeah, we've got some new stuff. We have skeletons lying all over the place. We're going to start writing again in January, and go away somewhere; we're looking at San Diego at the moment, somewhere near the beach. The three new songs we have are decidedly "speedo." Very summery, very dark-tan.
What are your big influences?
Lock: Early '90s techno, acid house, post-punk, Joy Division, and the Buzzcocks. That kind of stuff. All the way up to bands like Interpol, Cut Copy, and Friendly Fires. Chris is really into hip-hop. Jodi likes a lot of polka, Oktoberfest stuff [laughs].
Hoesing: We come from different places, but we also have bands that we all love; we're all going to agree Arcade Fire is awesome.
Lock: We meet in the middle with musical tastes, and where we meet is the sound of the band.
I think we generally take ourselves too seriously in Vancouver. It's nice to see you guys having some fun.
Hoesing: We definitely like to have fun. We take the band seriously, but we never take ourselves too seriously. I think as individuals, we didn't before this band either. It's all so dreary [in Vancouver] anyway. We just want to play some shows, write an album, work together, and put something out that doesn't sound like everything everyone else is playing.