In the two weeks leading up to Halloween, Vancouverites have the unusual privilege of being able to blast off fireworks with impunity. Considering the grace period given to act in childlike foolishness, how could this not be your favourite holiday? October 25 was not only the kickoff to a week of teenage pyro fantasies and the shameless consumption of individually wrapped Reese's Peanut Butter Cups, but also Joyce Island's Folkways & Railways coast-to-coast tour at the Railway Club.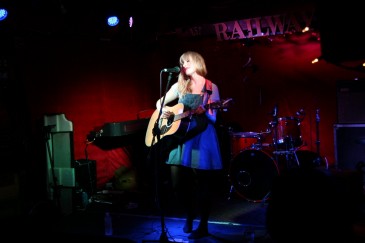 I arrived as Lisa Joyce approached the mic in her unassuming Cowichan sweater and blue denim dress, acoustic guitar slung over her shoulder, eager to play her last solo set before leaving town. Starting with a handful of remorseful songs from this year's self-titled EP, the budding local rocker decided, "That's it for the fuckin' bummer!" and kicked off her heels. She broke into a series of uplifting tunes including the powerful "World Full Of Pain," before devoting her set to a series of poor life choices as she bowed out.
Next up were Winnipeg's female prairie punk duo Mise en Scene, who lit up the stage not only with their matching gold sequin tops and drummer Jodi Dunlop's tinfoil-laden kit, but a raucous set filled with experimental pop-punk tunes and a healthy dose of attitude that is inexplicably endearing. The 45 minutes onstage saw them tear through the majority of last year's Desire's Despair before engaging the crowd with a fun-loving callback on the closing "Perfect Killers (Oh Child)."
The Fast Romantics, who played with such fervour they'd be better actors than musicians, outstayed their welcome and left Mint Record mainstays Hot Panda with a pretty thin crowd. Nonetheless the small but devoted group of fans moved closer as the band took the stage.
Ready to send Joyce Island off on a high note, each of their heads were shrouded in the charming half-heartedness of last-minute costumes. Frontman Chris Connelly donned a simple blonde wig while bassist Catherine Hiltz got slightly more creative with her Mexican wrestling mask and Aaron Klassen balked at the crowd through a plastic horse face from behind his drum kit. Playing tirelessly to a lone drunken dancer, they careened through hits off this year's Go Outside like "Future Markets" before venturing a cover of the Pixies' "Tame."
With a dynamic crowd that ranged from costumed college students and Chuck Taylor'd hipsters to drunken football fans, the night was a great reminder that if there's one holiday we can all agree on in this town, it's Halloween.