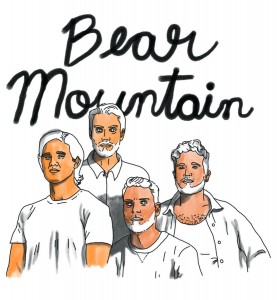 Upon hearing the words "Bear Mountain," you might conjure a tableau of fantastical imagery, marked by dark ominous woods and severe landscapes. More than likely though, "Bear Mountain" evokes the fantastical sound-scapes crafted by the electro-pop band of the same name.
Since 2011, Bear Mountain have steadily made their presence heard (and felt) by touring behind their indomitable EP XO. Released independently in 2012, and then re-released by Last Gang Records in May, XO is a collection of bold indie-dance and synthpop. Featuring a mix of eclectic textures, each song soars higher than the last, making XO a careening listen. Bear Mountain's versatile and confident sound allows them to fit snugly on bills alongside Bloc Party, Hot Chip, and Islands. Discorder recently caught up with band architect, Ian Bevis, via phone during some downtime of his immersive touring schedule between Los Angeles and Austin.

Bear Mountain have become renowned for their ambitious live show, one that seems to outstrip the small venues a young touring band typically inhabits. When I caught Bear Mountain's opening set for Islands in late September, the humble Media Club was bursting at the seams. The band, with Bevis on bass, twin brother Greg on drums, Kyle Statham slinging the guitar, and Kenji Rodriguez providing the light show and synth textures, projected an arena-sized expansiveness with energy to match. Not surprisingly, Bevis tells me the band has always had big plans for his music in the live setting: "Ultimately, that's the kind of show we want to create. Something you can take to an arena and have a massive production."
It's not that bigger is necessarily better, but Bevis wants the Bear Mountain experience to be "much larger than [them]." It stems from the project's modest compositional origins on Bevis' laptop. "The songs come first definitely… a song is not a one-dimensional thing. Music is very three-dimensional. It can be very all encompassing… you can listen to a song and live in that world for three and a half minutes. So, by having this visual component and by bringing that alive in a show, really brings it to life."
Bear Mountain's live visual component is a natural extension of how Bevis views his songwriting. It has the same sort of function as a sample or synth part. Each Bear Mountain song is "almost like a painting in a way" with its own sensory territories. It starts with a feeling or emotion and is realized by the exploration of sound and vision. Bevis' goal with songwriting is to be that explorer and relay to the listener as much sensory experience as possible: "I would hope we'd done a good enough job that the feeling, or the emotion or the imagery is there."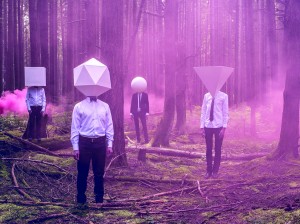 There is definitely a strong theme of exploration running through Bear Mountain. As much as composition is an emotional and sensory peregrination, for Bear Mountain, it's also a ramble in sound itself. "If you can think of a sound, you can use it in a song," says Bevis, "that search for those sounds is what keeps it going. That's the most exciting part about writing music for me right now."
As Bevis and I talk about sounds and samples, I can't help but recall the band's elaborate live gear and instrument setup. Bevis laughs, "Yeah, we each have our own little battle stations…We were playing in LA on Monday night and some dude, right before the show, he's like, 'Oh man, these guys have way too much stuff. It's kind of overkill.' And then we played the show and that same guy was like 'Holy shit! Okay, I take it back.' We use it. Nothing's for show."
It all leads back to the hunt for sounds, as Bevis admits: "I actually brought a USB turntable and a bunch of records with me on this tour so I can pull samples on the road, and I've never done that before. It seems a bit extravagant to be hauling around a fucking turntable and a bunch of records…but, for me, when I don't have any ideas, the best thing to do is to go through a bunch of samples and see if something jumps out."
As Bevis and I conclude our discussion, a thought comes to me. "The name [Bear Mountain] comes from The Dharma Bums from Kerouac … I was thinking of what the connection might be."
After a pause, Bevis remembers a part of the novel that remains significant for him. "There's this part where [the characters] go and climb the mountain and they have this amazing, euphoric experience. They get to the top and are over the moon — elated that they hiked the mountain. And then on the way back down, it turns to nightfall and they lose their way, and they start getting so angry." Much like all Kerouacian stories, Bear Mountain is about the whole journey, both highs and lows.
Though their journey has just begun, I'm sure it won't be ending anytime soon. As long as Bevis and company continue to push boundaries, I'm sure the Bear Mountain experience will grow even grander and more nuanced.
_________________________
Bear Mountain play the Vogue Theatre on November 9 alongside the Belle Game and the Dary's.