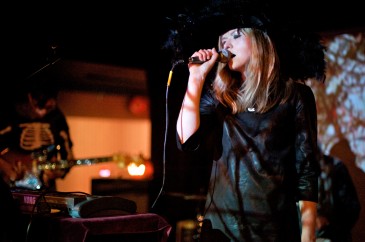 Londoner's Still Corners showed up at the Media Club on Halloween night to promote Creatures Of An Hour, their first release for Sub Pop Records. Monday nights can be tough to pull in a crowd, especially after a weekend of Halloween partying. But surprisingly, the laid-back Monday worked perfectly with Still Corner's atmospheric set, which was both relaxing and darkly hypnotic.

The night began, however, with Vancouver's Woolworm. Unfortunately, I missed their set completely. I'm not sure if they just played early or had a ridiculously short set. Either way, they are a local group, making it easier to catch them again, unlike the second act, Ganglians, who hail from Sacramento. Singer Ryan Grubbs sported a cool, beach bum look, which complimented the band's familiar West Coast surf-punk jams. They brought lots of energy, though I couldn't help but feel like their set would have been better suited for a hot summer's day than on a nippy night in front of a costumed crowd.
Conversely, the Halloween setting, complete with two Jack-o'-lanterns on stage, worked to the advantage of headliners Still Corners. Lead singer Tessa Murray, wearing a large witch hat, walked onstage to the sound of droning synths, while psychedelic video footage screened behind her. This went well with the troupe's music, which has a gothy, dream pop vibe, yet with undertones of '60s pop melodies. Even the instantly recognizable Phil Spector drum beat made an appearance on the whimsical ballad, "Endless Summer." The mesh of synthy drones with retro girl group sensibility is so wonderfully offbeat. Murray's delicate and haunting voice reminded me of the Paris Sisters, but she stripped away their sweet and innocent aesthetic in favour of a sultry, femme fatale feel.
Though subdued in their stage presence, Still Corners did show a playful side with unexpected covers of Bruce Springsteen's "I'm On Fire" and Rogue Wave's "Eyes." They wished the crowd a Happy Halloween, offered the audience free candy (always a win) and ended on an upbeat note with the upbeat '80s post-punk number, "Into The Trees."
Still Corners played to what appeared like a tired crowd that half-heartedly dressed up for the occasion, but the set felt therapeutic. The chilly Monday night had just the right amount of mystery and eeriness for what would have otherwise been a pretty mundane Halloween.