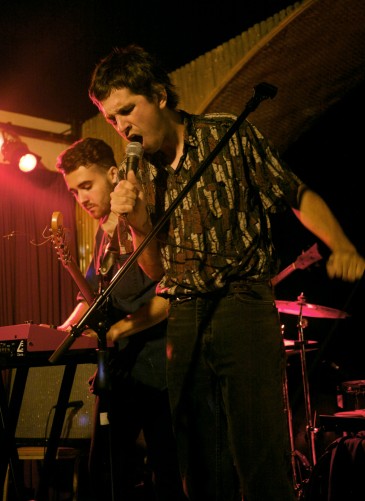 If there is an upper echelon of the Canadian indie elite, Pat Jordache are among the royal few. The Montreal rockers will be opening for tUnE-yArDs Friday November 18th 2011 at the Biltmore Cabaret, and bandleader Jordache squeezed in a quick e-mail interview with Discorder Magazine about life on tour, what to tune into on the radio, and what defines the sounds of Vancouver's scene.

D: You've been on tour with Merrill Garbus of tUnE-yArDs for a while now, and are prepping for a European tour this winter. What is your fondest memory of the tour so far?
Pat Jordache: There are too many. I guess this whole tour has been really amazing just to see how well tUnE-yArDs is doing. I feel like I've been watching these shows for years from the time that they were happening in friends' lofts in Montreal to only a handful of people. From that early time, it was really clear that Merrill had a very special ability to connect with people, to give them something really important through her music. What is amazing is how that gift still functions on such a large scale. It is sweet watching these total strangers in the front row with tears in their eyes feeling that same connection that I first felt.
D: Releasing Future Songs via Bandcamp and cassette is now a sort of legendary move. Will you go this route again for the next release?
PJ: Nah, I never like to double back over my tracks. Maybe I'd self-release something as a more casual mixtape affair, but i don't know… it feels like it would be an excuse to relax the standards on myself. I mean releasing on Bandcamp wasn't some f.u. to the man (not that they don't deserve one); it was more just working with the means available. Now I've got really good people who I like and trust that believe in what I do and would put it out [Constellation Records], so there seems to be no sense in refusing that helping hand. There is d.i.y. and then there is taking on shit that you just do not need to, which tires you out and distracts from the true thing you are trying to accomplish. I am getting better at distinguishing those things.
D: Your line-up of instruments is very unusual, both live and recorded. How does the choice of instruments define or limit the sound?
PJ: For a while the live band I worked with was just me playing bass with a loop pedal and two drummers. Though there was only so many things to be done in that format, I enjoyed that limitation in the same way I enjoyed the fidelity limits of what my recording setup provided. Even if you are working in a shoebox, there is something satisfying about working in that shoebox if you know its every nook and cranny of potential rather than a vast ocean of possibility which is intimidating and disorienting in its size. But my skills are growing, and my band has as well. I am more confident about occupying larger spaces now. I don't mind having a couple of guitar players along, and if a second drummer needs to sit out a tour, I am fine with being a more traditional four-piece. I think the merit and interest of this music lies in something a little deeper than the novelty of unique instrumentation. We're moving on to new things now; the rolling stone gathers no moss. It's scary and challenging to abandon comfortable old formats, but that's always been the nature of what I do.
D: What are you listening to lately?
PJ: A lot of This American Life. I drive an average of six hours a day right now, so podcasts are a godsend. Growing up, my mom worked for CBC, so public radio holds a special place in my heart. The stories on [This American Life] are pretty inspiring. There was one yesterday about a Chicago inner-city school that had implemented reading and writing program curricula that made it's students some of the best in the city. There was another about the city's first black mayor, Harold Washington and the courage of his historic campaign: calling out the old-guard racism of that city's municipal projects with remarkable candour. I keep on getting choked up listening to these things, going up the interstate. They remind me that change is possible, within all of our grasp.
D: Where do you find inspiration to make music?
PJ: Usually in travel. When I first get on the road and when I first get home, I'll always write some song that feels really easy to get out that dwarfs the quality of material that I'll make only a few weeks later once I'm back in a place of comfort. So I guess change inspires me. Other changes, like relationships ending, will shake me up enough to make something fall over the side. Though discomforting, I guess it has it's upshots.
D: East vs. West – People often speak of a "Montreal Sound" and that Pat Jordache is not contained by it. Do you listen to any bands that you'd typify as having a "Vancouver Sound?"
PJ: Yeah, I've heard that. And I've heard other people say the opposite too. Either way is fine with me, I guess. I don't spend a lot of time trying to sound like my town (obvs… does anyone do this?). Vancouver sound: I've noticed this thing where every band I hear from west of Saskatchewan is into jangly single coils and spring verb. The content will vary, but these are the tried and true delivery mechanism. My fave from the bunch is Makeout Videotape (who recently defected to our side, so I don't know if you want me to namedrop him here…). The other band from the 'couv I saw a little while back and really liked in the live show was No Gold. I thought they worked really well in a sparse instrumentation, made something that was pretty concise and effective with only three people. Last thing is that SLOWRIFFS record that my band mate Rory was playing for me. The ideas are really simple and concise but effective. I respect that kind of concentration, I feel like the music I make reaches in so many directions all the time. Different strokes I suppose….
Pat Jordache and tUnE-yArDs play the Biltmore Cabaret November 18.