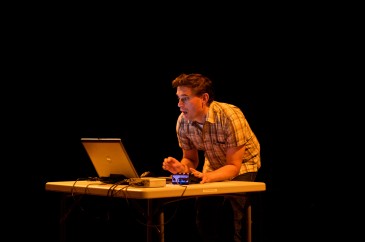 Thrill Jockey labelmates, Mountains and Oval, took the stage Sunday night (October 2) for yet another must-see showcase at the Western Front. Although these acts share a label, their musical styles couldn't be more dissimilar (outside of the vague observation that they can at times both sound electronic). In reality, Brooklyn, NY's Mountains have a consistent back catalogue of acoustically-minded ambient work behind them, although like many of their contemporaries, they've recently been lured by synthesizers. Oval's music, on the other hand, is a type of concrete-techno that is highly focused around laptop technology. A perk of the two-act bill was that the performers were granted the luxury of time to realize their respective visions, and each did so to the tune of two masterful 45-plus minute sets.
Mountains, consisting of Koen Holtkamp and Brendon Anderegg, opened the evening with three seamless, long-arcing movements of elliptical atmospheres. Anderegg looped elegant acoustic guitar patterns over Holtkamp's bed of analog shimmer during the first two movements, while the third provided a welcomed change of direction through windswept field recordings and glassy drones. The drawn out progression of the band's live sound suits them more than the curtailed approach of their latest album, Air Museum, and it was pretty clear from their performance that these guys are still at the top of their game.
Having to break free of Mountain's hypnotic grasp wasn't easy, but Oval–the decades old music project of Markus Popp–managed to ease the crowd into a near-hour's worth of beat-ridden electronica. With little more than a laptop and a midi controller/fader, Popp casually spouted pop-length vignettes that were equal parts recontextualized beat structures and sonic abstraction. Oval's sound does tend to rely a little too heavily on conventional drum samples, but there is a subtle brilliance to what Popp does, and that brilliance was on display on this particular night.