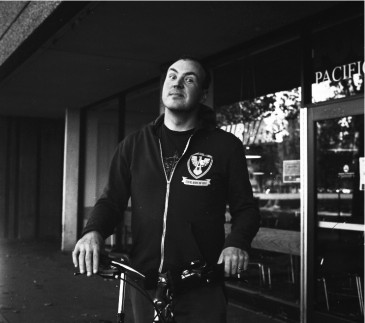 Mondays at CiTR are festive and frenetic as Chris Alscher prepares for his show, Parts Unknown. Since August 1999, Chris-a-riffic has been filling his program with a ton of local music, pop and garage rock along with other random gems from across the decades. Piano teacher and band member extraordinaire, Alscher was previously a member of They Shoot Horses Don't They?, but currently performs with the Bible Belts and writes piano-based tunes as Chris-a-riffic. On top of his time with CiTR, Alscher has worked for CBC Radio 3 and is known for curating random gigs and music festivals in backyards, sheds and public parks.

Discorder: What music do you play on your show?
Chris Alscher: I find myself doing garage and old soul and old country. I try to keep playing pop songs but I'm finding it tough; they don't seem as interesting as garage rock. It's less musically interesting but so catchy—except for Timber Timbre.
D: What made you want to have a radio show?
CA: In the late '90s I was so sad and mad about songs being played over and over again and stations not playing any good music, and thought I could do better. I'm still trying to work that out.
D: What has been your most memorable on-air moment?
CA: Last year this happened on Duncan [McHugh]'s show [Duncan's Donuts]: I was mentoring five Japanese exchange students and we ambushed Duncan's show and he let each of them say something on the air and I thought it was very nice of him. But also there was a girl who was a fan of the show that phoned the show a couple of times. She came to stop by during the show and she seemed disappointed [laughs]. And I also got Ron Sexsmith's publicist really mad at me one time. I asked her for an interview and he never called me and I sent him a nasty email saying I would never be a fan of his music again since he didn't care about his fans. He got really upset and called on-air from a gas station somewhere in Alberta and he was a really awesome guy.
D: Who has been your best guest?
CA: Ben [Lai], Duncan and Robert Hammond [a longtime CiTR listener and donor].
D: If you could only bring one album to a deserted island, which one album would it be?
CA: Goodbye Yellow Brick Road by Elton John. I love every song on it and it really got me into being a piano player. He was this short paunchy guy but he had such great songs; It didn't matter.
D: What is your favourite CiTR radio show, besides your own?
CA: Every day, I have a certain show that I listen to. On Mondays I listen to Gary [Korhonen]'s show [Exploding Head Movies]. I'm in Langley at the time and as I drive home it switches to Gavin [Walker]'s show [The Jazz Show]. I always have my breakfast with Pop Drones and Duncan's show. I love going to UBC on Thursday to hang out on Ben's show [Live From Thunderbird Radio Hell].
D: What does the future hold for Parts Unknown?
CA: More of the same. I love doing the show and I always want to make it better.
Parts Unknown airs Mondays from 1-3 p.m.