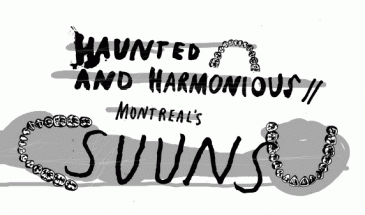 There's a quiet buzz in the circuitry of North America's music industry at the moment that's no louder than the binary whirr of a car engine as it zips along a lengthy stretch of highway in Middle America through the jagged monstrous peaks of the Canadian Rockies or along the windy, mind-boggling coastline of California—nothing more than the diaphanous squeal of a mosquito as it looks out over the edge of the world towards the hazy horizon.
It's the new-band bug, and it's in the ears of many a music critic across the continent. The buzz has been created by Montreal electro-squall rockers, Suuns, as they formally introduced themselves to one city after another over the past two months. You might encounter words like broken, messy and lacking cohesion, but isn't that often the case with many of the best indie rock bands? Fellow Montrealer Jace Lasek of Besnard Lakes, who co-produced Suuns' recently released first LP, Zeroes QC, would probably concur.
It doesn't take long to hear the potential these four young men carry with them. Beneath the creepy, ghostly intros, dark, twisted lyrics and pounding robotic riffs are real, live melodies—catchy ones at that. And the secret is now officially out—these guys can play. They proved it not only in their own set, which warmed several dozen stages in early fall, but also in the set that followed theirs on this tour. Suuns not only opened for Land of Talk, they also backed them up night after night with ostensible ease in the absence of an abundance of guest contributors on the headliners' latest album.
There've been mixed reviews and there'll be more to come—such is the duality of a rock band's public life. Suuns aren't short on duplicity when it comes to their music either, but you won't see this team crack anytime soon under the hammer and chisel of a competitive industry.
Seeing as these boys have spent the last two months crammed in a van together, we thought we'd catch them in NYC to cram them all into this conference call for an interview.
Discorder: Joe, Suuns are just about finished their longest tour yet—across the continent and back again. But you've been down many of those roads before with other bands. What city or stretch of the trip were you most excited about returning to and why?
Joe Yarmush: The U.S. is insane. In a good way. It's the perfect country for A.D.D. people and myself who like constant change of scenery and people. So, the whole country has its charms, but it's hard to beat California: beach, Highway 1, Joshua tree—which we visited. It's got something for everyone.
D: Ben, if there's one memory you'll take home with you on this tour, what is it?
Ben Shemie: Seeing Joe get hit on by a porn star at the Best Western Hotel.
D: Max, if you had to pick a favourite song on the new LP, Zeroes QC, what would it be and why?
Max Henry: Hard to pick a favourite tune, but its probably "Pie IX," likely because of how particularly singular and creepy it is. It's also bumpin' live and one of my favourites to play.
D: Which one would you call the crowd favourite?
MH: "Armed for Peace" usually separates the men from the boys, i.e. those who will love our set from those who will hate it. Both parties are quite welcome and a necessary part of the Suuns live experience, in my opinion.
D: Liam, tell us why the band had to desert the name Zeroes and how you guys came up with Suuns.
Liam O'Neill: We used to be called Zeroes. When we first started talking to Secretly Canadian and discussing an international release, we thought a lot about the various legal aspects of our band. We discovered that a man had started a band called the Zeros in the '80s and had trademarked the name. We spoke to the '70s punk band named the Zeros who were fine with us having a very similar name, but they warned us about this guy and how he had been attempting to sue them for years, and they aren't even active anymore. So we decided the only thing less rock 'n' roll than changing your name is not being able to have a rock 'n' roll band anymore 'cause you got destroyed in court. After much discussion, we arrived at Suuns because it means zeroes in Lao. We liked how it sounded and it was a sneaky way for us to keep our name in a way.
D: There have been a few different attempts at pronunciation—there's "suns," "soons," "suh-oons"—which do you prefer?
JY: Yeah, we've been going with "soons." For aunts and uncles and border patrolers, it's easier to say "suns." But have it your way, we don't care. Live it up, say words how you want.
D: Joe, in terms of live performance, what song do you think benefited the most from this tour?
JY: "Sweet Nothing" has benefited for sure the most. It's completely different every night. Ben smashed his guitar in Phoenix on that song. It's okay though, it's only a 1975 Gibson SG. Whatever.
D: Max, you seem to lead the way on the keys on many of the songs. How does the creative process work for you guys?
MH: Skeletons of each song are provided by a main writer, usually Ben. The instruments are individual domains, however. We each bring our own interpretations, which come together as a Suuns tune. We know what to expect from one another aesthetically, and this allows for a creative plasticity in our jams and live shows. That becomes more or less solidified when we record.
D: Liam, you have an array of amazing facial expressions when you're ripping away on the drums. What kinds of thoughts go through your mind while you play?
LO: I never think about my facial expressions. I try to not let any thoughts go through my mind at all when I play. As soon as I get some sort of an internal monologue going in my brain, I'm sunk. I try to keep it as stream of consciousness as possible. I guess when you do that, you're not really policing what goes on with your body, so that may be why my face finds its way into various hilarious contortions.
D: Ben, a lot of your lyrics are dark and demented, yet you seem to be the least psychopathic of all the band members. Where do your lyrics come from?
BS: Some are built around the melody, which in some cases come before the words are written. Most of the time I try to evoke some kind of story or narrative. In a lot of cases, the stories are a snapshot of a scene or moment. Some of it comes from the broader theme of identity. Other stuff is more personal. And sometimes they're just words that make a colour that fits in the context of the song.
D: So, did you really kill a man when you were 11 years old?
BS: Yes, but that's just between you and me.
D: Joe, what do you think 11-year-olds think of your music?
JY: They are very afraid.