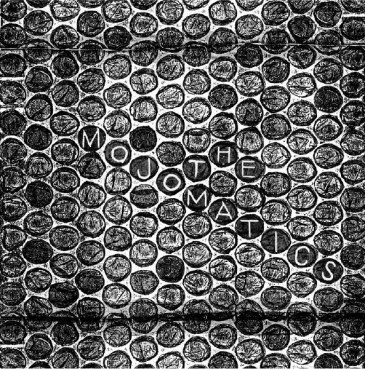 Hark! Do you hear what I hear? 'Tis the scratch & pop of vinyl records my friends. Another month has passed and we have more delights from the world of wax to tell you about.
A day of musical mayhem recently rained down on Portland in the form of the Scion Garage Fest and yours truly saw an absurd amount of hip shakin' combos from all over the planet. One band of note (and there were many that received my adoration) that kept me buzzing was the Mojomatics from Italy, who should have busts in their likeness adorning many a great hall by the time you read this. Their take on the traditional blues formula is diluted with punk, country and pop that can only be described as amazing. For only two dudes (guitar and drums) this is a feat in and of itself. Their latest single is a perfect introduction to the push and stomp of this duo (even though they have released at least two full-length albums and a boatload of 45s) as it displays these subtle shifts in style quite well. "Another Cheat on Me" storms out of the gate like the Flamin' Groovies on speed, catchy and cantankerous with a wailin' harp bringing the track to a fever pitch. "Down By The Graveyard" rolls and tumbles like a Spaghetti Western soundtrack complete with what sounds like a mariachi trumpet announcing the death of another outlaw. Highly recommended.
No visit to Portland would be complete without a trek to Green Noise Records and the home of Pacific punk label, Dirtnap Records. This great label has churned out a ton of hits in its short career and Psyched To Die can be duly added to the roster. Straight out of the concrete jungle of New Jersey and featuring a member of a past Dirtnap band (the Ergs!) their Scatterbrained EP is a shot to the gut of early '80s hardcore and late '70s punk. With bleak lyrical leanings, "Admitting Defeat" and "Conditioned To Fail" are perfect examples and its tough as nails delivery is sharp and fast and to the point. If you like Minor Threat, Zero Boys and the Descendents then you'll be moshing your heart away to Psyched To Die.
Another label that can do you no wrong lately is Tic Tac Totally Records based in Chicago. Most bands who call this company home fall under the "punk" moniker from the Suicide-styled Static Static to the quizzically named troubadour known as So Cow. Everything released up to now has been the bee's knees. Now comes Buzzer, an unabashed throwback to the proto-punk vibe of the late '70s with their newest slab, "Teacher's Pet" backed with "Stunning Freak." These tracks are best played at your next basement kegger, while doped-up guys sloppily hit on all-too-knowing girls with the Rubber City Rebels and Slade also spinning on the stereo—pizza boxes littering the cigarette-laden carpet and the smell of cheap musk and hairspray hanging thick in the air.
I'll use the last remaining space I have to talk up Edmonton's bad-ass ambassadors of surf rock swagger, the James T. Kirks. After numerous years of splitting time between cities and band members, the brothers Wright (Ted on guitar and Rob on bass) do no wrong on their latest effort for the faithful who've been shining up their rods and greasing their boards in anticipation of this release. "Theme From the Twilight Living Room" immediately conjures up Calgary's much-revered instrumental combo Huevos Rancheros, with a high guitar crunch factor and ball-busting bottom end. "Deadwood" and "Dragstrip Deathtoll" are cut from the same cloth as Link Wray by-way-of Social Distortion's twang-infused punk vibes. This takes the checkered flag on all accounts and you can help celebrate their victory lap to Vancouver on Nov. 7 at the Fairview Pub with the supercharged Jolts and fellow motorcycle maniacs the Vicious Cycles.
As you were! More next time!
The Mojomatics: Douchemaster Records (www.myspace.com/douchemasterrecords)
Psyched To Die: Dirtnap Records (www.dirtnaprecs.com)
Buzzer: Tic Tac Totally Records (www.tictactotally.com)
The James T. Kirks: Eat Shit & Die Records (www.myspace.com/eatshitanddierecordings)