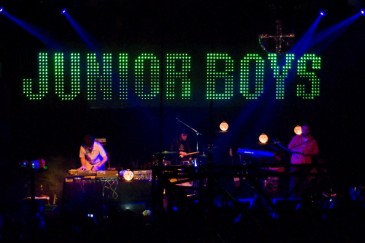 It was a chilly Thursday, but it didn't feel like a school night. Venue was packed with a capacity crowd, and everyone seemed to be in weekend mode. The room was already filled with loud, festive, boozy energy by the time Circlesquare took to the stage to start things off.
Circlesquare is the project of Vancouver native Jeremy Shaw, a musician and visual artist currently based in Berlin. I wasn't really sure what to expect from Circlesquare, but given the information I had going in (Vancouverite, based in Berlin, album entitled "Songs About Dancing and Drugs"), the performance was sort of in line with what I might have imagined—but quite a bit better. It was eerie, electronic, cool and downright unnerving at times, as Shaw sang in a low drone reminiscent of Ian Curtis, backed by a guitarist and a drummer and flanked by large screens displaying images, text and video. It was a captivating performance and the visual element definitely added to the experience.
Junior Boys kicked their set off with "Parallel Lines," the catchy opening track from their newest album, Beyond Dull Care. The duo of Jeremy Greenspan and Matt Didemus recently added a drummer to their live show, fleshing out the icy synth-pop of their albums into a richer, warmer live sound. Singles "Hazel" and "In The Morning" were predictable standouts, and Greenspan's emotive croon sounded great live.
This was the first night of Junior Boys' Halloween-themed October tour, and the stage was decorated with skulls and plastic jack-o'-lanterns. The band is encouraging fans to come to these Halloween shows in costume, but unfortunately no one in Vancouver seemed to have got the memo for this first show, as Greenspan commented on the lack of costumed attendees (a girl with a fake moustache won a prize for having the best costume). In our defense, it was more than three weeks to Halloween, but hopefully as the tour progresses, Junior Boys will have some crowds getting dressed up and into the spirit.