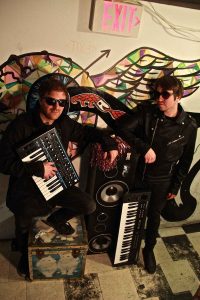 Kilroy Katerwol and Caleb Blag — the duo that make up Weird Candle — are creatures of the night, and it is in the early evening that introductions take place at their studio deep within the art space and music venue on East Hastings, known as Red Gate.
Walking through the corridors of Red Gate to their studio deep within the building, you can't help but notice the impromptu art and scribbles. It's a creative environment and Weird Candle are flourishing in the anarchic, but homely atmosphere. It's a good fit for them and Katerwol declares, "Red Gate is our home ice."
In their bunker-like studio surrounded by keyboards and samplers, Blag and Katerwol enthuse about their second album, which is leaning towards a synthetic-industrial and electronic body music sound. This is a shift from Regeneration, their first LP, set to be released this May.
It would be easy to describe Weird Candle as music for goths, and Katerwol's uncompromising vocal delivery is certainly gothic. It is music of the night in every sense — sex-tinged lyrics over a barrage of electronic keyboards, played for the most part by Blag.
Regeneration's release on Weyrd Son Records, is a natural fit given the bounty of dark wave and industrial acts already on the Belgian label. It is certainly a busy time for the band. A week into May they will have completed work on their second album, arrived in Europe for their first tour outside of North America, and celebrated the release of Regeneration.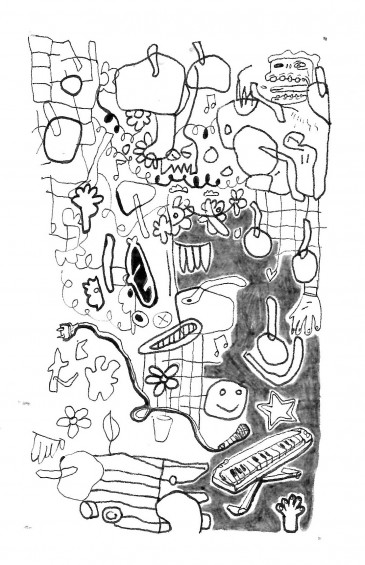 On their Bandcamp, Weird Candle have uploaded three songs from Regeneration. These include "Psychic Controller," "Night Freak," and "Science." The first of the trio, "Psychic Controller" is a neurotic fuelled anthem for dark wave aficionados, with crossover appeal to listeners of electronica. It starts like classic late '80s or early '90s Euro hard house but quickly gives way to something more sinister as Katerwol wails: "Psychic controller / Psychic controller / Plastic dominatrix." The pounding beats intensify, suffocating the vocals.
During the track "Night Freak," Weird Candle demonstrate a lighter touch. As Katerwol sings the line "He's a Freak in the night" over and over, a tender woodblock sound emerges. It reveals a lighter aspect of their sound. Yet in all three tracks Katerwol belts out the vocals, providing satisfaction to the listener as well as himself. "Screaming into a microphone's a good outlet when you're sponging up everything around you," says Katerwol.
There might not be another band in Vancouver who so deftly define the city's political and cultural climate. Without hesitation, Weird Candle harangue the rapid advance of gentrification throughout the city. The impacts of this gentrification have had a direct influence on the band.
Most recently, the deaths of two homeless people in a warehouse fire near Red Gate studios on Hastings upset the tight knit community of the Downtown Eastside. Katerwol explains, "I've been really depressed since that happened. It's really sad. Two people who probably just didn't want to be in the rain."
The new record has more politically driven songs than Weird Candle's previous work. Take the poetry of opener "Western Culture:" "To live or destroy / Too anxious to enjoy / It's the decline of western culture / Like cancer like ulcers / Here come the vultures / It's the decline of western culture."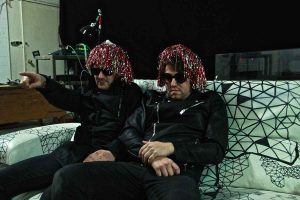 At the mention of the anti-terrorism legislation, Bill C-­51, Katerwol despairs, "If it wasn't for all of our friends and people we collaborate and do shows with here, I would try to move." Currently, the only move Weird Candle has scheduled is a European tour commencing May 18 until mid June.
On their musical partnership, Katerwol says, "Luckily we work really well together. Sometimes it's hectic; we're both yelling at each other, freaking out. At the end we're like shit, we got something we can work with. It's a really funny relationship."
Not only do Weird Candle work well together, they work fast. Katerwol comments on their creative process, "Caleb will write a drum [beat], I'll record a bass line, put the bass in, put in some cymbals. I'll put in a woodblock part. I'll write some vocals, he'll write a synth and within an hour or two we'll have a song flushed out and it shocks us sometimes how fast something can happen."
Their recording space — a tiny floor-to-ceiling tiled room — is a little intimidating. When asked what he thinks its previous use was, Katerwol speculates, "Maybe a slaughterhouse? With all the tile on the wall it would be easy to clean up blood." After a lot of laughing Katerwol continues, "Some people have jokingly called it the murder room and I can assure you it's only creative and productive endeavours in here now. It's just a dark lair that we can stay up all night and make noise in."
The band's political edge is matched with a real generosity of spirit. As we close the interview and Discorder photographer Tara Bigdeli prepares to take photos, Katerwol walks over to a fridge. Seconds later he is gone. He reappears some five minutes later with beers to share having stepped out to the liquor store. He puts on some of Weird Candle's music and there's a really great energy at work.
It's an energy that is all inviting and reminiscent of their live performance. The photo shoot becomes a mock gig with Katerwol and Blag proudly hugging their keyboards. They put everything into their poses for Bigdeli. It's tremendously exciting to witness. Match this sparkle with the politically fuelled music and wow, what an exciting musical prospect for this city. Here is a band that Vancouverites can boast about now and into the future.