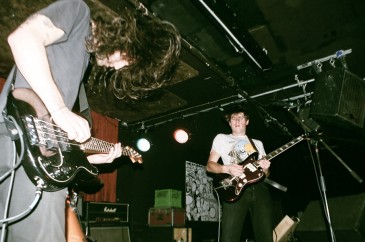 Going to an early show at the Cobalt is confusing. When getting there two minutes before the first band is supposed to go on, and finding yourself staring at an orange drum kit while desperately not trying to make eye contact with the dozen or so people who are also there unfashionably on time to pre-drink or set up camp, is there a social code?
"Turn up the vocals"
"We can't this place is haunted." (Dumphe)
Opening the show was VEXX, a punk band from Olympia. A classic punk performance, VEXX came across like an acrobatic. Dumphe, the frontwoman, slipped and slid around the stage, somehow always ending up on the floor below, putting on a show for the crowd. The irony though, was with the audience, who at the ending of each small act of performance art would clap politely like they were at the ballet.
In complete contrast in sound and energy, Chastity Belt, Seattle's all-female post punk femme band quietly took the stage. Their first show in Canada, their vibe was established when one member pulled out a guitar pedal from her acid washed jean jacket during their setup. I was not disappointed.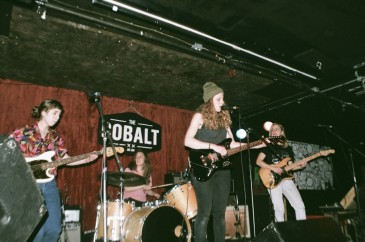 In the zone, their rolling West Coast licks melded with a slightly glum, introspective vibe. It was oddly captivating, and had the audience, which was steadily growing bigger, in a trance – arms folded, beers clutched to their chest, rocking and head nodding to Chastity Belt's rhythmic sounds.
As Chastity Belt left the stage, a buzz started as people prepared themselves, moving to the front, drinking more beer, or just arriving in time to see what was being setup next.
Wand, from LA and touring on their release Golem, was what they were waiting for. A reputation for playing outside set genres, the band's warm up was interesting, weaving in and out of "Old Man" by Neil Young.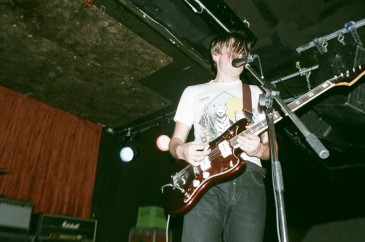 Not giving the audience warning, Wand started to play. Loud.
The first words in my head were "Holy shit."
I didn't know the power that was going to be behind their sound. Wand could do some damage, weaving melody to connect each song, never really giving the audience a chance to breathe. The crash of heads was unanimous. Although their set was short, they made it work by using their psychedelic sounds to lull the crowd into a false sense of security, before grabbing our tiny attention spans by blasting us with hard bass that felt like an electric current running through the floor.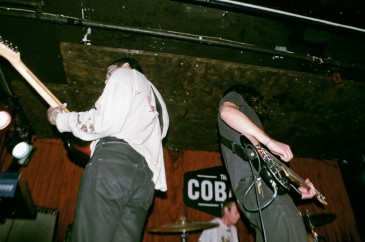 Unfortunately, just as suddenly as it had started, Wand stopped playing. Slight confusion and disappointment spread, but it was clear, the show was over. Even as people were leaving, letting a new wave of people in for the late show, there was a hope that they would ignore the time limit and just keep playing.