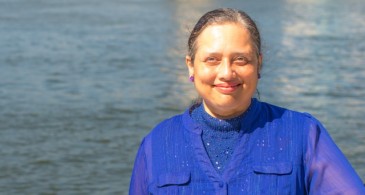 "Do you like figs?" asked Nalini Bhui, host of Rhythms India, with a genuine smile as she was trying to catch her breath. "Let's have one."
She had just entered the Granville Island Public Market. The place was once again bursting with life and mingled aromas but suddenly all I could smell were the spices, all I could hear were the sitar's whispering, and all I could see were the flowing seven seas in  her eyes. "Promise kept," I thought as I felt the moisture in the air increasing; I was already sailing on an adventure to the Far East.
You speak more than eight different languages, if I'm not wrong. Do you think music is a language too?
Yes, for sure. Music is a universal language and I think it crosses all the barriers across all countries, across all types of people, people with all kinds of backgrounds, interests, et cetera. So, yes, I do. But the eight languages that I've talked about, they are literally ones, I didn't include music as one of them! [Laughs].
What is that special ingredient that makes Indian music unique?
It touches you. Every genre of Indian music touches you in a different way. The original Indian music has a lot of meaning, the words have a lot of meaning. So, let's say, for example, folk music. Folk music involved life, and living, environment, and nature so it gave lessons to the youngsters as to what to expect in life, how to deal with situations in life and then they would try to include humour in the picture so that, you know, it's interesting!
Do you believe traditional/ethnic music is given enough space and opportunity in the radio nowadays, and how important is that?
I don't believe that traditional ethnic music is given importance, simply because I think life has taken a different turn, and for the younger generation in particular, whom all these media have targeted; they have not necessarily been exposed to or have learned all the bases to be able to appreciate it. There are some youth, though, where a very conscious effort is made by the parents to actually drive these kids to the places or the teachers or the lessons that are available and some of them have very, very good understanding.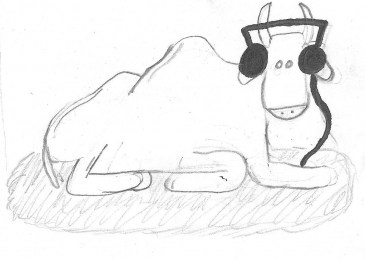 Besides music, is there any other form of art that you are interested in or practice?
I used to be a classical ballet native dancer. Actually, my mother was a classical carnatic singer so I danced, she sang; that's how we used to be. So dance is a big passion. As I grow older, it is a little harder to keep up with the practice, especially because of some accidents and other things that my body has suffered throughout the years; the recovery takes a bit of time. But despite all that, once music and dance are a passion, it's there, it's in your body, in every cell of your body and that's only what brings you peace, relaxation, and happiness.
What's the best reward and what's the biggest challenge of being a radio producer?
The biggest challenge is the amount of time it takes! My first show took me nine hours to prepare! I wanted it to be perfect! The technical aspect of it is also a challenge. My tech skills need work, even though I know my … buttons! And the station is moving. That throws it all again; new equipment, new challenge ahead! [Laughs]. But the rewards are many.
Often I encourage people to exercise during music and ask them to do something simple, to do the same step, for example. That resulted in some very positive audience feedback about stress release! Also, I encourage the marginalised to participate; being able to mobilize them is another great reward.
Why should someone tune in to Rhythms India?
Because it's a different choice. There's a lot of Indian music around on different stations but from what I understand they focus on either Bollywood, Punjabi, or Hindi music; that is to say, they are very specific whereas I attempt to open it up to different languages and "mix it up." I also try to encourage and make this show a podium for young artists who are local and canadian; that's how I believe we can keep our ethnic spirit alive.
If there's one Indian song you could dedicate to Vancouver, which one would it be?
The song is originally written by a young man for a young woman and the song goes like this [she starts singing in an Indian language] … I will tell you the meaning: "How can I praise the one that made you? / Your eyes that are blue like the skies / Your face is as shining as the moon / The colour of your hair is so unique / So, there is some special mystery in this / So how can I praise the one that has made this unique you?" and really that would apply to Vancouver because Vancouver is so beautiful, so mysterious, so amazing. That's my choice.
She sang with her eyes closed but with her heart open as a lotus flower. A wife and proud mother of three, a multi-award winning professional, and CiTR radio producer, Nalini Bhui is that hero among us. As I was watching the sunset, the fig's sweet taste came back to my mouth; it was the taste of her kindness and courage that will be returning every Sunday at 8 p.m. through the sounds of Rhythms India on CiTR.