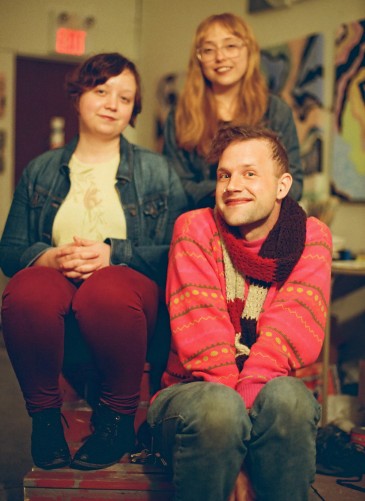 Enter the basement laboratory that is Kiss Painting. It's dingy and abrasive, made up of images, stories, moods. Everything is carefully placed, with dead noise worked carefully between the different components: build-up is key.
It's a Sunday night and the dimly lit Astorino's has drawn a crowd for the Safe Amp Zine Library launch party. But the venue is still too big for its own good, as half of Astorino's still feels like a playground for ghosts. CA Chux, guitarist for Kiss Painting, is in a dress and yellow stockings, with bassist James Baxter across from him and S. Hellina drumming on the elevated stage, forming a sort of triangle. The dynamic between them is modest and controlled. Their set, parsed with  guitar plucking and disorienting time signatures, is fittingly creepy for the venue—eccentric jazz, stripped down and skewed.
A few nights after the show, I'm sitting with the band at a bar on the Drive that feels simultaneously slick and sleazy. Tucked away in a corner booth, I ask about "Tape/Bench Press," the closing track on the band's demo which features an extended, under-the-breath spoken word section reminiscent of Slint. "One thing I've been interested in a lot lately is working with narrative," says Chux, who co-writes the lyrics with Hellina and Baxter. "Often if I have a political message of some sort, instead of having it come across as really in-your-face, polemic, didactic approach, to tell a story and paint a picture of some interaction or some person."
"I don't play music because I went to music school. I can barely play drums," Hellina explains, "I play music because I think, philosophically, it's a really good example of how things should operate." She takes a bite of her veggie burger, which has taken on a shadowy purple hue from the bar's neon lights.
The topic is a recurring one throughout our interview. Music, both in the way it's created and played, is about striving for utopias. "You go to some places in Europe where there's squat culture and you can build spaces of idealism that have potential. Here, it's difficult to find that kind of potential," says Chux, mulling it over with intensity.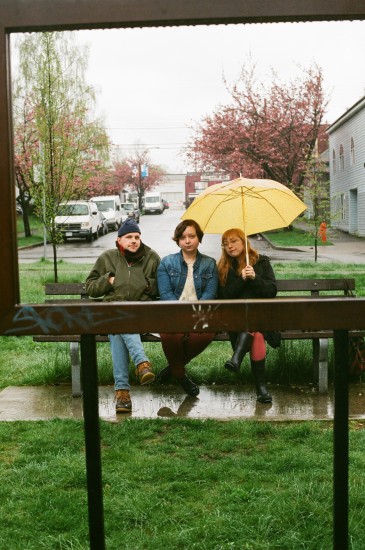 "I'm tired of using the term realism as something to describe people who are conservative. It sort of disenfranchises anyone who's not."
The band's sound fits within the No Wave movement (genre? sound? experiment?) which originated in New York during the late '70s. The queen of No Wave was Lydia Lunch, a crude and confrontational songstress who gave one of the more unpleasant Nardwuar interviews.
The movement is said to encompass an influential array of musicians (Sonic Youth and Swans often being thrown under the No Wave blanket), and artists whose work tended to reflect their crumbling and crime-ridden city. "[It's] more about ethic and expression of art. You don't have to train to be a musician, and you have more of a free realm to express yourself," says Baxter.
Creating that "free realm" is complicated though. Chux and Baxter met Hellina through SafeAmp, and the band has deep ties to the all-ages scene in Vancouver. Kiss Painting doesn't flat out dismiss the possibility of playing at bars, although they've yet to do so. "I don't necessarily believe a boycott politics is going to make a difference," says Chux.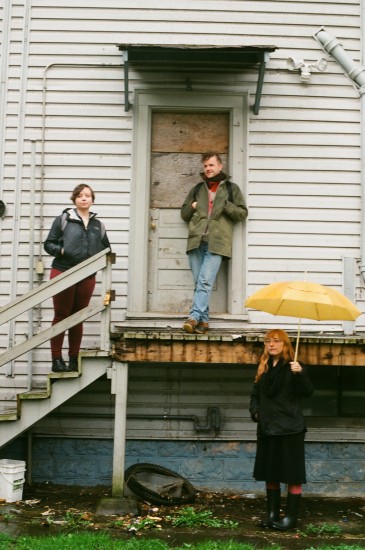 All-ages and underground venues don't necessarily mean everything is fine and dandy by default, as Hellina debunks: "Even though a venue may not be legal, they can still be operating under capitalist principles and trying to push as many bodies in as possible and trying to make as much money as possible."
Hellina is an organizer at Shout Back! Fest, a radically anti-capitalist, anarcha-feminist music festival and workshop series. Both Chux and Baxter are also volunteers for the festival and while nothing's been confirmed yet, the band hopes to play a fundraiser leading up to the festival.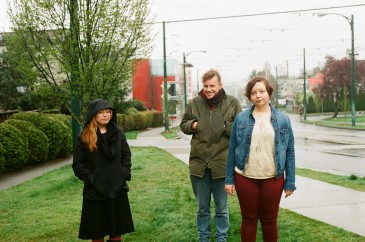 "We identify collectively as a feminist band… being a feminist and identifying with feminism is still, sadly, an odd thing in society. That in itself could be deemed experimental," says Hellina. I get the impression she doesn't mean this as if feminism is a "phase" for the band. Kiss Painting—and perhaps the SafeAmp community as a whole—is involved in searching for new ways to talk about these convictions.
"I think [feminism] is something I just feel more than can articulate," says Hellina. "I think that where we fall into trouble is where we all start trying to get righteous about what it is. I think that's what I really like about music, it's about communicating with feeling rather than abrasive language."
The band experiments and pushes boundaries in an effort to engage their vision of utopia. "It goes beyond what we're trying to do as a band," Chux explains. "It's part of the way we're living and the way we're communicating with each other and the outside world. Life is experimental."