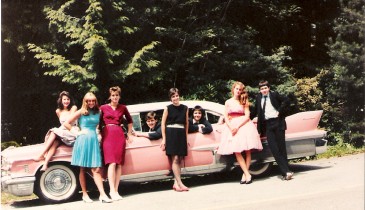 Our first date almost didn't happen. Gord and I were in a band together, the Debutantes, and when he asked me out to the Stranglers gig at the Commodore, I turned him down. But I immediately had second thoughts and called him up to see if he still had that extra ticket. Luckily, he did.
"Actually, I'm on the guestlist. You can be my plus one," Gord clarifies. "Will I see you before then?"
"I can drop by tomorrow morning. I need to get the lyrics for that new song we're doing… is it 'You've Got My Number'?"
"No, that's the Undertones song. The one you need to learn for next band practice is 'Fiction Romance' by the Buzzcocks. What time do you want to come by? I'll have it ready for you."
"Is 7:30 a.m. okay?"
"Perfect. Just knock on my bedroom window to wake me up."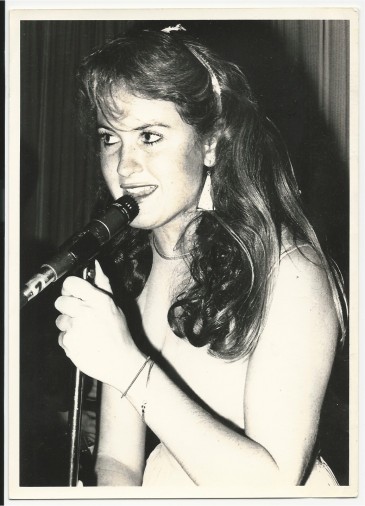 The next morning, Cindy and I are en-route back to school for our ritual second-breakfast of UBC cinnamon buns when I suddenly remember my promise to Gord.
"Cindy, I just remembered I need to go by Gord's. He's going to give me the lyrics for a new song we're trying out next band practice."
"No problem-o. Let's go!"
Screeeeeeech! Cindy brakes hard, gears down, and pulls hard on the wheel to turn us around. She two-wheels the Fiat into the left-hand lane of the overpass towards Burnaby.
Arriving at Gord's house on McPherson Avenue, we coast in quietly and park on the street above the house. (No need to wake the family.) Our mission: to tap on Gord's bedroom window, wake him up, and retrieve the lyrics. I tiptoe ahead of Cindy along the cement walkway to the backyard but as I approach, I see something heart-stopping.
All of Gord's windows are decorated with signs written in red marker on yellow construction paper. They say:
"Erica, I heart you!"
"Gord hearts Erica"
"(Inside of a big heart): Erica & Gord forever"
Wow. Double wow. The yard around me crystallizes bright green and glistening like a Jeff Wall cibachrome. The scene is captured forever in my mind like a freeze-frame, humming and alive with the pure light and energy of youth. True love and nothing less.
I knock on the window to wake Gord up. He's so cute in his ragged blue Terry bathrobe with his hair standing straight up. I can't remember anything specific about the exchange, just that he passed me the lyrics with a big sleepy smile and I took them with an even bigger smile. "Fiction Romance"? No way, this is the real thing.
Cindy and I roar off in the Fiat to UBC, not caring whether or not we wake up the whole neighbourhood. To me, it doesn't matter. Gord and I are going to the Stranglers.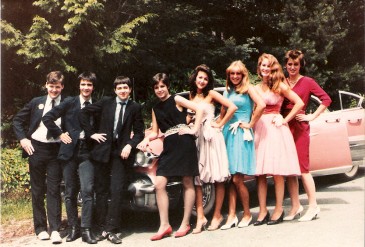 Saturday finally arrives, the night of the Stranglers concert. Inside the Commodore, Gord won't hold my hand, but instead grips me with his thumb and forefinger around my wrist, pulling me gently through the crowd with him. It's sweet how much he's trying to not be too mushy too soon.
That first date at the Stranglers is special. It's their Feline Tour and local heroes Family Plot are opening. They set the tone perfectly, a sinister, gothic band with two basses; the four Addington brothers sound like music taken from a scary movie played backwards, while the singer, Madeleine, prowls up front.
When the Stranglers come on stage, they're dressed entirely in black leather. The members take their places: Hugh Cornwell, Jet Black, Jean-Jacques Burnel, and Dave Greenfield. No smiles and threatening, but in an exciting way. We're all waiting for that voice, the beautiful, low, insinuating, sexy growl that is Cornwell's secret weapon.
The music kicks in hard on the very first song, "Something Better Change." An anthem for our age, and for every age after: "Something's happening and it's happening right now / Ain't got time to waste / I said, something better change!"
The concert is unforgettable, but it's over too soon. The gig ends in a convulsive explosion of bodies down the stairs and out the double doors of the Commodore. We emerge happy, blinking, and exhilarated onto Granville Street and into the warm spring Vancouver night.
But our story with the Stranglers doesn't end there.
A few years ago, Cornwell was touring to support a new solo album, his first time in Vancouver since the Stranglers gig in '83. I'd guess that just about every Stranglers fan in Vancouver went to the Media Club that night. It was an intimate, acoustic set, full of new material and the Stranglers' hits—just Cornwell by himself with a guitar and his wonderful voice.
He signed CDs after the show and I decided to ask for a picture. Yes, there was his intimidating reputation for sometimes not being a gentleman, but I could tell from the way he'd sung and played on stage that night that he's one of the good guys. As I stood beside him, just before the camera clicked, I whispered into his ear
"Mr. Cornwell, I just wanted to mention, my husband and I had our first date at the Stranglers show at the Commodore."
"My, what a lovely story." (Ooh, that voice!)
"And we're still together. He's with me here tonight."
And to think none of it would have happened if not for our first date. I like to think that Gord and I would have ended up together even without the Stranglers, but they were very much the catalyst. And you can't argue with chemistry.