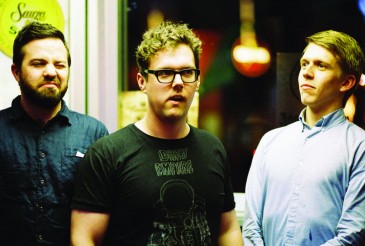 "It had to happen now. Had to." Philoceraptor's Steve Mann is answering a question on why now was the right time to release a full-length album, and I wasn't expecting such a clear-cut response. "Our lives are heaping with responsibilities now." Together with William Justin (guitar) and Phil Jette (drums), we're talking in their downtown storage-turned-jam-space about the songs they've just finished recording, and the conversation isn't all elation and placebo effect like I'd thought it would be.
Philoceraptor really aren't the same band they were two years ago, even though their components are still familiar. The trio that started their tenure in Vancouver by staying up late on weeknights and drinking to excess is barely recognizable in the adults that are now across from me discussing chorus vocals and fatherhood. "Literally five minutes after we finished [the last take of the record] was when Phil sat us down and said, 'Hey guys, I'm going to be a dad,'" recounts Justin. "That was an awesome exclamation point to the recording process, but it definitely underlined that yes, there are bigger things to life and much bigger accomplishments than this band stuff. It's a lesson in perspective."
Now, with marriages, kids, and jobs taking precedence over gigs and guitars, the focus inside of the band has never been higher when they're actually together. "Five years ago, the band was a third of what we thought about. Now it's maybe 50 percent of what we think about, but we only have five percent of the time to do it in."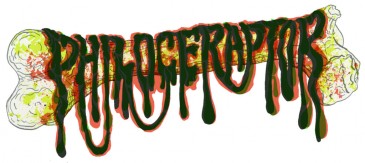 Their new LP is all about that five percent. The band that used to only write songs from the perspective of a fictitious, Patrick-Batemanread-by-Brett-Easton-Ellis character, has shifted gears. Stop Ruining Fun is cut from the same cloth as Bellingham's Police Teeth, firmly rooted in self-referential "music about being in a band" territory and the realization that the idea of "making it" probably doesn't exist for a bunch of dudes jamming in a basement, nor does it have to. Mann explains, "It's about late-twentysomething egoists who are confronted with trying to become an awesome band and knowing they're bound to fail." Compared to their earlier material, it's a huge step forward, and one that came at the end of a long year spent writing, reflecting, and sitting on material until it felt right, a technique that would have felt foreign to them just a few years ago.
____________________
On Beach Boys and Franchising:
Growing older and not being able to tour doesn't have to be the end of a band, according to William Justin. "I want to do what the Beach Boys did in the '60s. Brian Wilson hung back in California with a whole bunch of session musicians writing Pet Sounds while the rest of the Beach Boys toured around America, not giving a fuck, playing their hits. They came back [from tour] and Wilson said, 'Okay, we've got a record! Just add some harmonies and we'll put it out next week.' We need to start auditions and franchise out the Philoceraptor sound."
____________________
Stop Ruining Fun sounds better for the time invested. A large helping of '70s punk glazed with '90s pop, and no annoying bass to worry about, the record is much more polished than Philoceraptor are used to presenting to the public. The songs are still just as catchy as they used to be, but tunes like the anthemic "One Of These Days" and the colossal four-minute outro to "Song From A Little Room" benefit immensely from the time spent on them. "When we recorded 'PYT,' I still didn't know what I was playing to," Jette mentions. "We wrote all the songs [for the EP Deepest V] in one day and recorded them all the next." The extra love on Stop Ruining Fun shows itself in gratuitous gang harmonies, beautiful guitar tones and steadier pacing throughout.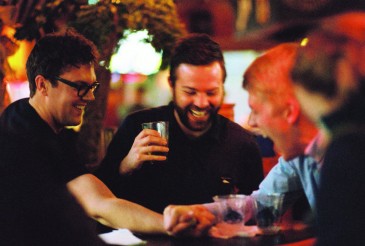 The record might be self-referential, but the title of the album doesn't come directly from the band poking fun at their own busy schedules: it's named after a dumpster. Bishops University, where Mann and Justin first met, "had a very bad reputation," according to the latter. "For whatever reason, the CBC loved showing how depraved we were… We'd always have parties in a particular alley there, and someone took it upon themselves to paint STOP RUINING FUN on the dumpster there so that any news crews coming in would have to see it, that was the background to any news coverage."
That the phrase is now the background to a rock record about growing old hasn't been lost on them. The Justin that used to only play shows dressed in all white may be retired, but according to the band it's a step in the right direction. Luckily for Philoceraptor, growing up can still sound fun.