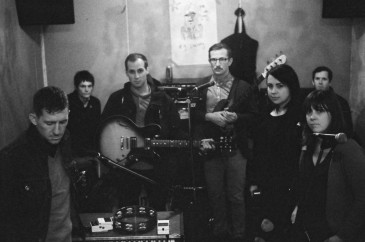 Who: Tambo-shakin', Hammond-poundin', soul-rattling septet, the Ballantynes.
Where: East Van, Jackson Ave. @ Railway St.
Discorder crashes a Wednesday night jam session with Vancouver gospel rock septet the Ballantynes to chat about their music and the roof it's made under. As jam spaces go, the blue-walled "Carriage House," complete with sexy dimmer-controlled chandelier and one lonely piece of artwork, could be considered big; but with Jarrod O'Dell, Vanessa Dandurand, Jennifer Wilks, Corey Poluk, Max Sample, Mick McDiarmid, and Trevor Racz packed inside together, it's plain cozy.

Discorder: How do you not get sick of each other in here?
McDiarmid: This space is bigger than our last space by twice as much so it probably helps a little bit, but I think everybody here wants to say that we do still hate each other [laughter]. We still miss each other after the tours though.
Dandurand: We don't spend that much time in here realistically and it's not the smallest space that we have crammed into as a unit.
Poluk: We are also on really small stages throughout most of tour and we still somehow like each other, so I think this room is fine.
How is it practising with seven people?
Racz: I hide all my mistakes behind Mick. [Laughter]
Sample: I think we still can't hide mistakes very easily. We try to lock in together.
Dandurand: If we do it a second time, it's on purpose.
Sample: Playing with seven people is challenging but I think with the right seven people it can work.
Do you have any pet names for the space?
Poluk: Jam Space. [Laughter]
Racz: Large Marge.
O'Dell: Sure, why not. I guess we do now!
Poluk: Don't we call it Railtown Abbey?
Dandurand: We never called it that though! Never. It's called the Carriage House.
Do you share the space with other bands?
Wilks: We do, New Values, Vapid, Dirty Spells … lots of other bands [the Radii] have been in and out with a lot of the same people in them.
How long have you been here?
Wilks: As a complete seven piece we've been here for about a year.
How does practicing here relate to your recording process?
Poluk: It's pretty similar. We literally do record live off the floor.
Racz: The only difference is we don't have [Producer and Engineer at Little Red Sounds] Felix nodding with a thumbs up at our practices.
Do your songs come to the jam space completed or are they crafted here?
O'Dell: It's totally patch-work between the writers. I've come in with skeletons or a hook, or Vanessa and I will hit one note on the organ and go 'OK, now we're making a song with this so it is pretty much all over the map. Everything is completed here in the jam space though. It's not like we are handing out music sheets. That doesn't exist.
Racz: What's a music sheet? [Laughs]
Dandurand: The thing is that I don't play bass and I don't play drums, so we don't write each other's parts. We bring it in and everyone writes their part. That's the only way it works.
Sample: The most pressure of anything I've done in my life is to come up with bass lines in this band. I feel like it works most of the time, but I'm still not completely satisfied. Ever.
What is it like playing with two drummers in the jam space?
O'Dell: It's very loud; Trevor is a bit of a brute. When we're fleshing out a song it can be a painful, painful experience. When people are playing around trying to find their parts and two full drum kits are trying to find their parts it's a lot of … sounds, a lot of painful sounds.
Racz: I like to hit.
McDiarmid: I always thought that it would be way harder to play with two kits than it ever has been, and for whatever lucky reason it happens to be that it just works out right away.
Racz: The first time I came to the jam space I was pissed that there were two drummers. I didn't know. But now I prefer to play with Mick and we gel as one drum kit.
McDiarmid: Brothers!
____________________
Listen to their latest at theballantynes.bandcamp.com