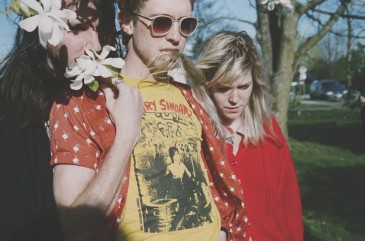 "Ok, so we wanna be sponsored by what so far? Beer, a gas station; BP, cause I think it would be easy." Daniel Pitout is sitting on a bench in Tea Swamp Park: a small corner of trees and playground equipment in Mount Pleasant, and the namesake of Nü Sensae's most recent EP. He and his two bandmates facetiously run a tally on their wish list of band/life financers while we sip drinks and soak up the sun. Among other things, new axe-shredder Brody McKnight has suggested sponsorship from an apartment building, trance-inducing-bassist/spine-tingling-screamer Andrea Lukic is hoping for one from Toyota, and Animal-on-speed drummer Pitout has his fingers crossed for an endorsement from the town of Whistler "…so I can go to gay week every year for free!"
It is a scene that seems unusually light and relaxed considering the intensely dark and sometimes frightening music the group plays and the pace of their recent schedule. Since McKnight joined, they have recorded their second full length record, toured extensively across the United States and Canada, both as headliners and openers, and had hardly sunk their toes into Vancouver soil before gearing up for another tour in June.
The new album, titled Sundowning, will be released on July 24 via Seattle's Suicide Squeeze Records. The recording took place in February and the vocals were barely finished before the band hit the open road, not only for the first time as a three piece but also as support for Denver's EMA, playing some of the largest venues of their gigging careers.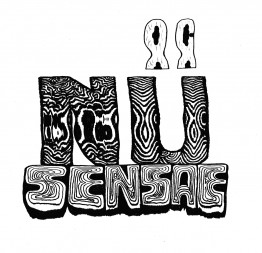 "Maybe we should have been more intimidated," muses Lukic. Apparently, the most challenging part of playing larger venues, such as the Lincoln Hall in Chicago, was dealing with know-it-all soundmen who McKnight says, "don't take into account that you're trying to get something across by being loud. They're just like 'you guys are supposed to sound like this' and they don't really get it. But we're stubborn."
The tour also helped the already long-time friends establish some archetypes within the band. "Brody's like the dad, Andrea's the aunt, and I'm the sexy younger sister, with no rules!" laughs Pitout. "I'm like the daughter from Married with Children. Brody is like Wilson from Home Improvement. He's mysterious."
They jokingly refer to the supporting dates as a "band vacation," that, although fun, were almost uncomfortably easy compared to the d.i.y. shows they played for their headlining dates and have been playing since their early days as stalwarts of the Emergency Room scene.
"We're used to playing in basements, hoping we get ten dollars per show," says Pitout. It comes as no surprise that a harder, more work-intensive tour is what the group finds familiar. Aside from Nü Sensae's schedule, Pitout and McKnight also play in a project called Eating Out and, just last month, released their debut cassette on Burger Records. Lukic and McKnight also play in Heavy Chains and they all collaborate on a Nü Sensae Fan Club newsletter, with artwork and games created by the band and mailed at their own expense to members all over the world, raising the question: Where do these guys find the time for all this?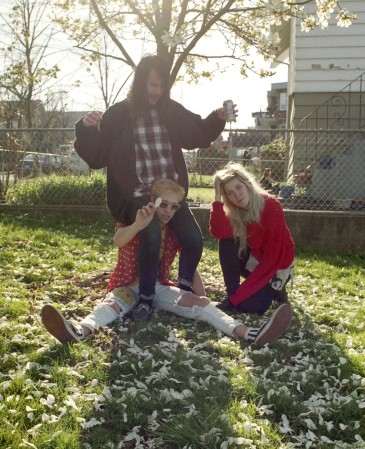 "It's true," admits Pitout. "The past year for me has been crazy. I was touring last year with Hunx and his Punx for a while; Eating Out hasn't been super busy. We try to play shows where we can; Nü Sensae's been busy. I think it's better that way though. I get really depressed if I'm not super busy."
By the looks of things, they should be staving off depression for a while to come. Aside from a few isolated shows over the next month supporting indie-buzz acts including Japanther, Ty Segall and Best Coast, June will see the group make a solo venture along the west coast, playing with Black Bananas and King Tuff among others.
"Then after the record comes out we're going to go on another big tour for all of August and some of September," says McKnight, with Pitout adding, "Yeah, so that will be across North America again and then we have a few festivals we're playing in the summer: Sled Island in Calgary and then two bigger festivals in Seattle in the fall. And then we have a tentative tour in December that will go into Florida and through the South."
"When?" Lukic cuts in.
"December [laughing]. It's news to her."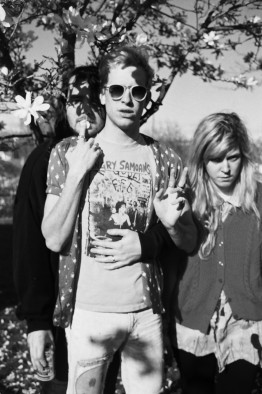 Understandably, it appears difficult to keep up with the hectic agenda, but despite this, it doesn't sound like any burn-out is imminent. "I think you have to find a balance," says Pitout, describing the magical novelty of early tours having calmed enough that they can look forward to returning home and seeing friends and family.
"[On tour] you just sit and think for so long, like eight hour drives, sitting, thinking about your life," laughs Lukic, saying that the daily routine of drive-play-sleep-repeat isn't very conducive to easy-going sightseeing. "People are like 'you get to see all these cities.' You get to see the highway!" Sightseeing aside and having toured a number of times now, what seems to make it all worthwhile for them is meeting people, whether it's 10 kids in rural Canada or a sold out show in one of the many metropolises of the States.
Calculating their projected travel for the upcoming year, Pitout figures they will be on the road for five or six months, and says with a grin, "It's kind of crazy! We like it though."
McKnight agrees, "Yeah, I like it a lot," slowly sips a beer in the afternoon sun, and says with a smile, "I don't want to work." Ironically, he is playing in one of the hardest working and most dedicated bands in Vancouver. With a much anticipated record on the way and a slew of shows to come, Nü Sensae is poised for their biggest year yet. Sponsorship, here they come!
Catch Nü Sensae supporting Ty Segall on May 5 at the Waldorf and with Best Coast on May 23 at the Commodore. To sign up for the Fan Club, check out their Facebook page.