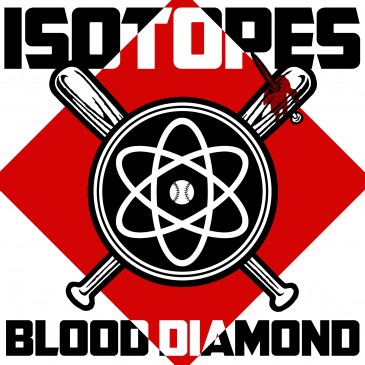 For those that aren't aware, the Isotopes really love baseball. It is a love that is most likely on par with their admiration for Ramones-sounding bubblegum-punk. On their fourth and latest EP, Blood Diamond, the Vancouver/Louisville-based group bring out another few slices of baseball-laden punk-rock just in time for summer.

EP opener "Rule 21" is a fast-paced chanter about a disgraced player subjected to the major league misconduct rule, while "Operation: Vamos" is a mid-tempo tune regarding the kidnapping of Washington Nationals player Wilson Ramos. They wrap up the under-five-minute long EP with a camp rendition of "Take Me Out to the Ballgame," causing one to wonder how it took them so damn long to get around to covering it.
Whether or not you actually know anything about baseball, all you need is a set of ears to get your feet tapping along (just don't let the band know; you're likely to get called a "rookie wimp" and doused in chew spit). And though the songs are all catchy, Blood Diamond barely leaves the listener with enough content to sink their teeth into. Previous EPs like Cuban Missile and Heatseeker have twice the material on them and don't dedicate one-third of the content to a cheesy and obvious cover.
So if Blood Diamond leaves your reservoir of baseball trivia dry, there's always the older material. And as for the band, there's always next season for chapter five which will hopefully see them play a few extra innings. Good game Isotopes.