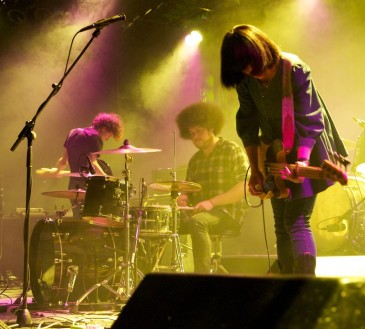 As Yuck sashayed to the stage, it was apparent they fit the 90s indie rock template to a tee. Female bassist à la Pixies, Smashing Pumpkins, Sonic Youth or Superchunk? Check! Conventional quiet/loud maxim? Check! Okay, maybe that's a little unfair. After all, these savvy revivalists are a playful bunch and their music is snappy, regardless of how obvious their influences are.
It's possible, as they proved to the crowd while tearing into their engaging set, to be a compendium of familiar musical platitudes and still fully transcend them, like when frontman Daniel Blumberg, sporting a fitting Jim Reid (of the Jesus and Mary Chain) style hairdo, ground out a fuzzy, Dinosaur Jr.-style guitar solo during "Get Away," or when he let fellow axe man Max Bloom do some shredding on the My Bloody Valentine-inspired shoegaze show stopper "Holing Out." It was crystal clear where Yuck take their cues, but their grasp is every bit as cardinal as those guitar gods before them.
Similarly, when Blumberg and bassist Mariko Doi traded off vocals on the precious pop blur of "Georgia," they emulated the Evan Dando/Juliana Hatfield heyday of the Lemonheads. As the refrain of "Still in love with you" filled the Ballroom, I suddenly felt a blitz of nostalgia for my teens, for high school and for a first kiss.
Let's hope it isn't too long before Yuck comes back to town, and maybe on their next visit they'll be the crowd-pulling headliner. But there were no complaints here when they left the stage, as it was Tame Impala everyone had come to see. The anticipation was tangible in the short time between sets when the cheering and doobie passing wouldn't let up.
When Perth, Australia's freshly appointed psychedelic stoner rock czars appeared before the Commodore crowd, they were graciously greeted. The applause was soon drowned out in waves of dramatic drone and crunchy guitar. Vocalist Kevin Parker, with a voice like honey, led his band through a seductively shambolic batch of songs taken mostly from last year's stunning LP, Innerspeaker. Tracks like "Solitude is Bliss" and "Alter Ego" proved fittingly dreamy and druggy, providing lots of room for these proficient players to jam out and explore abstract and awesome tangents.
Tame Impala were airtight; the affably barefoot bassist, Nick Allbrook and drummer Jay Watson were mooring for Parker and fellow guitarist Dominic Simper to show off their prowess. Glorious guitar noodling ensued on "Desire Be Desire Go," but not in a self-loving, disaffecting way, thankfully.
Opting not to go through the formalities of an encore and leave the stage needlessly, Parker and his boys instead closed the night with an extended and otherworldly version of "Half Full Glass of Wine," that was gilt-edged and elevated the evening, rightly, into outer space.